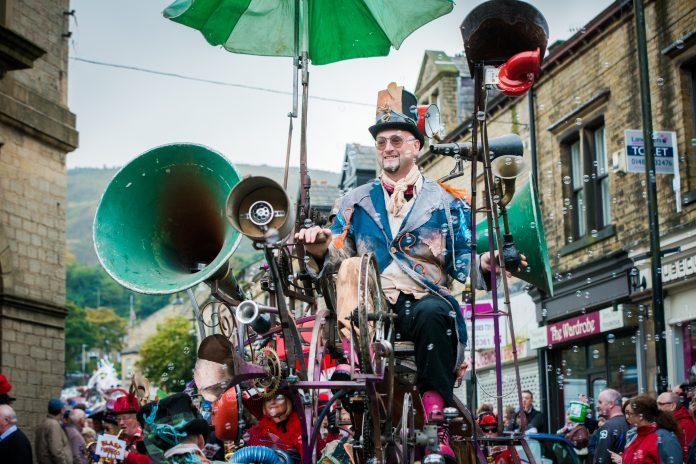 The festival's organisers are asking people to help support the free gigs at the 2017 festival by adopting a gig for £50.
Kirklees Council previously provided £10,000 each year to help fund the festival but has confirmed it is no long able to provide large-scale financial support for the charity due to budget cuts.
Over 80 free events took place at the 25th Marsden Jazz Festival in October including the Saturday street parade which featured three of the UK's leading street bands, performances on homemade musical instruments by local children and a moving scrap metal sculpture.
The Adopt a Gig scheme was held for the first time at the 2016 festival, raising over £1,500 to support free gigs and events. Everyone who adopts a gig will receive an e-certificate and have their name printed in the 2017 festival programme.
The initiative is being expanded for next year's festival to give local businesses the chance to adopt their own stage from just £500. The offer includes a stage banner as well as two free headliner tickets or a pass to see all of the festival's New Stream artists.
Festival Producer Barney Stevenson said:
"We were delighted with the response we got to the Adopt a Gig scheme at our 25th festival and we hope even more people will sign up to adopt a gig in 2017.
"It's really important to us that the majority of the gigs at the festival are free so that as many people as possible are able to experience live jazz music. But we need the support of businesses and festival goers to keep the gigs free.
"We think having your own gig at next year's festival will make a really unusual Christmas gift, and there's even an e-certificate you can print off and wrap up if you want to.
"We're also asking local businesses to consider adopting one of our outdoor or headliner stages, which feature youth and community bands as well as internationally-acclaimed artists."
Jazz legend Digby Fairweather appeared at Marsden's first jazz festival in 1992 and returned to Marsden for the 25th festival earlier this year, appearing alongside BBC Radio 2's Paul Jones.
The 2016 festival also included over 140 hours of live music at 25 venues over three days as well as the street parade and an artisan market in Marsden's Victorian park.
More details on how to adopt a gig at the 2017 festival are available at www.marsdenjazzfestival.com/adopt-a-gig. Local businesses interested in adopting a stage at the festival and other sponsorship opportunities should email office@marsdenjazzfestival.com.
Notes to Editors
The attached photo shows the Saturday street parade at the 25th Marsden Jazz Festival earlier this year. Image credit: Elizabeth Baker
The folder below contain a wider selection of photos from the 2016 Marsden Jazz Festival. Image credits: Elizabeth Baker