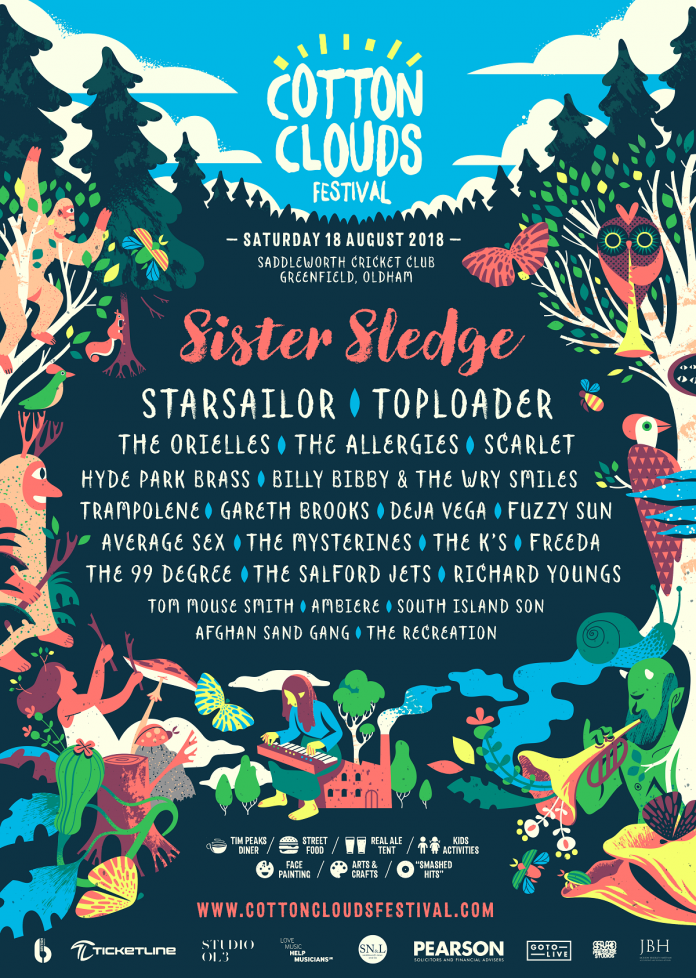 Landing amidst the bucolic hills of the Peak District National Park for one radiant weekend this Summer, Cotton Clouds Festival 2018 will be nestling itself into one of the cosiest festival settings around once more on 18th August 2018.
A day of top flight talent, out of this world tastes and universal entertainments, Cotton Clouds promises something for everyone.
Following an overwhelming response in its first year that saw the festival take off to a sell-out success and even score a nomination for the 'Best New Festival' at the UK Festival Awards, the sky's the limit as Cotton Clouds Festival returns with a thrilling new line-up.
THE LINE UP…
Across a major outdoor Main Stage, and two indoor satellite stages Cotton Clouds promises an eclectic mix of glorious and varied sounds ripe for 2018 summer fun from artists both of legendary status and with immense promise…
THE MAIN STAGE
Topping the bill this year, Cotton Clouds are overjoyed to be welcoming the singular talents of the mighty SISTER SLEDGE as its show stopping festival headline act. With more hits than there are tiles on a disco ball, the phenomenal Philly funksters are true pop royalty. Embrace your loved ones for 'We Are Family', get 'Lost in Music' as they command your feet to their groovy masterpiece, dig out those flares and flaunt your thing for 'He's The Greatest Dancer'. With a trove of internationally conquering, era defining, billboard toppling hits at their disposal – expect a pop masterclass of the highest order as Debbie & Kim Sledge unleash their incurable and irresistible disco fever upon Cotton Clouds.
Then, heading up the 2018 bash's burgeoning undercarriage are none-other than northern heroes STARSAILOR. The Wigan four piece who made a most welcome and long overdue return last year with 'All This Life' (their first album in some 8 years) will be launching into the late evening with a set of their epic interstellar rock. With ten Top 40 hits to dip into including "Alcoholic", "Lullaby", "Silence Is Easy" and more, expect big anthems and even bigger singalongs.
Top tunes in the afternoon will be courtesy of none other than TOPLOADER. Eastbourne's finest groove-meisters will be arriving on site in the afternoon with aims to have you dancing in the… well, sunlight (weather permitting!). With over 2 million album sales to their name and with plenty of feel good favourites to pick from their brimming back catalogue, Joseph Washbourne and Co. have all that it takes to create that festival fizz. From the pop panache of their smash debut album 'Onka's Big Moka' to the reinvigorating rewards to be found on their latest long-player 'Seeing Stars', the post-Brit Pop outfit are sure to cast you under their spell.
After a lengthy hiatus, Kingston Upon Hull indie pop queens SCARLET will return to reacquaint the festival with the highs of their A Song For Europe stunning 'Independent Love Song' and other mystic delights from their shimmering songbook. One-time Catfish & The Bottlemen guitarist and his latest band: BILLY BIBBY & THE WRY SMILES will be promising a songwriting masterclass as he takes to the Main stage mid-afternoon. Former XFM go-getter GARETH BROOKS will be spinning a wonderful web of good time vibes as he takes to the decks. Scruff of the Neck records' latest signees FREEDA will be stepping up to the main stage plate with some beefy Blues Rock riffage that's ready to rumble any arena.
PLUS, he may only be thirteen but he's already shared stages with some of the biggest names in the business and stuck two fingers up to Simon Cowell – what's not to love? Showing up the likes of Catfish and the Bottlemen, Shed Seven, James Bay, The Charlatans and Madness with his sublime pop craftsmanship and smile-summoning home recordings, TOM MOUSE SMITH became something of an internet sensation last year. Opening up the Cotton Clouds main stage he's here to show you exactly why.
SATELLITE STAGES
Already making a name for itself as a festival that's all about bright new horizons, the festival's two indoor satellite stages provide a platform for you discover the best upcoming talent and the headliners of tomorrow.
The welcome return of the TIM PEAKS DINER STAGE (as endorsed by The Charlatans' genial frontman Tim Burgess) will be hosting an expertly curated bill of cutting edge artists:
Halifax's Heavenly-signed heartthrobs THE ORIELLES, will be topping the tent with set of their delightfully oddball indie-pop and cuts from their rapturously received new album 'Silver Dollar Moment'. Signed to Tim's own O Genesis recordings, London quintet AVERAGE SEX will be looking to satisfy your every desire with their lusty power-pop charms and may even give you a lick or two from their most gratifying 'Ice Cream' EP. The seemingly unstoppable RICHARD YOUNGS will tugging his hefty back catalogue down from Glasgow to display some of the myriad gems that have bejewelled his prolific and diverse career. Elsewhere, FUZZY SUN will bring their dappled psychedelic wonderment, Welsh indie rock trio TRAMPOLENE will be providing plenty of bounce for your ounce, and BBC 6 Music tipped DEJA VEGA will be providing an intense injection of their riveting rock'n'roll. Plenty more reasons to get down to the site early on, as THE MYSTERINES and THE RECREATION raise the roof from the off.
With its name nodding to the festival location's rich textile heritage, there's even more variety and fun to be found at the THE SPINNING ROOM STAGE, in association with Help Musicians UK. Hip-hop headliners THE ALLERGIES will unleash the frenzied delights of their Craig Charles approved funk-fuelled madness. Plus with more fresh pickings than a punnet of summer strawberries, gorge your ears on splendid sets from HYDE PARK BRASS, THE K'S, THE 99 DEGREE, THE SALFORD JETS, AFGHAN SAND GANG, SOUTH ISLAND SON and AMBIERE throughout the course of the day. Help Musicians UK is the leading UK charity for professional musicians of all genres, from starting out through to retirement.
FOOD & DRINK
Sumptuous street food stalls, pop up bars and a real ale tent will all be on site to serve up the festival delicacies you need to keep you grooving long into the evening.
Cotton Clouds is also delighted to announce the debut of its first ever commissioned festival beer. Teaming up with the exceptional and local DONKEYSTONE BREWERY, this meeting of minds has led to the conjuring of the unique COTTON CLOUDS ALE – a champion beer specifically designed to conquer even the mightiest of festival thirsts. The ale will be sold alongside some of the Donkeystone's other delicious offerings at the tent.
TICKETS
Tickets are priced at £45.00 + BF and are available via –
The Cotton Clouds Website:
http://www.cottoncloudsfestival.com/
Be quick though! Tickets are expected to sell fast, with VIP packages already SOLD OUT.
LOCATION
Situated in the old, industrial textile powerhouse of Saddleworth and set against the breathtaking vista of the stunning Peak District National Park, Cotton Clouds Festival is just a short 30 minute trip by car or train east of Manchester.
Cotton Clouds Festival takes place at:
Saddleworth Cricket Club
Well-I-Hole Rd
Greenfield
Oldham OL3 7HY
By Car / Foot: – Address: Saddleworth Cricket Club, Well-I-Hole Rd, Greenfield, Oldham OL3 7HY
By Rail: – Nearest train station: Greenfield Station, OL3 7JZ
OPENING TIMES
Cotton Clouds Festival will run from 12noon – 10pm on Saturday 18th August 2018.
* * * * * *
COTTON CLOUDS 2018
One fine day, three top stages and a heap of stellar acts – the full line up features…
Main Stage
Sister Sledge
Starsailor
Toploader
Scarlet
Gareth Brooks
Billy Bibby & The Wry Smiles
Freeda
Tom Mouse Smith
Tim Peaks Diner Stage
The Orielles
Average Sex
Richard Youngs
Fuzzy Sun
Trampolene
Deja Vega
The Mysterines
The Recreation
The Spinning Room Stage
The Allergies
Hyde Park Brass
The K's
The 99 Degree
The Salford Jets
Afghan Sand Gang
South Island Son
Ambiere
FOR MORE INFORMATION
w/ http://www.cottoncloudsfestival.com/
f/ https://www.facebook.com/cottoncloudsfestival/
t/ https://twitter.com/cottoncfest