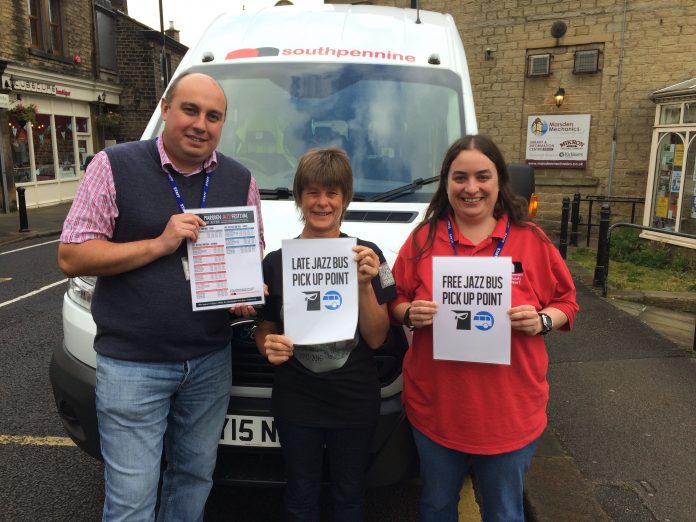 Festival goers will be able to get the bus from a stop on Manchester Road, opposite the New Inn, which will be decorated in a New Orleans style – complete with tassels.
The free bus will operate from 7pm to 11pm on Friday 7 October, 12pm to 11pm on Saturday 8 October, and 11am to 7pm on Sunday 9 October, taking passengers to and from gigs at the Carriage House, Standedge Tunnel Visitors' Centre, Dark Woods Coffee and Marsden Cricket Club.
A new late night jazz bus will also run on Friday and Saturday nights between 11pm and midnight to Saddleworth, Slaithwaite and Huddersfield after trains and regular buses have ended.
Tickets for the late night bus cost £5 and can be purchased in advance from the box office and, space permitting, on the buses.
Festival Producer Barney Stevenson said:
"It's really easy to get to Marsden by bus and train, and the free bus service being provided by South Pennine Community Transport will make it really easy to get around our 25 venues as well.
"We're keen to see more people coming here using public transport as this helps to reduce parking pressures.
"We're only 13 minutes by rail from Huddersfield and the new late night bus service means people will be able to get a bus home to Saddleworth, Slaithwaite or Huddersfield after a day of live music once other public transport services have stopped."
Marsden Jazz Festival was named 'Outstanding Established Festival' at the Yorkshire Gig Guide Grassroots Awards 2015, and thousands of music lovers make their way to Marsden by train, bus, car and narrow boat every year for the festival weekend.
This year's Marsden Jazz Festival is taking place between Friday 7 and Sunday 9 October 2016. Tickets are on sale now and can booked online at www.marsdenjazzfestival.com, by calling 0800 6125 649 (10am-4pm, Monday-Friday), or at the jazz festival office in the library at Marsden Mechanics (10am-4pm, Tuesday-Friday).