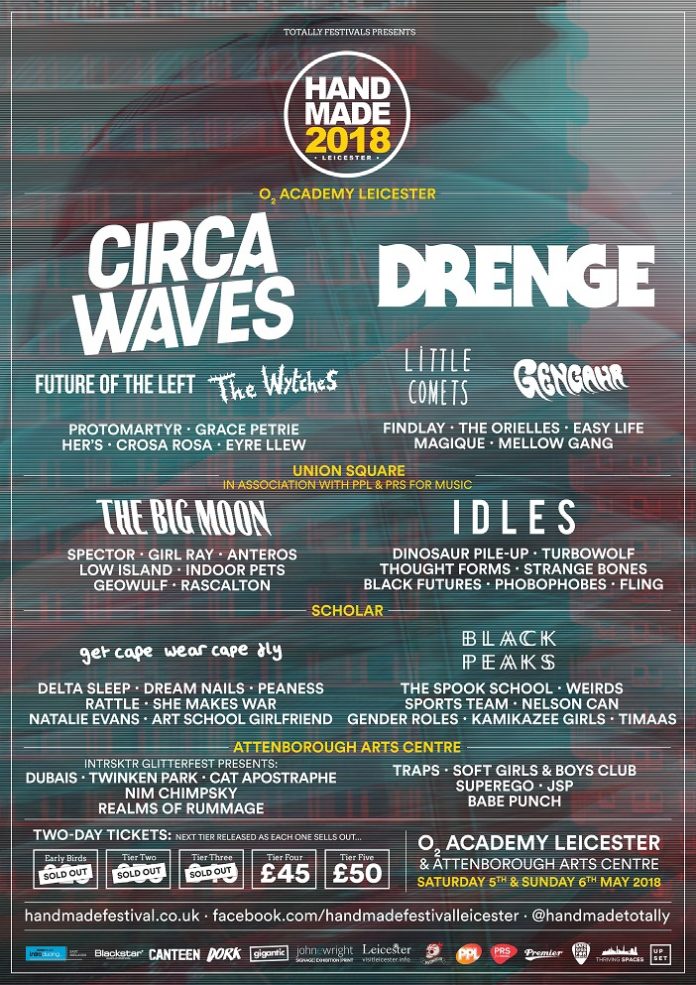 Handmade Festival 5th/6th May 2018 at the O2 Academy – Leicester
Weekend tickets available from £45. Final line-up additions include: The Wytches, Genghar, Black Peaks, Low Island, Geowulf, Art School Girlfriend, Kamikazee Girls, Fling, Superego, Traps, JSP and Timmas
Handmade Festival will be returning to Leicester's O2 Academy in 2018 for two days of the finest music, comedy, art, film, performance and photography, hand-picked and carefully curated.
Last month, Handmade Festival announced the second wave of bands for the 2018 music programme, and now they are thrilled to announce the final line-up additions. The full line-up is as follows:
CIRCA WAVES / DRENGE / THE BIG MOON / IDLES / LITTLE COMETS / DINOSAUR PILE UP / PROTOMARTYR / FUTURE OF THE LEFT / SPECTOR / TURBOWOLF / GIRL RAY / FINDLAY / GET CAPE, EAR CAPE FLY / SPOOK SCHOOL / GRACE PETRIE / THE ORIELLES / THOUGHT FORMS / ANTEROS / WEIRDS / INDOOR PETS / EASY LIFE / SHE MAKES WAR / RASCALTON / HER'S / STRANGE BONES / DELTA SLEEP / DREAM NAILS / PEANESS / NELSON CAN / PHOBOPHONES / RATTLE / GENDER ROLES / BLACK FUTURES / MELLOW GANG / MAGIQUE / NATALIE EVANS / CROSA ROSA / BABE PUNCH / EYRE LLEW / SPORTS TEAM / SOFT BOYS & GIRLS CLUB / THE WYTCHES / GENGHAR / BLACK PEAKS / LOW ISLAND / GEOWULF / ART SCHOOL GIRLFRIEND / KAMIKAZEE GIRLS / FLING / SUPEREGO / TRAPS / JSP / TIMMAS
For the first time Handmade will also be introducing The Handmade Conference. Taking place on the Friday before the festival itself, Handmade will be working with some of the festivals partners, including music licensing organisation PPL, to put together a programme of talks and discussions about the music industry and more. The day will be a valuable experience to young people, new bands and artists, those already pursuing a career in the industry and anyone with an interest in taking a look behind the scenes.
Futher details of the programme will be released very soon. Entry is completely free but places will be on a first come first serve basis.
Handmade Festival also recently announced that they will be partnering with PPL and PRS for Music once again to host the second stage at the festival.
Tickets are being released in price tiers starting start at £45, going up a tier as each one sells out. The remaining tiers are as follows: £45, £50. Both the early-bird tickets which were being sold at £25 per ticket, the 2nd tier which were been sold at £35 and the 3rd tier which were being sold at £40 per ticket have all already sold out.
ABOUT HANDMADE FESTIVAL:
Handmade is a multi-venue music and arts festival in the city of Leicester. The festival, which is totally independent, is curated by some of the city's best loved independent venues and promoters, all of whom have been involved in putting on events for decades, working tirelessly to bring great things to Leicester.
Since its inception in 2013, Handmade Festival has gone from strength-to-strength, and has consistently challenged people's expectations of what a local independent DIY festival can be, and what it can offer in the city. In its first year Handmade took over reclaimed spaces – including an ex-library, the city's historic guildhall, a church and some of the oldest buildings in the city.
For its sophomore year, the event grew to include the huge Hansom Hall theatre, before growing again in 2015, necessitating a move to the city's O2 Academy venue filling the spectacular Queens Hall, Scholar and multiple re-purposed spaces around the building. The event saw festival organisers vindicated – creating the perfect "DIY" festival within what would normally be considered a particularly "un DIY" venue. It was a different beast, but it was the perfect festival for the city.
2016 saw the festival strike up partnerships with tastemakers such as Upset, Dork, Last.fm, Witchita Records as well as both PPL and PRS to help curate their estimable line-up, Last year's line-up also saw the festival utilise iconic venues around the city, which included two stages that featured guest line-up curation from Drowned in Sound and 'Leicester folk hero' Grace Petrie.
In 2018 Handmade will be filling all of O2 Academy Leicester's venues as well as spaces within University of Leicester Students Union and Attenborough Arts Centre making it the festival's biggest event to date.
Speaking about this year's festival, co-organiser John Helps, says "This year's line-up is a big step up for Handmade and an important one for us to take. We want this year's festival to challenge people's expectations of what Handmade can be and what we can do with a "DIY" city festival. We hope people are just as excited about it as we are."
Over the past 5 years, the festival has seen sets from artists such as: Frightened Rabbit, Twin Atlantic, British Sea Power, IDLES, Pulled Apart By Horses, Deaf Havana, We Are Scientists, 65daysofstatic, Swim Deep, Los Campesinos, Dry the River, Dutch Uncles, Slaves, Bo Ningen, And So I Watch You From Afar, Shonen Knife, Eagulls, Honeyblood, Iliketrains, Rolo Tomassi, Nine Black Alps, Three Trapped Tigers, The Twilight Sad, We Were Promised Jetpacks, Sam Duckworth, Johnny Foreigner, Tangled Hair, Tellison Sky Larkin, Sulk, Maybeshewill, Kagoule, Jaws, Shame, Goat Girl, HMLTD, Happyness, Haus and Her Name Is Calla, with comedy performances from Robin Ince, Rob Deering, James Acaster and many more.
The festivals incredibly diverse line-up and has earned them plaudits from the likes of Kerrang!, NME, Drowned in Sound, DIY, The Line Of Best Fit, Louder Than War, Q, GQ, Clash and many more.
About PPL
Founded in 1934, PPL is the UK music industry's collective management organisation (CMO) for tens of thousands of performers and record companies. They license recorded music in the UK when it is played in public (shops, bars, nightclubs, offices etc.) or broadcast (BBC, commercial radio, commercial TV etc.) and ensure that revenue flows back to their members. These include both independent and major record companies, together with performers ranging from emerging grassroots artists through to established session musicians and influential festival headliners.
PPL has a market-leading international collections business, with 86 agreements in place across 41 countries, helping members to maximise their revenue when their repertoire is played overseas. They've collected £212.1 million in the UK and internationally in 2016 and paid over 92,000 performers and record companies.
www.ppluk.com / @PPLUK
About PRS for Music
PRS for Music represents the rights of songwriters, composers and music publishers in the UK and around the world. As a membership organisation the company ensures creators are paid whenever their music and songs are played, performed, broadcast or reproduced in public and provides business and community groups with access to 22.2 million songs through its music licences. With over 100 representation agreements in place globally, PRS for Music's network represents over two million music creators.
In 2016, the organisation collected over half a billion pounds (£621.5m) on behalf of its members, making it one of the world's leading music collective management organisations.
www.prsformusic.com / @PRSforMusic