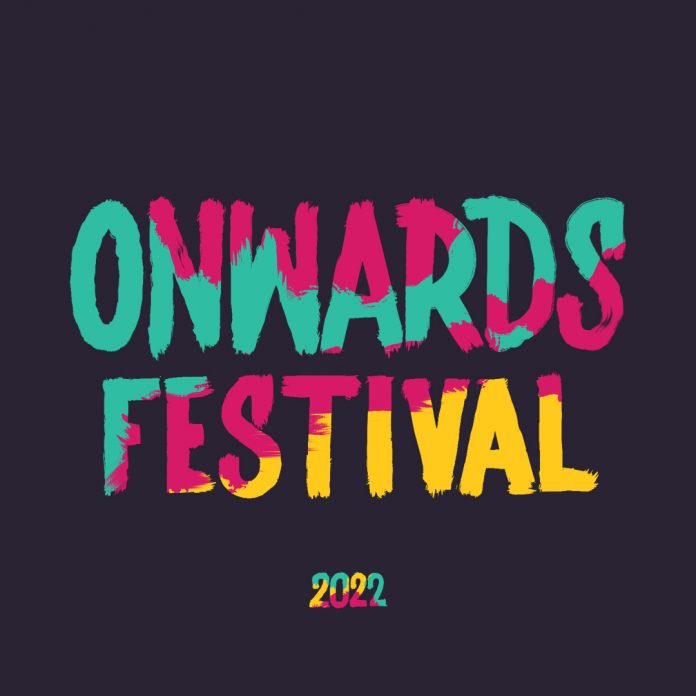 An annual, multi venue music festival with a twist, Onwards as the name suggests leads audiences successively through Huddersfield town centre grassroots music venues, showcasing a carefully curated programme of live music.
Onwards Festival began in 2016 fulfilling a concept conceived by event organisers Sam Hodgson & Noah Burton of a live music experience that would move audiences around town in a 'pub crawl' style. Popular demand caused the Onwards Festival to grow, involving more venues and acts each year. Following a forced two year hiatus of the 2020 and 2021 festivals, the need to unite the town's creative sector and community felt even more important and so Onwards Festival sought and were awarded Arts Council England and Kirklees Council support to bring the festival back, bigger and better!
This year the festival will take place across the weekend of the 24th & 25th of September 2022. It will involve 8 independent venues, 17 musical acts, premiere new music and artist collaborations, unveil a visual art installation and feature its own festival beer in collaboration with Zapato brewery. This year's headline act The Haggis Horns will deliver a mighty performance in the magical Small Seeds indoor forest venue. This event will be filmed and broadcast on the Saturday evening along with the day's festival highlights and remain available to be viewed online.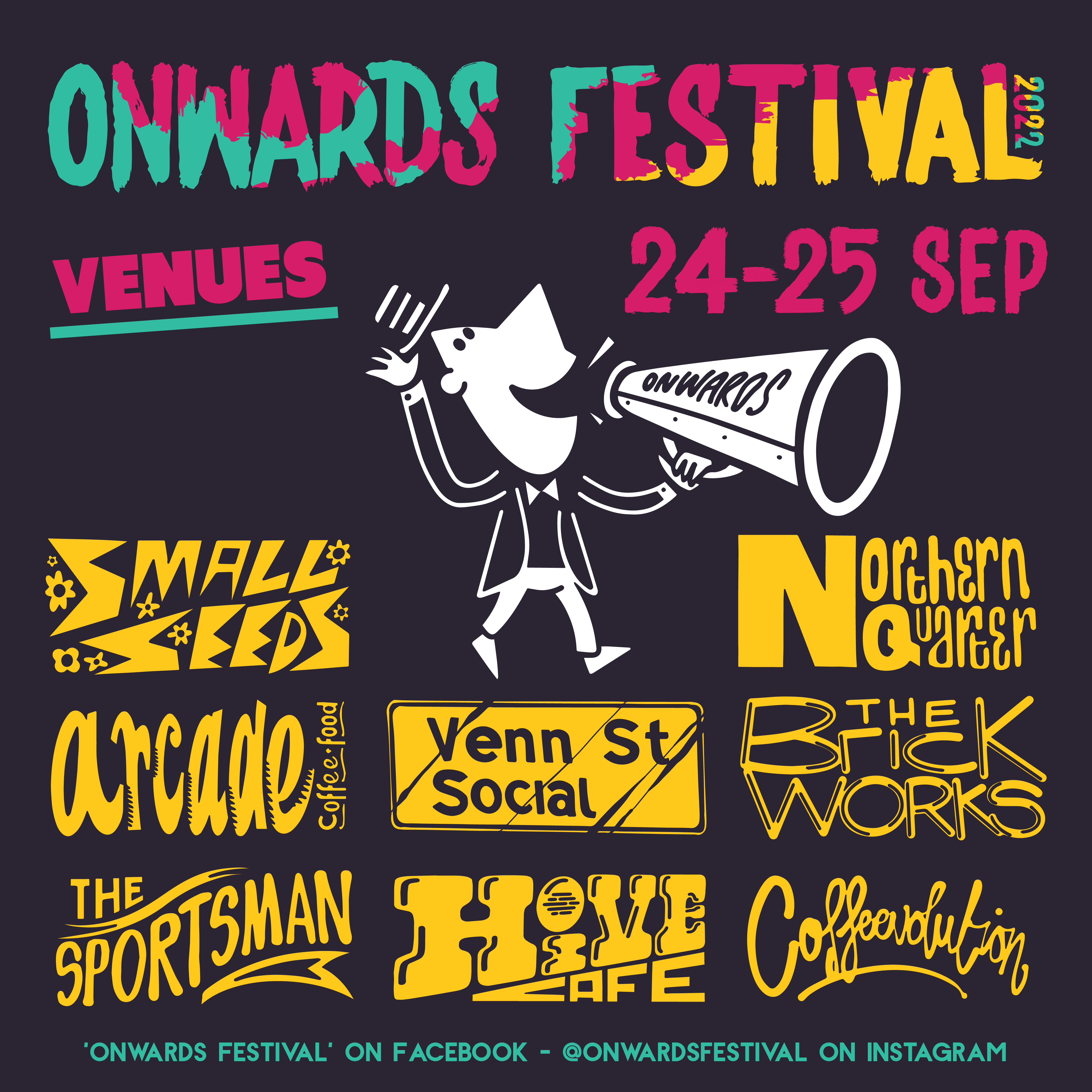 Onwards Festival is a celebration of grassroots music in Huddersfield. All the bands booked for the festival have a connection to the area. Most have been playing in Huddersfield regularly or have a Huddersfield following and connection to the town.
The venues too are important to the festival. Each venue has been hosting live music throughout the year or supporting Huddersfield's grassroots music and arts scene in some other way.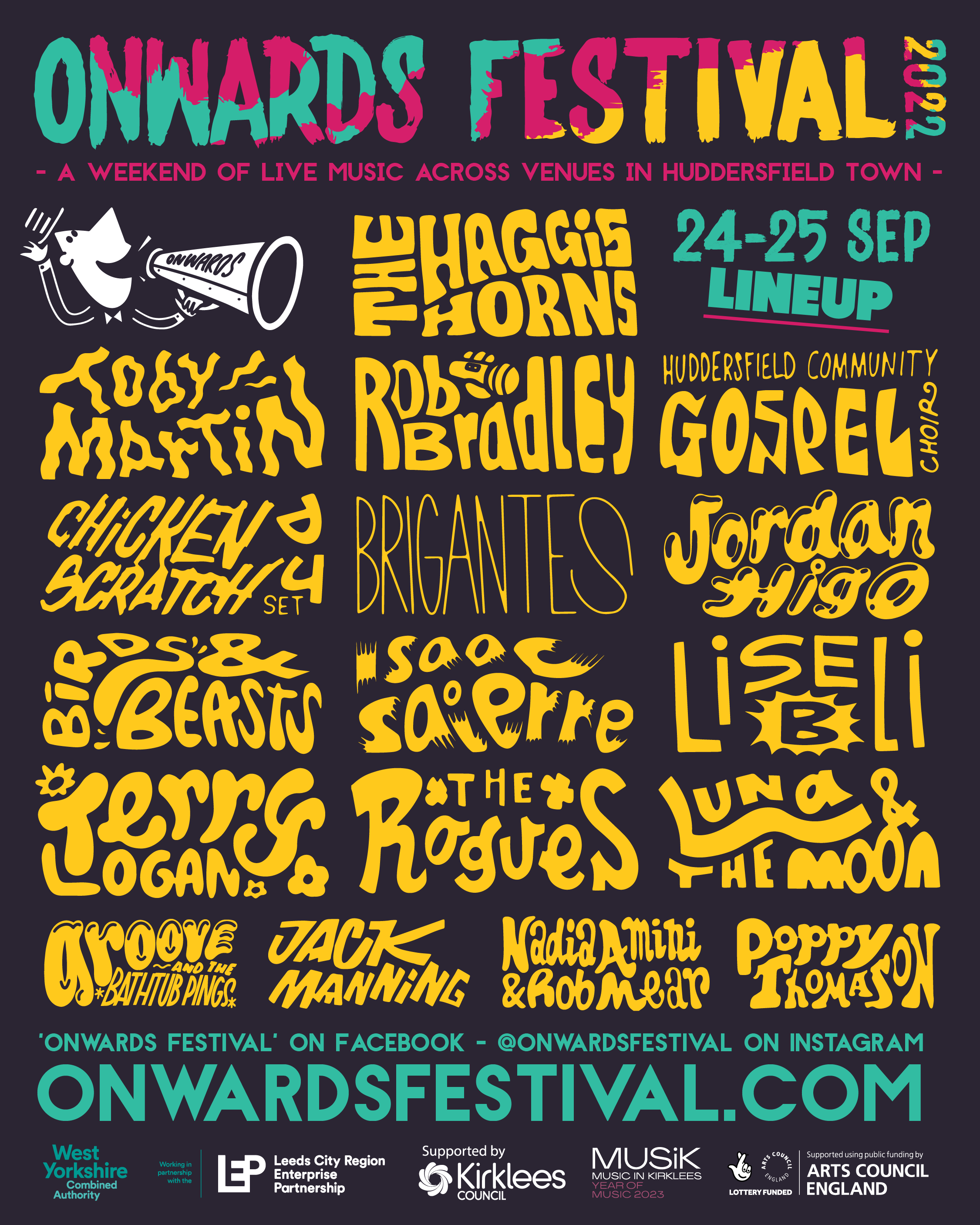 This year's Onwards Festival has another special treat for all attending. Brand new music commissioned by the festival and written by internationally renowned rapper Rob Bradley will be performed in collaboration with the Huddersfield Community Gospel Choir and take place in the spectacular Victorian Byram Arcade.
Rob Bradley has built a solid reputation as an astute lyricist, captivating storyteller and unrivalled improviser. In fact, he's a freestyle rap world champion! He has performed around the world, from underground clubs in New York to festivals throughout Europe. The Huddersfield Community Gospel Choir's mission is to bring diverse audiences together through life affirming roots and gospel music. Through performance, workshops, and other community-based activities, they seek to uplift, enrich, and educate.
Onwards Festival, on the surface, seems to be all about the music. But each year something else happens over the last weekend of September. Something that hides in the corner, or dangles above our heads or springs out of the walls. Something bright, something beautiful, something eye-catching.
Every year Onwards commissions one artist to decorate one of the venues on the trail. This year the art is not only to look at but also to look through! Saba Rifat is possibly best known in the area for her 2020 big pink and blue geometric installation 'Dewsbury Urban Garden'. It was this piece that drew the attention of Onwards to her wider work. Saba's art is full of patterns, shapes, bright colours, science, nature, divisions and forms. She takes natural phenomena such as a honeycomb, a snowflake, or a flower and, using Islamic Patterns as inspiration, re-imagines the object as one of pure geometry and colour. This year, Saba is dangling brightly coloured geometric frames from the ceiling of Byram Arcade. Audience members will be able to look through these frames at the performance to experience it from a fresh perspective and a defined focus.
More information and full line up of artists and venues can be found on the festival website www.onwardsfestival.com. Come and support this grass roots, organic live music festival taking place in the heart of our wonderful town.