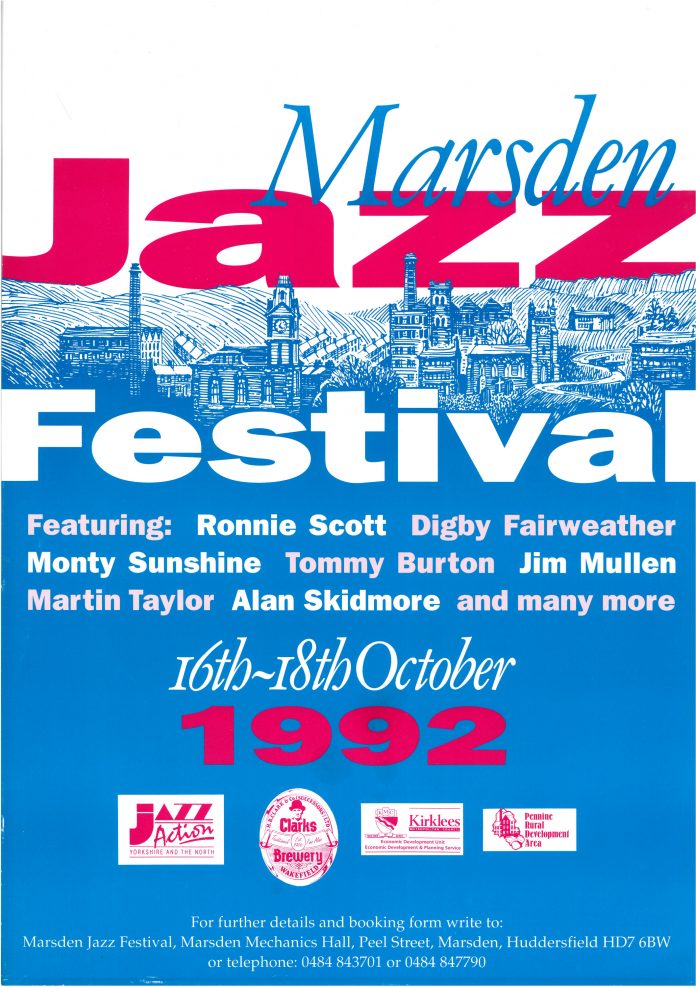 Customers travelling through the main station building will be able to see original posters dating back to 1992 when the festival was first held.
TransPennine Express, which manages the station, has arranged for the posters to go on display in the run-up to this year's festival to help celebrate the 25th Marsden Jazz Festival between Friday 9 and Sunday 11 October.
The festival has been awarded a Sharing Heritage grant of almost £10,000 from the Heritage Lottery Fund to explore the heritage of the festival and Marsden to share with children, community groups and the jazz industry.
Anyone with photos or memories of the festival from the past 25 years is being encouraged to email memories@marsdenjazzfestival.com.
Festival Producer Barney Stevenson said:
"We're really looking forward to our 25th festival which promises to be an amazing weekend. I'd definitely encourage anyone who hasn't been before to come along as there's always a fantastic atmosphere.
"If you're travelling through Huddersfield station during the next few weeks then you'll get a glimpse from the posters of how the festival has evolved over the years, and we're proud we now showcase dozens of youth and community musicians alongside internationally-acclaimed artists.
"We're also delighted to have received a Sharing Heritage grant from the Heritage Lottery Fund. We'll be using video, photos and other media to produce a record of Marsden's relationship with the festival, music and the historic buildings that are our festival venues."
The Marsden Jazz Festival was first held to mark the restoration of the newly restored 19th century Mechanics Hall in the centre of the village, and to contribute to the regeneration of the village.
The annual event has gradually grown over the years and the 25th festival will feature over 100 gigs at 25 venues, including outdoor stages, pubs, clubs, bars, cafes, churches and a restored mill.
Andrew Croughan, TransPennine Express Station Manager at Huddersfield, said:
"We are delighted to have the posters on display at our station and hope that customers enjoy looking at them.
"We're committed to supporting the communities in and around our network and are really pleased to be supporting Marsden Jazz Festival."
Jazz legend Digby Fairweather appeared at Marsden's first jazz festival in 1992 and is returning to Marsden for the 25th festival, performing alongside BBC Radio 2's Paul Jones in their 'Rocking in Rhythm' show.
Other headliners include ten-piece band Jazz Jamaica, Anglo-American supergroup The Impossible Gentlemen, and Jazz FM Awards 2016 nominee Nérija. More than 80 free gigs will also be taking place throughout the weekend.
The 25th Marsden Jazz Festival, which is being supported by Yorkshire Water and Arts Council England, will also feature the renowned Saturday street parade, an artisan market in Marsden's Victorian park and over 140 hours of live music.
Marsden Jazz Festival was named 'Outstanding Established Festival' at the Yorkshire Gig Guide Grassroots Awards 2015, and thousands of music lovers make their way to Marsden by train, bus, car and narrow boat every year for the festival weekend.
Tickets are on sale now and can booked online at www.marsdenjazzfestival.com, by calling 0800 6125 649 (10am-4pm, Monday-Friday), or at the jazz festival office in the library at Marsden Mechanics (10am-4pm, Tuesday-Friday).