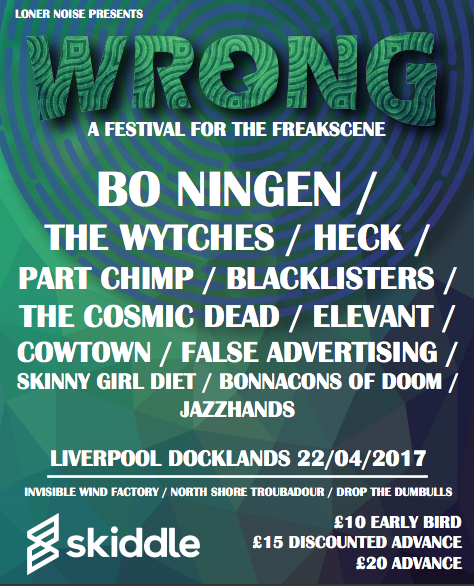 North West independent record label Loner Noise are proud to present WRONG Festival – A Festival For The Freakscene, a one day happening on the 22nd April 2017 at the newly formed creative hub of the Liverpool Docklands.
Aiming to create something truly unique and very special for the first time in Liverpool, organisers are proud to announce that Japanese psych legends Bo Ningen will be topping a bill which brings together the disparate scenes from the heavier and stranger corners of rock music on a freaked-out ride from punk to noise to psychedelia and everywhere in between.
The event takes place across three venues: The Kazimier team's much lauded new venture Invisible Wind Factory, latest after-party hotspot The North Shore Troubadour, and local DIY venue stalwarts Drop the Dumbulls. It will play host to 30 bands across the venues running from afternoon until late at night, and continuing the party into the small hours.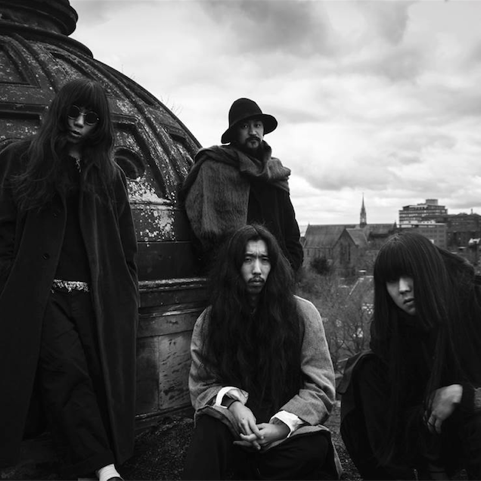 FULL LINE-UP:
BO NINGEN / THE WYTCHES / HECK / PART CHIMP / THE COSMIC DEAD / BLACKLISTERS / ELEVANT / COWTOWN / SKINNY GIRL DIET / FALSE ADVERTISING / HOUSEWIVES / USA NAILS / THE HYENA KILL / BONNACONS OF DOOM / MUMS / JAZZHANDS / SPQR / EVIL BLIZZARD / INDIAN QUEENS / CATTLE / GRAVVES / SUPER LUXURY / BERNACCIA / RONGORONGO / POCKET APOCALYPE / INDIGO MOON / KAPIL SESHASAYEE / SALT THE SNAIL / DRORE / WILD FRUIT ART COLLECTIVE / FEDERALES / BASIC DICKS / NO WAVE DJs / BEAR GROWLS DJ
Recently supporting the mighty Primal Scream and originally hailing from Japan but now based in London, Bo Ningen have a ferocious reputation for exhilarating live insanity. The band have released three critically acclaimed albums to date and have collaborated with Savages, earning widespread acclaim from the likes of The Quietus, DIY, Line of Best Fit and The New York Times.
They will be joined by a host of underground heroes in the form of Brighton's finest surf-doom outfit The Wytches, extreme noise mob Heck whose raucous live shows are the stuff of legend, dark-humoured noise rock quartet Blacklisters, Glasgow's foremost psychonauts The Cosmic Dead, near-legendary UK underground heroesPart Chimp, the immediate, cutting mutant-pop of Cowtown, and many more.
The festival will also introduce bands from the fledgling Loner Noise label roster including Elevant, SPQR, Gravves, Kapil Seshasayee, Federales and Pocket Apocalypse.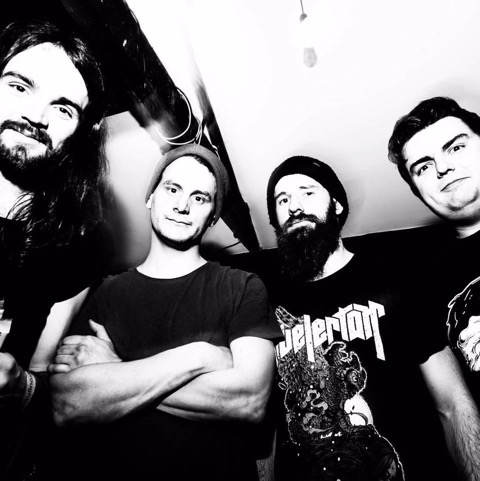 A city not necessarily known for its heavier underground rock scene, but one that's utterly steeped in rich musical heritage, WRONG intends to be the first festival in the city to tie together Liverpool's extremely talented (if sometimes overlooked) ever-growing pool of visceral and exciting heavy bands, as well as bringing high profile leaders and legends of the Freakscene to the city for rare live outings in the region.
WRONG Festival takes place on the 22nd April, 2017 in the new creative hub of Liverpool's Docklands. For more information, click the links below.
Event information:
Ticket price: £20 general admission, £15 discounted advance ticket
Doors: 1:00pm – 6:00am
Age restrictions: 18+
WRONG Festival online:
http://wrongfestival.com/
https://www.facebook.com/WRONG-Festival-1159884120768766/
https://twitter.com/WRONGfest
http://lonernoise.com/
https://www.facebook.com/lonernoise/
https://twitter.com/lonernoise
Ticket Links:
http://www.seetickets.com/event/wrong-festival/the-invisible-wind-factory/1042919
http://skiddle.com/e/12866489
http://dice.fm/wrong-festival