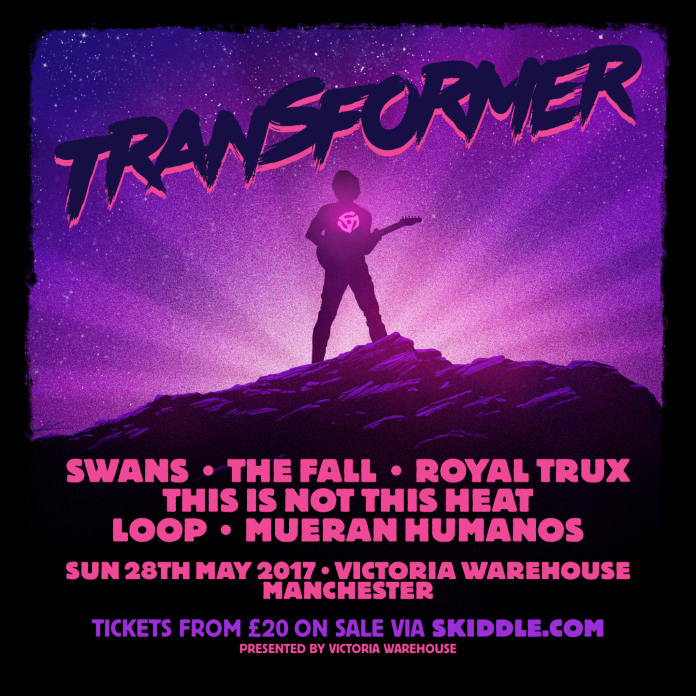 Transformer is a new series of live music events brought to you by the Victoria Warehouse in Manchester. Its name, chosen in commemoration of Lou Reed whose visionary approach to rock both in the Velvet Underground and on albums like 'Metal Machine Music', is reflected in the line-up of the inaugural event on Bank Holiday Sunday 28 May 2017. So far the lineup includes Swans, This Is Not This Heat, The Fall, Royal Trux, Loop, and Mueran Humanos.
Across two rooms of music, a record fair, food stalls, a cinema, and with more live talent and DJs to be announced, Transformer will bring an indoor festival vibe to the expansive Victoria Warehouse, documenting rock music's most innovative sounds from the past 50 years.
Curated by the in-house team at the iconic Victoria Warehouse – previous host to events for BBC 6 Music, Live Nation and SJM Concerts – the Transformer lineup reads like a response to the question – which existing bands would best headline one of Warhol's Exploding Plastic Inevitable happenings or Wilson's Factory Club nights, if either event still existed? James Cohen, owner at the Victoria Warehouse commented: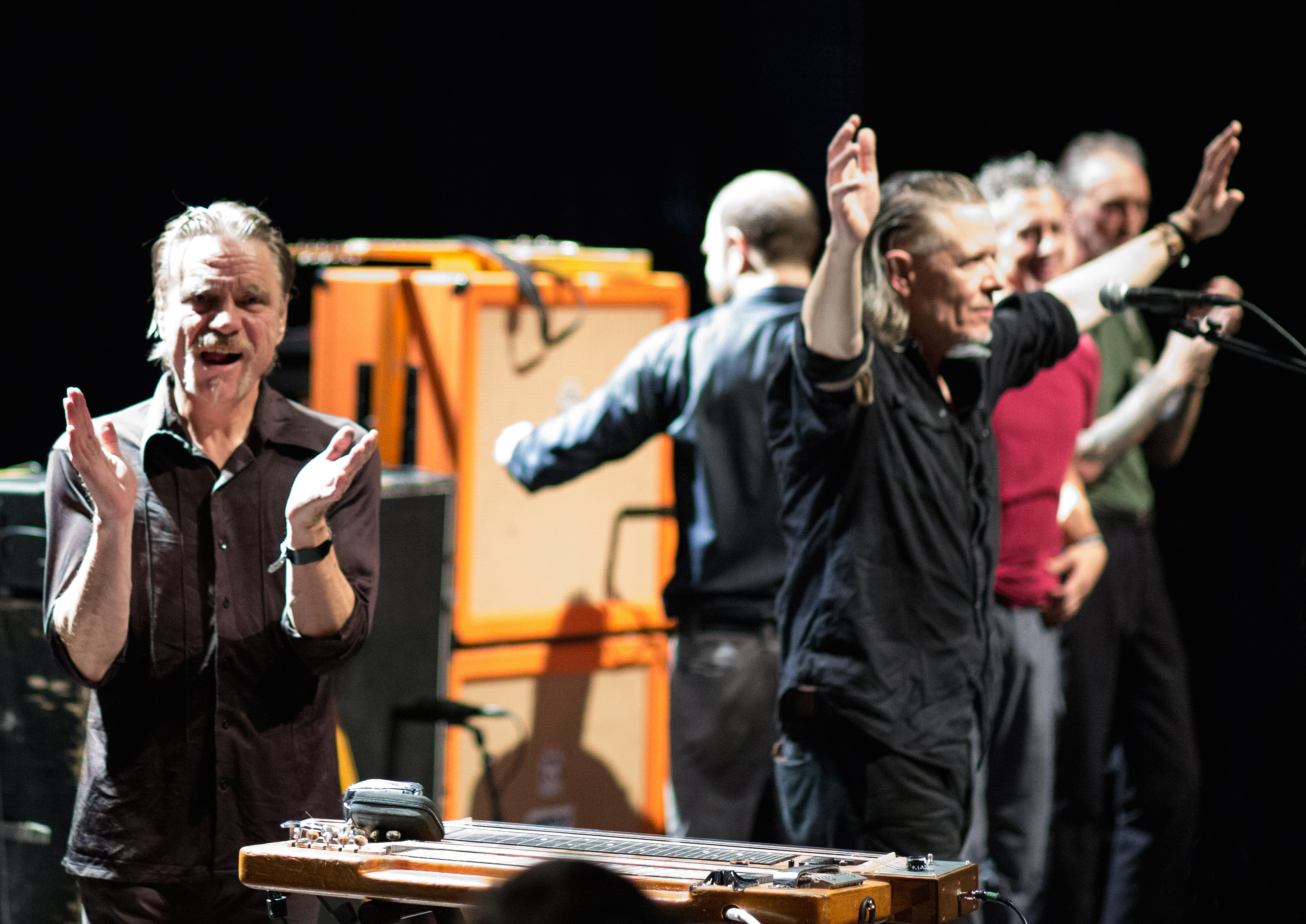 New York noise-rock titans, Swans, led by original founder and multi-instrumentalist, Michael Gira, the genre pushing band will bring expansive layers of drone and no wave to the event, hot off the back of their final record 'The Glowing Man', released to glowing reviews in summer 2016.
Homegrown Manchester post-punk band The Fall, will also star, with front man Mark E Smith leading the band in a lineup that has remained stable since 2007. From citing the Velvet Underground among their musical influences and having a devoted fan in the late John Peel, to releasing an impressive 30 studio albums and playing the original Factory party for Tony Wilson, their set at Transformer is not to be missed.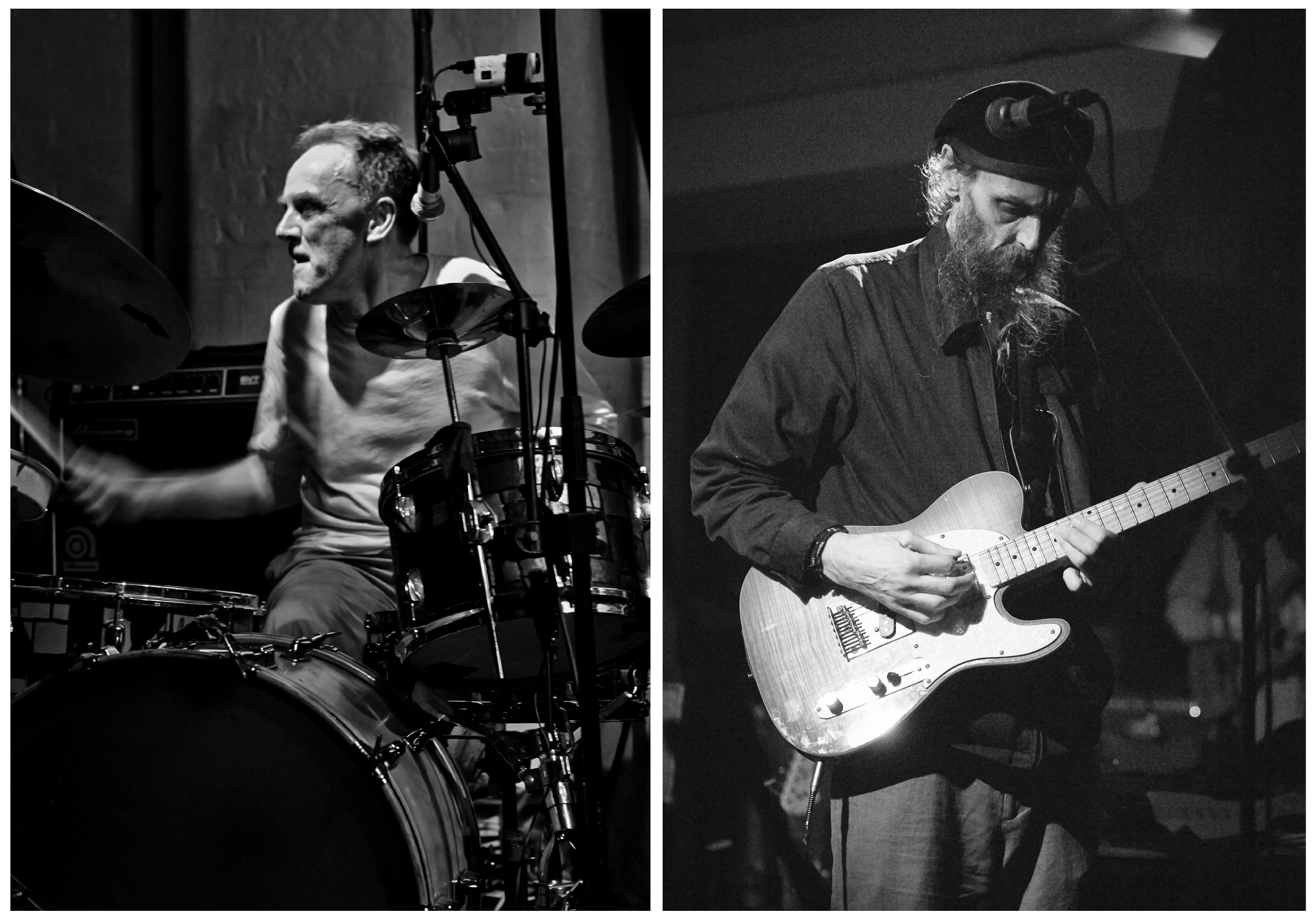 In another long-awaited return, London-based avant-rockers, This Heat, perform in Manchester at Transformer for the first time in over 30 years. Now named This Is Not This Heat in respect for original member Gareth Williams who died in 2001, the band reunited in 2016 after 40 years of inactivity, to rapturously received shows at London's Café Oto; a reception which will no doubt be repeated when they arrive in Manchester.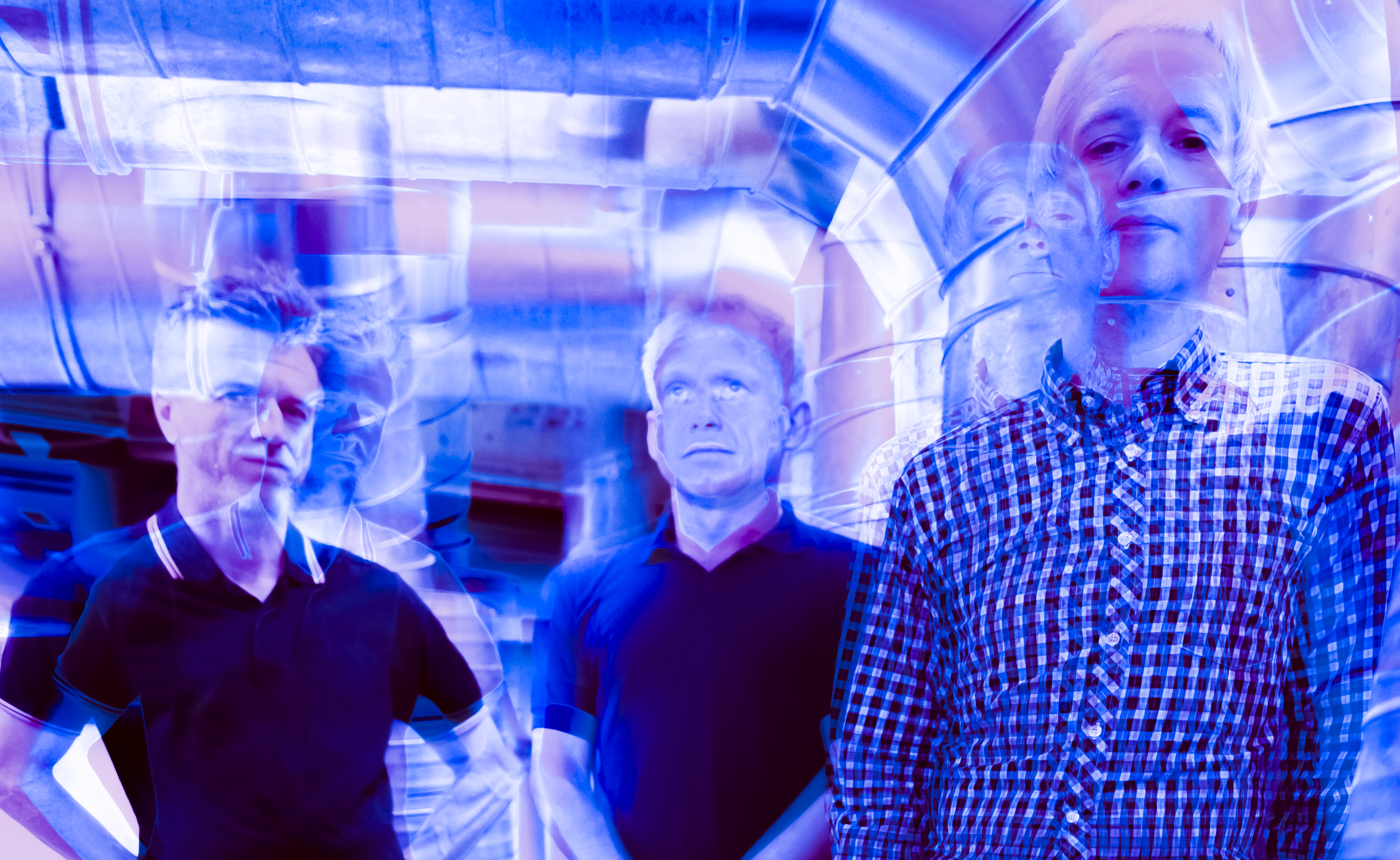 From a slightly later period than This Heat, but similarly incubating their sound before reforming in 2013, south London's Loop also straddle the divide between avant-garde composition and song-form, making the appearance of both bands on the same bill at Transformer a well overdue, must-see event.
Further adding to the Transformer lineup is Royal Trux from Washington DC. Like LOOP, Royal Trux is indebted to classic garage and psych, at least instrumentally. Vocally, Jennifer Herrema's voice is akin to Betty Davis, which acts as a counterpoint to Neil Michael Hagerty's, which lies somewhere between Beefheart and Johnny Thunders. Like all of Transformer's guests, this is a rare chance to see them live, as the pair have scarcely been in the same room together since 2001.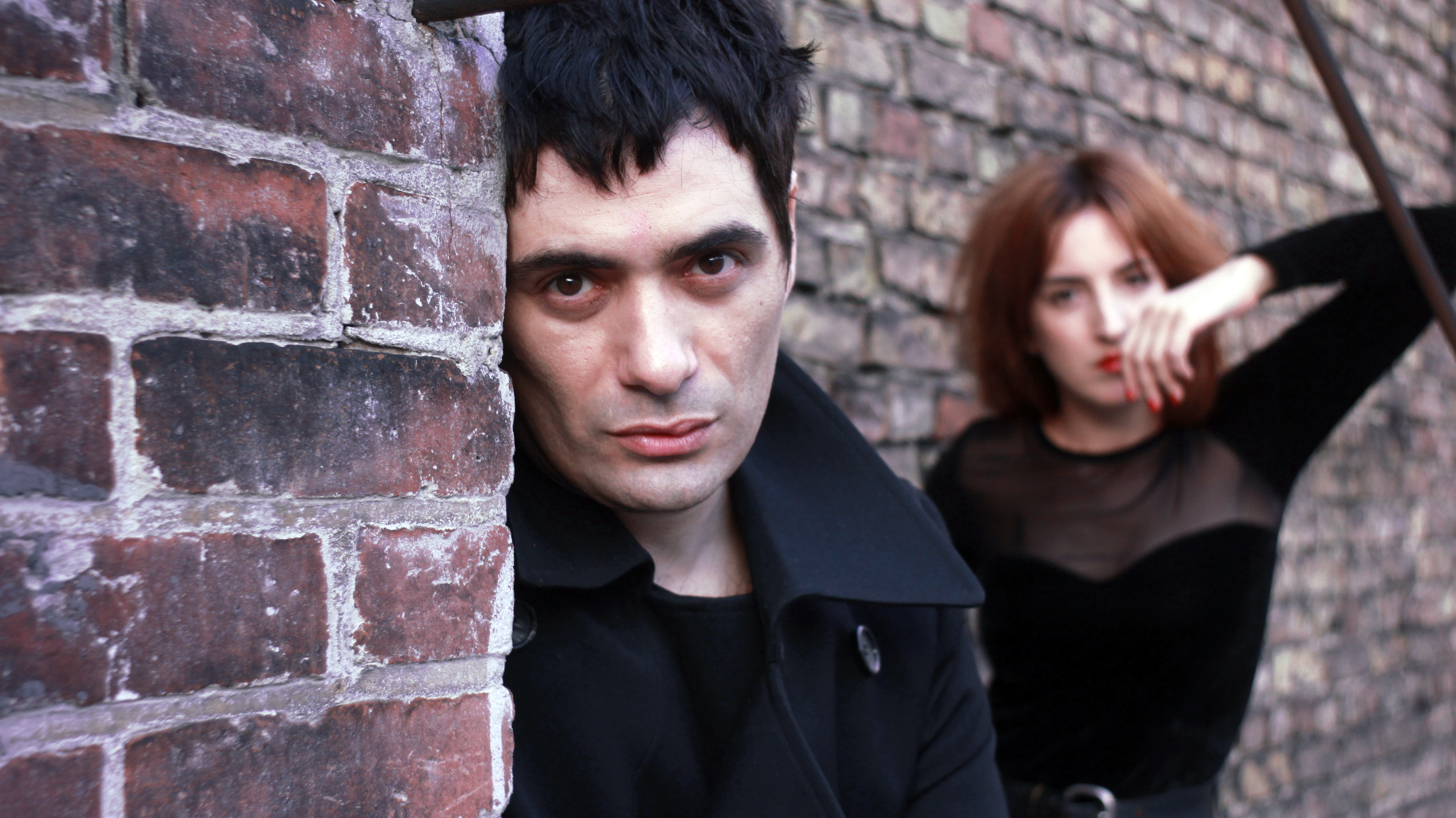 The line-up released so far for Transformer, is completed by the more recently formed and Berlin-based, Argentinian duo Mueran Humanos. Their music evokes art happenings-slash-gigs in loft spaces in Abraham Beame's New York, or East London squat parties during Thatcher's Britain: October Love Songs for Psychick Youth. With elements of psychedelia, garage rock, and minimal synth, their set is assured to bring grit and energy to the Victoria Warehouse.
Earlybird tickets for Transformer are now on sale for the price of £20 + bf from www.skiddle.com/e/12859771. With prices increasing over the coming months, buy now for the best price.
Further lineup announcements are yet to made, as well as more info released about the event's cinema programme and record fair. Keep an eye on the Facebook page for all the latest news and updates https://www.facebook.com/transformerevents
Event Details
Transformer Events presents:
Swans
The Fall
Royal Trux
This Is Not This Heat
Loop
Mueran Humanos
+ more to be announced.
Venue: Victoria Warehouse, Trafford Wharf Road, Manchester M17 1AB
Date: Bank Holiday Sunday 28 May 2017
Doors: 3pm – 1am
Age: 18+
Tickets: Earlybird Tier 1 – £20 + bf / Tier 2 – £22.50 + bf/ Tier 3 – £25 + bf / Final Tier £27.50 + bf
Available from www.skiddle.com/e/12859771
Links
www.transformerevents.com
https://www.facebook.com/transformerevents
https://twitter.com/vicwarehouse