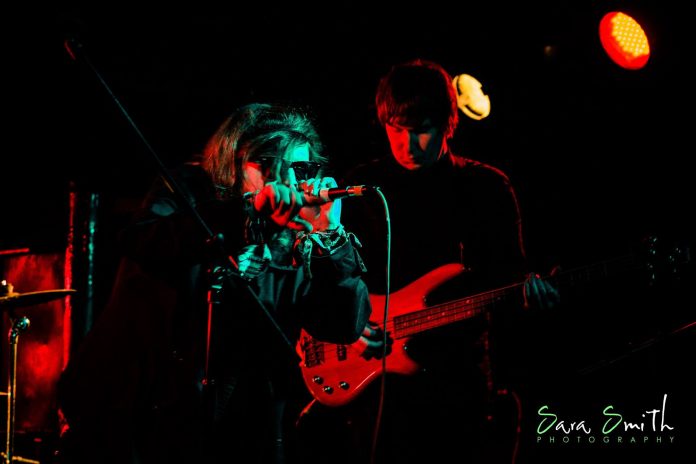 I saw The 99 Degree supporting The Fall – you can read my review here – and I was incredibly impressed – both by their music and by their performance. This is a band that performs. Given that this a free entry gig, if you're in the area, why not check them out.
If you read my review you'll see that I found it quite hard to describe their music – their own description 'Surf, Psych and Spaghetti Western influenced Garage-Rock' works but doesn't quite encapsulate their 'sound' to my mind. You can listen to 'Dead or Alive' – one of my favourites on the night – below and come up with your own description!
The info
The 99 Degree are:
Vocal: Joe Sartini
Guitar and Vocal: Phil Turner
Bass: Paul Fetherstone
Drums and Vocal: Craig Trickett
The band are drawing comparisons with the likes of The Growlers, The Cramps, Love, The Coral and The Fat White Family; The 99 Degree's music gives a nod to Surf, Psych, Rockabilly, 60's Garage Rock and even Spaghetti Westerns and Horror films.
Soundcloud: https://soundcloud.com/the99degree
Facebook: https://www.facebook.com/the99degree/
Twitter: https://twitter.com/The99Degree
What people are saying
"The 1950's surf/spaghetti western guitar sound permeates the tracks; this band are definitely ones to watch" – Louder Than War: http://louderthanwar.com/new-artist-day-99-degree
"Their joyful chaos sometimes evokes the early sound of The Coral while some imagine them
already direct competitors of London's Fat White Family" – POPnews (France):
http://www.popnews.com/popnews/a-surveiller-the-99-degree-we-the-pigs
"Something is rumbling up North… sweeping the indie boys aside on the Manchester scene,
The 99 Degree are making waves with their psych/surf take on 60's based garage punk" –
Interview with Dayz Of Purple and Orange:
http://dayzofpurpleandorange.blogspot.co.uk/2016/02/interview-99-degree.html
"…with a vocalist that resembles a deranged wild eyed preacher from the old west. They play a reverb drenched set of garage rock crossed with the soundtrack from a trashy spaghetti western" – Review of their show with Kid Congo by The Punk Site (couldn't have put better myself):
http://thepunksite.com/reviews/king-congo-powers-and-the-pink-monkeybirds-manchesterdeaf-institute/