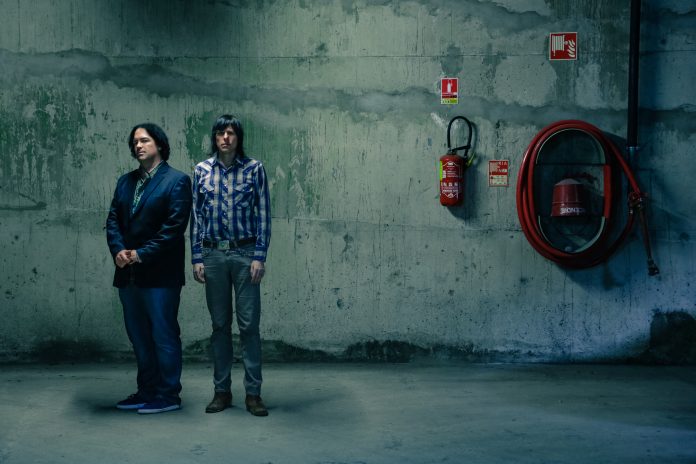 After a triumphant run of dates across Europe in March and April the newly revitalised trio-format band head back to Europe in October, following a 27-date run of secret shows in the US.
The band have always been exploring, growing and 2016 sees them continuing in that vein. None of US shows were in conventional music venues, with the location only revealed to ticket holders not more than 24 hours in advance of each show. The band are now touring as a trio, with no bass player, and 'Solid States' collaborator Frankie Siragusa on drums. New album, 'Solid States', was not recorded in the usual band-in-a-room manner. Stringfellow and Auer sent song ideas back and forth online, writing and largely recording the album separately – but collaboratively – in their home studios.
Following the death of former Posies Darius Minwalla and Joe Skyward, the ideas coming from Jon and Ken were understandably fragile and the moods contemplative. Death, divorce, loss. Even the joys of life are fleeting enough as to be treated with care and respect. However the songs retain their legendary melodic abilities, their trademark vocal harmonies and their lyrical agility.
'Solid States' is out now on British indie label Lojinx, on CD, digital and heavyweight vinyl LP. The autumn tour starts in Manchester on 27th October, ending on 9th November in Diksmuide, Belgium.
"classy and understandably sober… their status as much cherished melody makers seems perfectly secure" – MOJO
"sweetly melancholic… awash with harmony, heart and melody" – UNCUT
"it's a cold-hearted guitar-pop fan who'd deny just how strong a collection of songs it is" – IRISH TIMES
"a welcome return to form… some of The Posies hookiest tunes in years" – SHINDIG!
Dates
27th October – Night and Day, Manchester
28th October – The Hug and Pint, Glasgow
29th October – Brudenell Social Club, Leeds
30th October – Louisiana, Bristol
theposies.com | fb.com/theposies | twitter.com/theposies | instagram.com/theposies | lojinx.com/the-posies