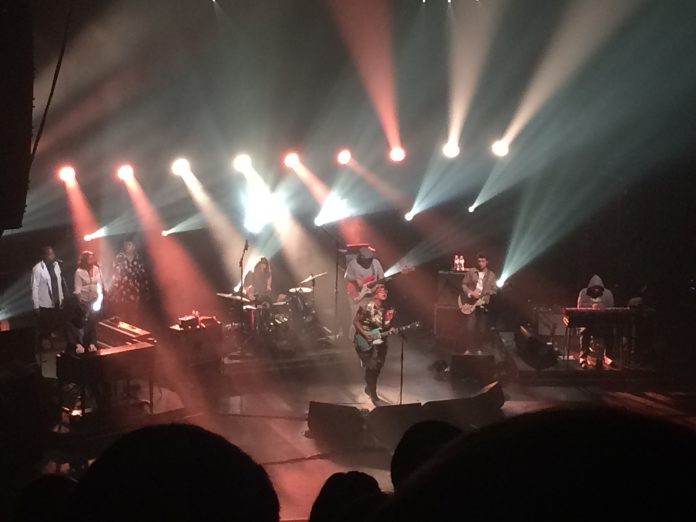 A huge success since their first album Boys & Girls was released in 2012, Alabama Shakes have gone from playing cover sets in their hometown of Athens to performing in front of the president at the White House. Much has been made of the new musical direction the band has taken in their most recent album Sound & Color. This album sees them beginning to shift away from the straightforward roots-rock of their debut towards a more varied and experimental sound taking in influences such as Prince, Led Zeppelin, Curtis Mayfield and Funkadelic.
While it's a natural process for a band to go through, a change in musical style can often be a gamble, but in this case it has most definitely paid off. Sound & Color has proved a triumph, and there was a palpable sense of excitement amongst the crowd, with everyone eager to hear how these new songs would sound live.
After a brilliant support set from the Sheffield indie duo, Slow Club, Alabama Shakes came out strong, opening with single Don't Wanna Fight. Heath Fogg and Britanny Howard's funk riffs played off each other whilst the bass and drums of Zac Cockrell and Steve Johnson locked into a tight clipped rhythm.
From the start Howard's powerhouse vocals have been a selling point for the group and whilst the previous album's songs gave her a nice, steady platform for her talents the more ambitious writing on the new release has given her more space to push that incredible voice to greater heights. From the squeal that opens Don't Wanna Fight, to a soaring falsetto on the outstanding Future People, Howard doesn't miss a note.
Future People in particular benefited from the expanded touring band – which now features a second keyboard player and three backing singers who filled out the huge chorus with harmonies and extra percussion.
Despite the fact that Sound & Color just came out late last month the band have obviously had time to get comfortable with the new songs – and it showed. The transition from the soft, lazy verses to the impassioned howl of the chorus on Gimme All Your Love played out perfectly. Howard seemed relaxed and confident on stage, dealing with a mouthy fan by asking his name and incorporating him into the forlorn Otis Redding-style ballad Miss You. Much to his audible delight.
Although it's easy to focus on Howard's voice, the group's performance as a whole was fantastic. Punky adrenaline shot The Greatest, kicked in midway through the set like a sweet and soulful Ramones song and it was obvious that the band were having a blast. Likewise during the melt-down climax of Dunes and the freak-out guitar soloing on the epic set-closer Gemini (a song which wouldn't have seemed out of place on D'Angelo's new record), it was clear that this is a band gleefully pushing at their boundaries and slipping loose from their genre's conventions.
That's not to say that they avoided playing any of the first album during the gig. Tracks like Rise To The Sun, Heartbreaker, Be Mine and crowd-pleaser Hang Loose were dotted amongst the set, and the final encore was an appropriately show-stopping version of You Ain't Alone which the audience clapped and sang along to like a gospel congregation. A noticeable omission, however, was Hold On, the Grammy nominated single that brought them to most people's attention. A seemingly daring move for a band only two albums into their career, the decision to leave it off the live show may have annoyed some but to complain about one missing song would have missed the point. Alabama Shakes are only just getting started. There will be many more great songs to come from this group and judging by this night, many more amazing performances.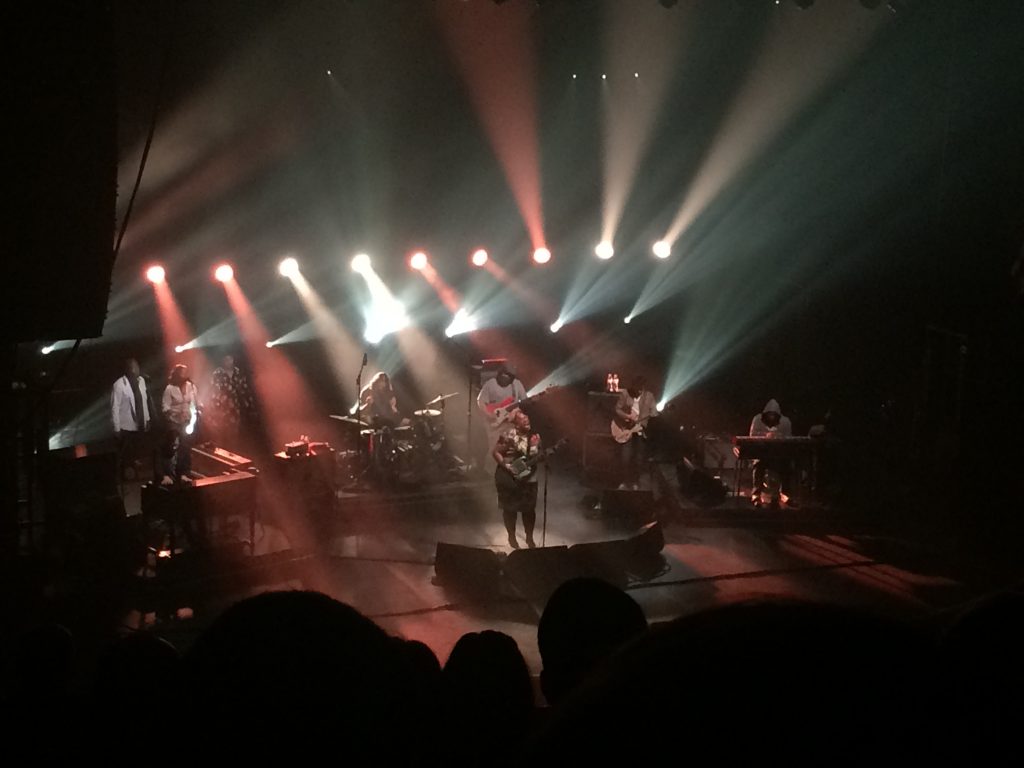 Set list:
Don't Wanna Fight
Rise to the Sun
Dunes
Future People
Heartbreaker
Over My Head
Miss You
The Greatest
Shoegaze
Hang Loose
Gimme All Your Love
Be Mine
Gemini
Encores:
Joe
Always Alright
You Ain't Alone