Time was when students paying their way through college washed dishes or served behind the bar. Then singer-songwriter Joe Martin raised the bar by combining a BA in Popular Music at Leeds College of Music with the formation of country-folk band Fitzwallace – in tandem with four fellow-students.
Formed during their freshers year in November 2013, their first EP, Treading Water, followed just months later, with the title track providing the kind of epic folk-rock that marks out a singular talent for song-writing. Angst-ridden and soul-searching, Water builds slowly to a terrifying torrent of sound from Martin's ominous intro, with stirring harmonies from the band's female element, Flo Taylor, forcing the flow.
Incorporating Calum Juniper's lead and slide guitar and banjo, Harry Vernon's bass guitar and double bass, and Henry Broomfield's drums, the band has already established quite a reputation in the Leeds area, supporting the Shires and Ward Thomas as part of their co-headline tour and also playing at the Country to Country festival at London's O2.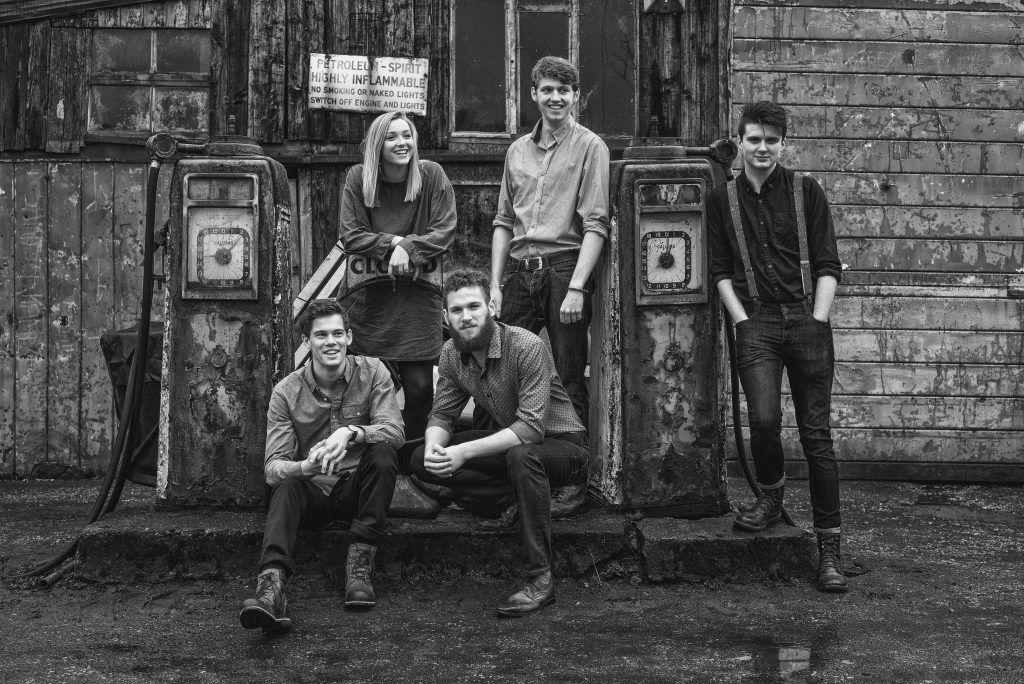 Now here is their second EP, Sweetheart, released on 21st May and launched at 360 Club Leeds, and available to download from Bandcamp.
Joe Martin explains: 'We've started to see a growth in the popularity of country music in the UK and we're trying to nurture the scene that exists, and watch it grow as we grow. We're not really trying to replicate American Country, we want to create something that people in the UK can identify with while still being able to hear elements of country in the music.'
So, riding the country wave away from the not-waving-but-drowning Treading Water, we begin with the jaunty Ballad of a Star. Choose your partner, link arms, and here we go… No, hang on, wait a minute! What's this? Fancy clothes, sultry looks, mini-skirted groupies, a fatal sports-car crash, James Dean-style, poster on a bedroom wall serving as headstone. Ah, so that's what Martin means by UK country – the Grim Reaper's version of a hoedown!
Certainly, there's no shortage of happy country tunes on this EP, or on Fitzwallace's previous offering, but they're invariably underscored by folk's perennial reality check – a mid-Atlantic amalgam of New World and Old World.
Title track Sweetheart of Mine and Somebody New, both just short of four minutes long, hinge on the Martin-Taylor boy-girl dialogues that are a strong harmonic feature of the band. This is unisex heartache, brandy of the damned, bringing to mind Bob Dylan's classic line in Mississippi – 'I know you're sorry, I'm sorry too.'
Appropriately, The Beatles introduced themselves to their US audience with the song I Want to Hold Your Hand. Similarly, Fitzwallace tip their hat to the Nashville Skyline with Golden State of Mind, a wonderfully escapist dreamin' road trip of a song that heads out West to California. Here, the EP's tensions are resolved in a happy resolution as our partners-in-song, Joe and Flo, drive off together into the sunset.
Today's young people tend to worry about their employment prospects once their student days are over. Judging by this band's recordings and concerts to date, not least this Sweetheart EP, these five students have nothing to worry about on that score. Catch them if you can.
EP Launch
360 Club, Library Pub Leeds on Thursday 21st of May. Support from Jolly and the Lightweight and Heir. Tickets can be ordered online or purchased from any band member performing on the evening.
Tickets from Crash Records: http://crashrecords.co.uk/product/fitzwallace-ep-launch-more-360-club-210515-the-library/
Tickets from Jumbo Records: http://jumborecords.co.uk/tickets.asp?event_id=19453
Links
Fitzwallace website: http://www.fitzwallace.co.uk
Treading Water is available on iTunes: https://itunes.apple.com/gb/album/treading-water-ep/id860001157