According to the Oxford Dictionary Anathema is 'something or someone that one vehemently dislikes' which didn't seem to match up with the couple of pleasant ballady tracks I'd hastily downloaded, in transit. And to be honest I had no idea how to pronounce them. My colleagues at LSF were pretty convinced it was 'Anne-ath-eeema' – a kind of ironic messing around with the original word. Which left me feeling a little uncomfortable because I was hardly going to walk up to one of the avid fans waiting in the aisle of the cathedral and say 'Excuse me, sir or madam, just how do you pronounce the name of this band?'.
(Before you wonder why I've arrived so uninformed, let me explain that I wasn't actually meant to be here. I don't mean I've snuck in through a side door of Manchester Cathedral and blagged my way into a press seat. I was replacing one of our regular writers who'd been unable to make it at the last minute. And I really fancied the idea of listening to a gig in a cathedral because it wasn't something I'd experienced before.)
Fortunately a very kind photographer, called Michael (whose photos you can see on this page) puts me out of my misery. 'It's pronounced just like it is in the dictionary,' he tells me. Which is a relief. And significantly reduces my chances of being torn limb from limb by those fans in the front row. Floaty clothing, long hair and interesting hats aren't a guarantee that people will be gentle.
Then very-helpful photographer Michael goes on to explain to me a little of the band's history – and to confirm something I'd read but was curious about. Which was that – yes, this Liverpool-based band did start out as a death/doom band, until they changed direction and moved towards prog and atmospheric rock.
Michael also tells me that the core of the band is the three Cavanagh brothers, two of whom will be stage tonight. They are Vincent and David – and there's also Jamie but if I believe he's doing something techy behind the scenes (and I later discover that a significant amount of tonight's music is actually pre-recorded, from a larger ensemble of absent band members). And the guys are being joined on stage by Lee Douglas, who shares vocals with the brothers.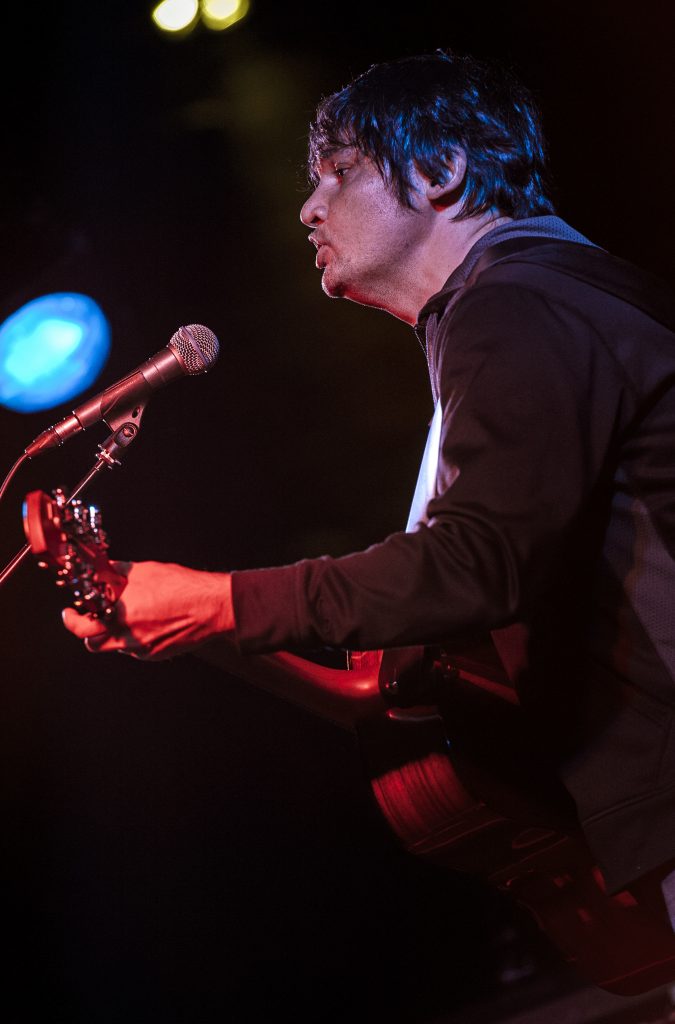 I also learn from Michael that tonight's support act is Conrad Keely, normally known as the singer from And You Will Know us by the Trail of Dead. It would be wrong to make a cheap reference about not being slayed by Conrad's performance. Somehow a lone man with a guitar didn't seem equal to the acoustics of this expansive environment. For me his performance never quite hung together. But that may be because I was sitting to the side of the stage and the microphones seemed to be rigged for the audience standing in the cleared space in front.
I was switching off and wondering when the band were coming on, when Keely delivered a song with the chorus 'Let it die, let it die, let if fade out of sight' and I was utterly hooked. Unfortunately my enthusiasm didn't survive the following track, but it gave me an insight as to why some of the audience were so enthusiastic.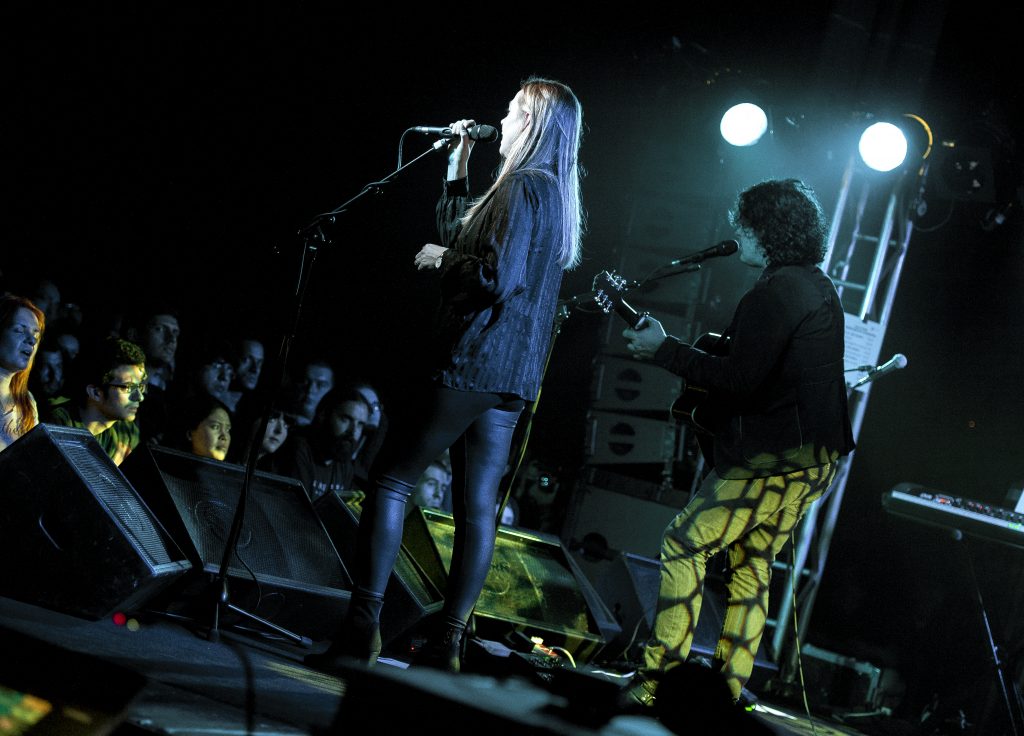 I'm not going to try and name any of the tracks that Anathema performed (apart from the covers). And to analyse each one isn't really my style. But let me tell you that within moments of the lights going down and the band coming on – proceeded by some ethereal children's voices – I had a great big grin on my face. I couldn't quite catch all the lyrics but I'm sure there was something about 'because the world is round it turns me on, because the wind is high it blows my mind', and, dear reader, this reporter was quite happy to have her mind blown. And who wouldn't be with all those fabulous lights and bucket loads of atmosphere that the cathedral offered.
I was certainly very happy to listen to a flow of songs which took liberties with my emotions. Songs engorged with poignant longing, such as the evocative cry 'Come back to me!' (you knew it couldn't end well) and 'my feelings will always shine' – with the emotions tautly held on a shimmering line of melody. There were also songs like 'The Beginning and the End' which took me to places where the army is approaching, my crops will be burnt, my home destroyed, my family murdered or carried off as slaves…
I was broken hearted just from listening – although they could have been singing about someone forgetting to do the washing up, for all I knew.
Anathema's music is glorious, wistful and skilfully manipulative, making full use of the amazing space available. It has a transcendent, bigger-than-the-sum-of-its parts quality that brought the word 'epic' to mind. And I don't mean 'epic' as it's used by the young on Facebook. No indeed not. What I do mean is that it reminded me there were bigger things out there – torrents to be navigated, hearts to be broken, rings to be thrown into The Cracks of Doom, and a whole load of very painful stuff which will more than likely never result in a happy ending. But maybe, if you're very luck, you'll be standing overlooking the sea when a sumptuous pink-gold sunset washes the horizon, and everything will be heroically worth it in the end.
However I don't want you to think that there was anything sloppy about this performance. At no point did it spill into full-blown stadium rock. There was a poignancy, a tightness about each track that held everything in check. Just as you thought a song was about to soar away into indulgence, it stopped. Emotions were seriously toyed with, examined and probed, but never allowed to let rip. The band work together with such polish and a seamless consistency that it's easy to find yourself immersed in the experience.
'These places are not just temples of worship but temples of sounds,' Vincent tells the audience. 'It's a real honour to play here'. Certainly was a reverence with which both band and audience embraced the possibilities of this ancient building. Everyone seemed to be obeying polite notices to put their empties in buckets by the pillars, and Vincent apologised when he accidentally swore.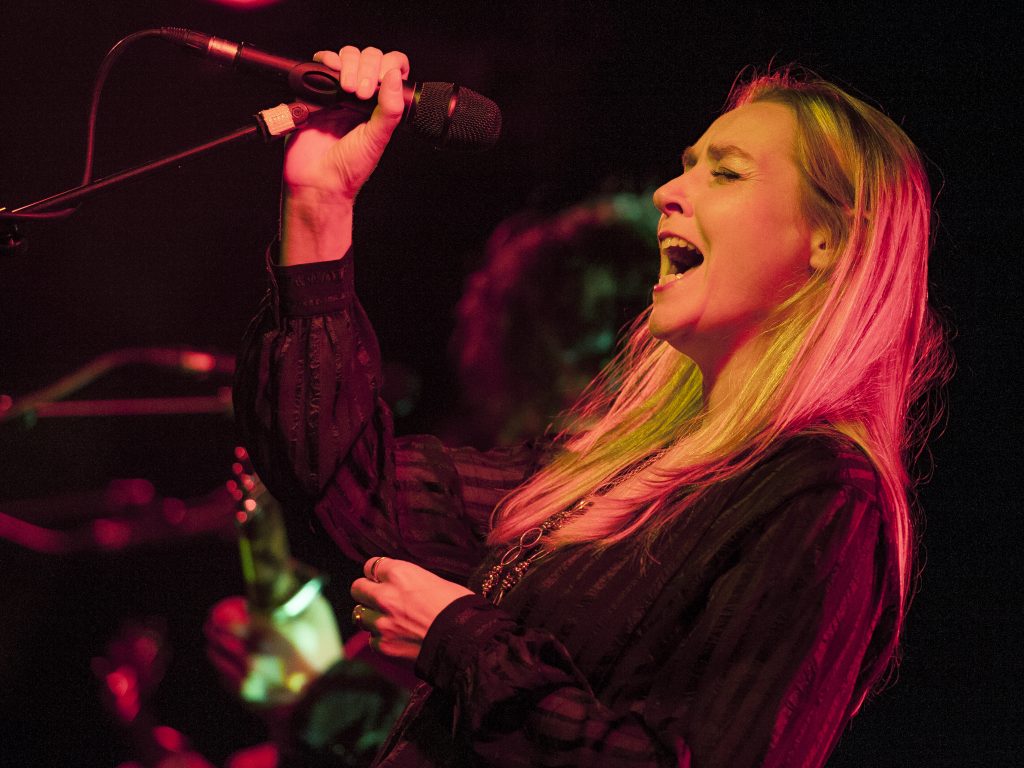 Perhaps for me the highlight of the evening was Lee Douglas singing Glory Box. This classic written and performed to near-perfection by Portishead takes some beating. Beth Gibbons' 60-a-day voice takes some beating, but Lee Douglas gave her a pretty good run for her money, with a voice so clear and sweet that it put me in mind of natural spring water. And Danny's guitar playing was beautiful to the point of being almost uncomfortable, although at times I wasn't really sure what was his and what was coming from the pre-recorded sound track. And there were times when the pre-record track seemed to drown out even the power of Lee's voice, although she was definitely a match for it, holding each tingling, longing note of 'give me a reason… to be a woman', and holding the audience spellbound.
I wasn't however quite so blown away by Danny's version of 'Running up that hill' (by Kate Bush). He sang it alone on stage, with a tautness and restraint that somehow didn't work so well in the setting of the cathedral, and some people in the audience seemed a little restless, talking through the track. But the audience went crazy when he finished, so maybe I was missing something from my seat at the side of the stage. But it was intriguing and something I'd like to hear again, in a different setting.
Quite why the band chose to close with a version of Pink Floyd's 'We don't need no education', I'm not really sure. I had to leave at that point to be sure I caught my train. But I hovered in the aisle for a bit, enjoying the music too much to want to leave. Their version didn't add anything new to the original, but it didn't detract in any way either, and I for one enjoyed it. However on my walk to the station I found myself overhearing a couple who were complaining that the band had done four covers and that there was far too much pre-recorded music, and they were expecting a much 'liver' experience. I can't argue with that, because this was the first time I'd heard them, but I can definitely say that for me it was a very pleasurable musical evening, in a terrific setting.
If I have a criticism it was that there were times when I'd have liked the lyrics to be a little more challenging. It wasn't that this was 6th form lyrics but there were times when I wished some of their very obvious creativity had gone into finding a different word to express all those huge emotions their music was touching upon – not the most predictable, safest one around.