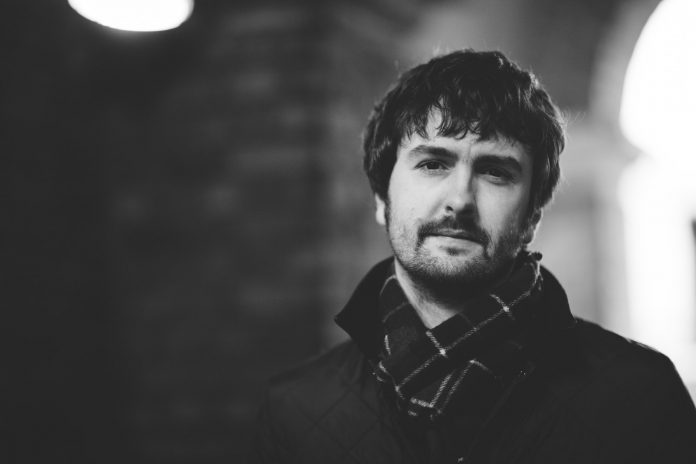 Ben Cottrell, alumnus of Manchester's RNCM, has already established himself as a composer through his work with the Beats and Pieces big band and his arrangements for many exceptional British musicians, notably Laura Mvula. The Irwin Mitchell originals scheme, unique in Britain as an open competition, is a means not only of bringing new music to jazz audiences but also of giving upcoming composers the backing to stage projects which might otherwise not be feasible.
Both visually and aurally Ben Cottrell's MJF Commission 'New Seeing', was unusual and exciting. It incorporated a twelve piece string section along with two drummers, two double basses and the more conventional jazz instrumentation of piano, and trumpet/flugel. Standing in a semicircle around the seated players, the string players could clearly see and hear each other in this formation, and this lent itself to the elements of introspection and improvisation which were very clearly designed into the composition. Thus, as well as creating an innovative performance, the composer very consciously adopted essential jazz elements into the mix and had not simply written jazz pieces to be played on orchestral instruments.
The four pieces in the 70 minute work created a range of moods from soothing reflection to rather edgy suspense, using the full range of sounds and techniques available from pizzicato violins and violas, to deep bowed bass notes, muted trumpets and a range of percussion instruments. These included the celesta, an unusual instrument that added an otherworldly colour to the ensemble where it substituted for the piano. Having spent some considerable time in the venue rehearsing, the musicians had conquered some of the acoustic problems inherent in, for example, string sections competing against drum kits, and the strings in fact created surprisingly rich and powerful textures behind the lead trumpet/flugel. In these parts, the soaring horn work brought some of the excitement of jazz to the sound, Graham South sparring against the twin drummers and Richard Jones' skilful piano comping. Other delights for the ear came from the twin double bass introduction to the second piece, Banger, reminiscent of Charles Mingus' solo bass experiments, and the percussion feature in which Finlay Panter and Johnny Hunter deployed drum kit and a panoply of shakers, rattles and bells to great effect.
A further departure was the use of electronics to both introduce synthetic soundscapes, but also to treat the live sound to elaboration. This use of technology was not only particularly effective but also subtle. It shaped the very first moments of the concert, during FM, in which a slowly building 'air sound' was improvised by the string players picking, bowing and swooping on their instruments to create a build up, somewhere between a distant storm and an urban street waking up in the morning. This led to the rousing of the instruments, with flugel playing a soothing but recognisably jazz influenced melody on top of string layers and a gentle but driving rhythm section.
Much of New Seeing was composed by Cottrell in Berlin, and particularly striking was the idea of forgiveness and closure in I Feel a Lot Better. This third piece was based on a note written in response to a service in a Berlin church which the composer had visited. The experience had enabled the writer to forgive the death of a relative in WWII. The piece faded out with an electronically treated wash of pealing bell sounds which perfectly captured the sentiment. The final piece, Big Band Zwolf, began with ostinato figures on strings, gradually building up with interweaving elements of sound from the basses, muted trumpet and icy tinkles on celesta. The initial effect was rather sinister and ominous, but the tension resolved into excitement as the music developed into a more conventional, muscular big band workout in the closing section.
New Seeing was a particularly successful combination of technology with the human musical psyche, and of novel instrumentation with established forms, perhaps a concrete reference to the title's origin. This, Ben Cottrell explained, was the German development of photography by the 1920s Neuer Sehen group. Contemporary with the radical Bauhaus movement, photographers used what was then a new medium to extend the visual language which painters and others had developed. Overall this was a fine piece of work which managed to be both experimental and accessible. It was neither contrived nor overblown in achieving a range of emotional effects through a careful balance of improvisation and structure. Rather than an artificial exercise in fusing different styles, Cottrell has created a profound, satisfying piece of contemporary music which is greater than the sum of its building blocks. Undoubtedly Ben Cottrell is a composer with something to say.