Sunday gigs, what you need is something intimate, relaxing and ideally something rather beautiful to take you into the next week. This lovely gem of a gig, organised by Leeds duo Amaku Miru, had that and a lot more.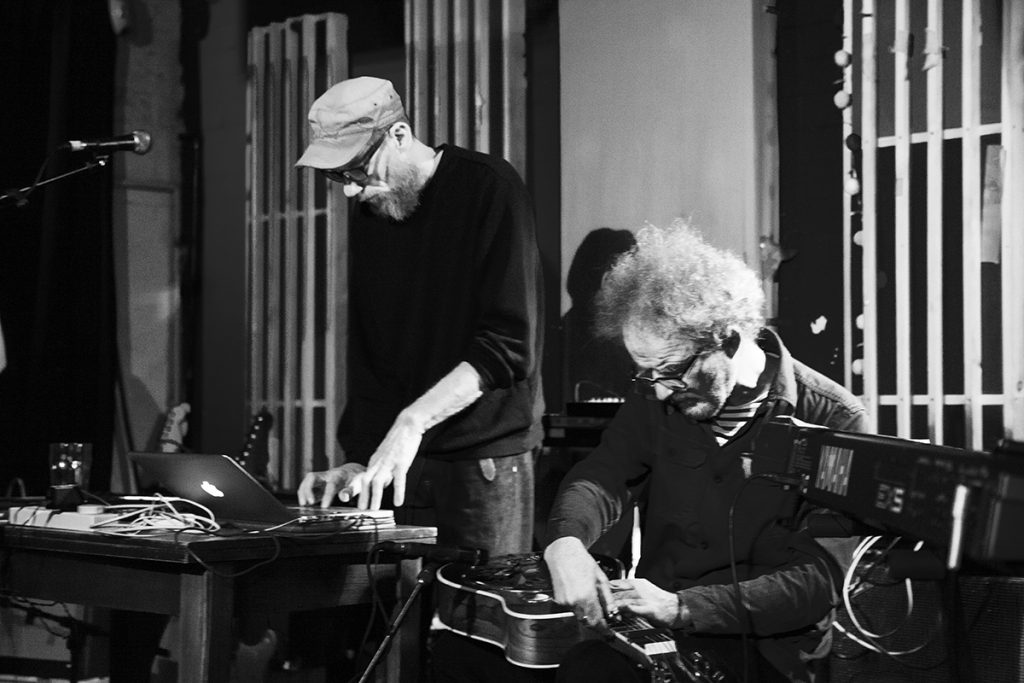 First up was Scotton Drive, the musical moniker of UK sound artist David Littler. He was joined on stage by Astrid Walker – providing vocals, playing guitar on one song and one of those strange breath controlled keyboard things on another – and David Walker playing guitar and then keyboards on one song.
From their opening song Scotton Drive impressed hugely. It was trip-hoppy beats with a jazzy guitar. But it was the vocals of Astrid that were the stand-out thing for me. She has this beautiful pure voice. It would be easy to reach for a Portishead comparison, way too easy and not strictly correct. I was reminded of early Everything But The Girl, it's that voice and the guitar.
This was so good that that I thought it just couldn't get better, but it did. Their second song had a spacey beat, an Irish folk song influenced vocal line and a kind of gentle mutant acoustic blues guitar. The beauty of this song just left me reeling, it was compelling, totally compelling, and mesmirising.
So good were Scotton Drive that I had no choice but to just watch and listen, I failed completely to take notes so taken as I was to a lovely place by their music. It is only with their final song, where Astrid took up an electric guitar and it was something a little more strident that I actually managed to write a short note of this.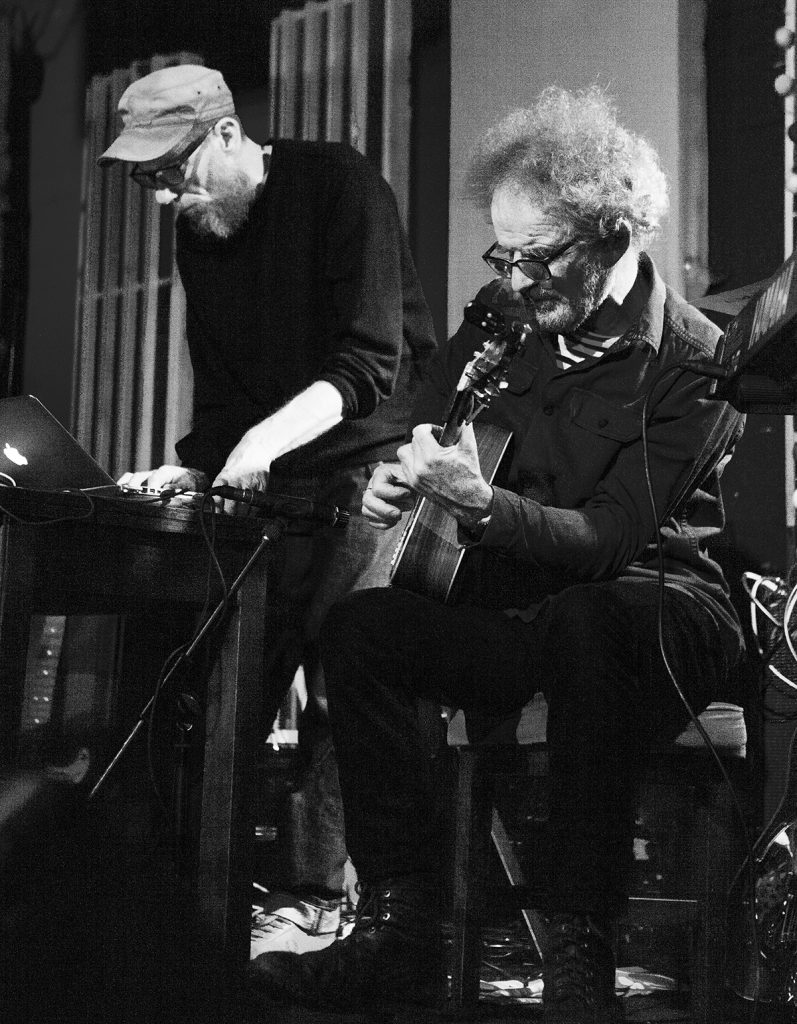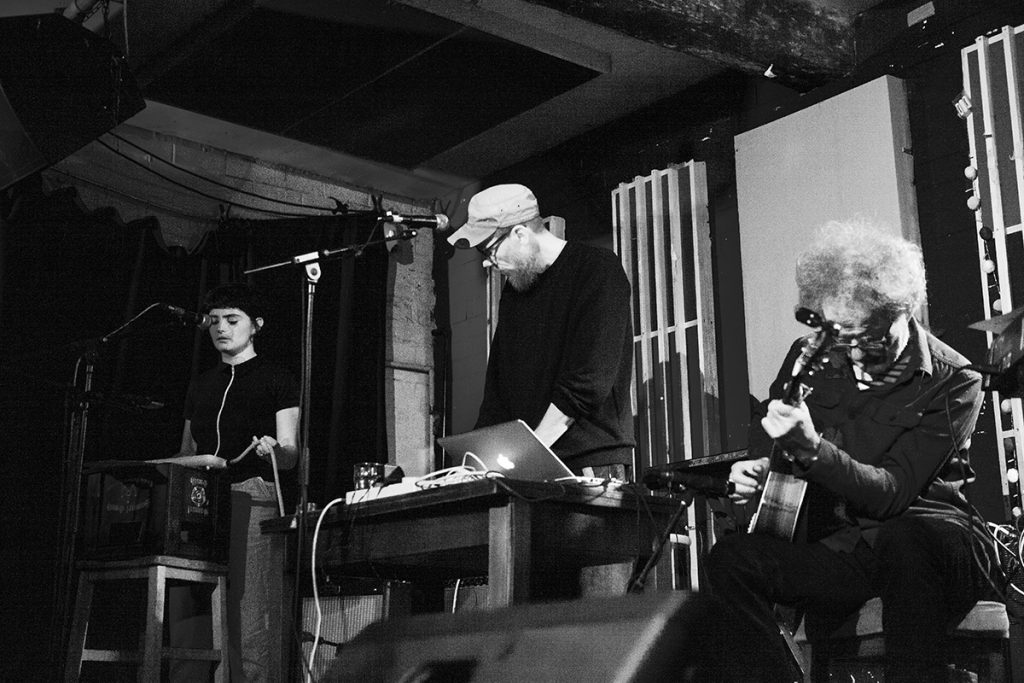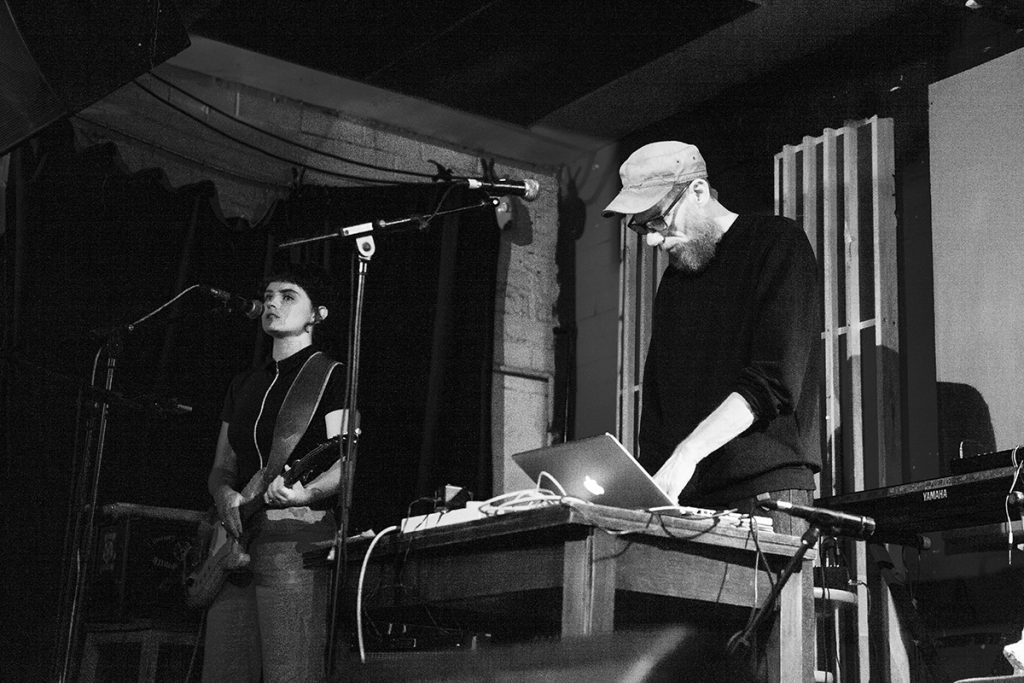 What they do is difficult to define. It takes elements from all over the place, different sounds and makes something unique. The songs are all different but somehow not, there is a feeling that threads through them that binds them together. Yes, there is the sparse beats and sounds that David makes that gives the songs a sense of the same feel. There is a beauty in the music that shines through, a gentle beauty. And there is something organic and graceful in it.
This wasn't what I was expecting when I read that 'Scotton Drive is the musical moniker of UK sound artist David Littler', I was expecting something more experimental, a little more out there. But the unexpected can be beautiful sometimes. Do try and see Scotton Drive.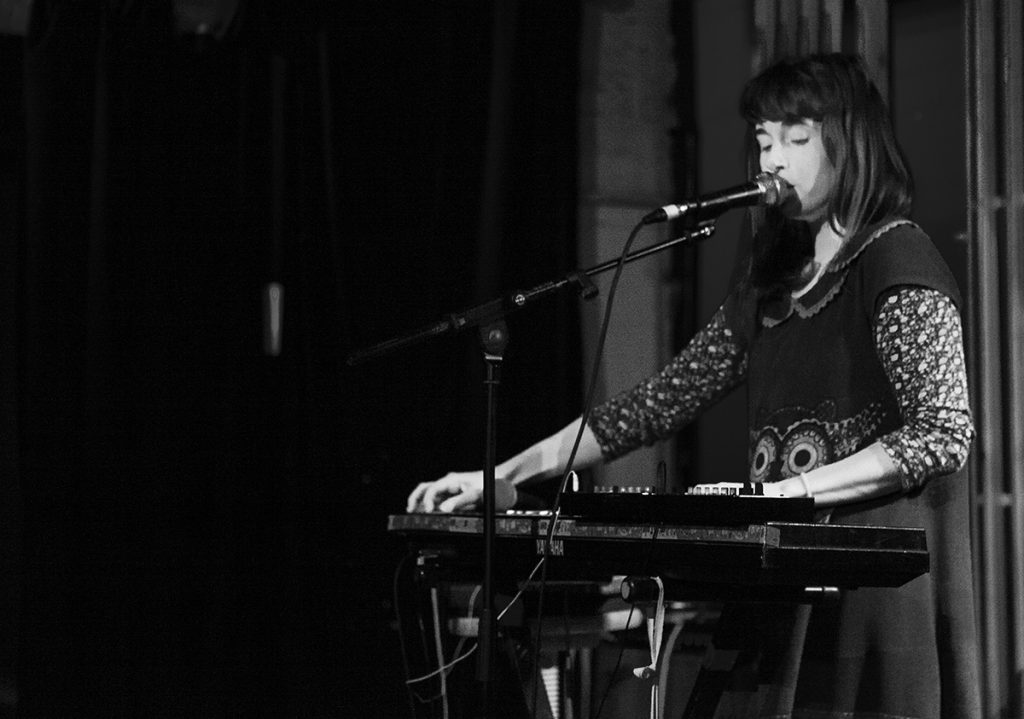 Mayshe-Mayshe is somebody I've been wanting to see live for ages. While I had little idea of what she does, people kept saying 'you must go see her Frank, she's great'. They weren't wrong.
So she uses loops, but she uses loops in a way that is almost impossible to work out quite how those layers of sound are made – made using voice and synth. The music is dreamy electro pop in form but it isn't lyrically – lyrically it's deceptively simple and deeply personal. The words are almost more poetry than song lyrics. And she sings in this way that is, as I noted, 'something of a unique vocal style'. It's difficult to describe but it's gently compelling and draws you in.
My friends had promised me a hairdryer, they were somewhat mysterious about this, but it is in her second song that she uses a hairdryer to add a sound to the layers of sounds she was building. This may sound like a novelty but it wasn't, in context, the use of that sound made complete sense musically.
At some point during her set I wrote 'There is a vulnerability to her music, a vulnerability in her voice and words. But somehow, and strangely, this is strong, she comes across as strong. It seems she exposes herself when she plays and sings, and this is strong'. This is a little prentenious but I stand by what I wrote. The vulnerability in what she does is the thing that is so compelling and draws you in.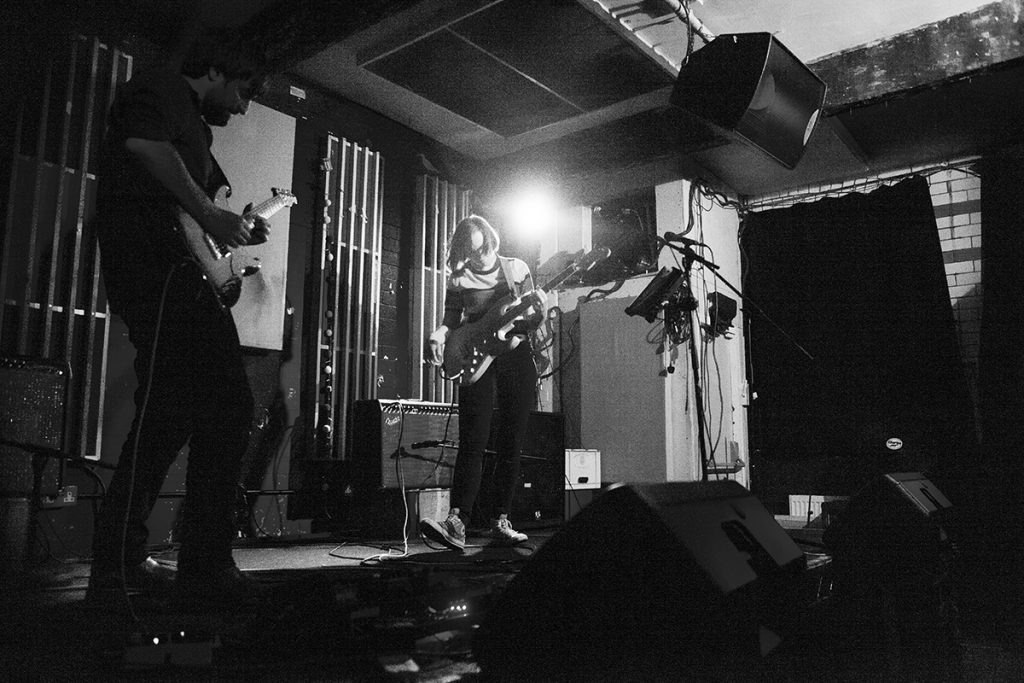 A while back I reviewed a release from Amaku Miru ('Read All About It'/'An Introvert's Guide to Partying') and loved it, so I was really looking forward to seeing them (Emma and Andy, who by the way are really nice. Thank you for inviting me to the gig you two) play live. The problem is that beyond the single I have no idea of what they do. Thankfully what they do is much like the single so all is good.
Look I'm sorry but Amaku Miru are one of those undefinable bands – there are elements of all sorts of things in each song. But those elements are mixed into something great. The thing is that this leads to a point where you think you finally have a handle on it, but then that's ripped away by the noisest guitar. I'm guessing you might want some sort of list of things – so here goes – folk, alt-rock, singer/songwriter stuff, oh this could just go on and on. They define themselves as lo-fi but this doesn't indicate the spohisication with which they use all those different sounds and styles to make their music.
Thankfully for a Amaku Miru live newbie like me they open with 'Read All About It' which helpfully roots me in their set. And it's just a good live as the recorded single. Emma's voice charms. Oh and they use a pre-programmed backing track for the extra sounds but this doesn't make their set sound non-organic, the fact that they both play guitar makes it just an element of their sound.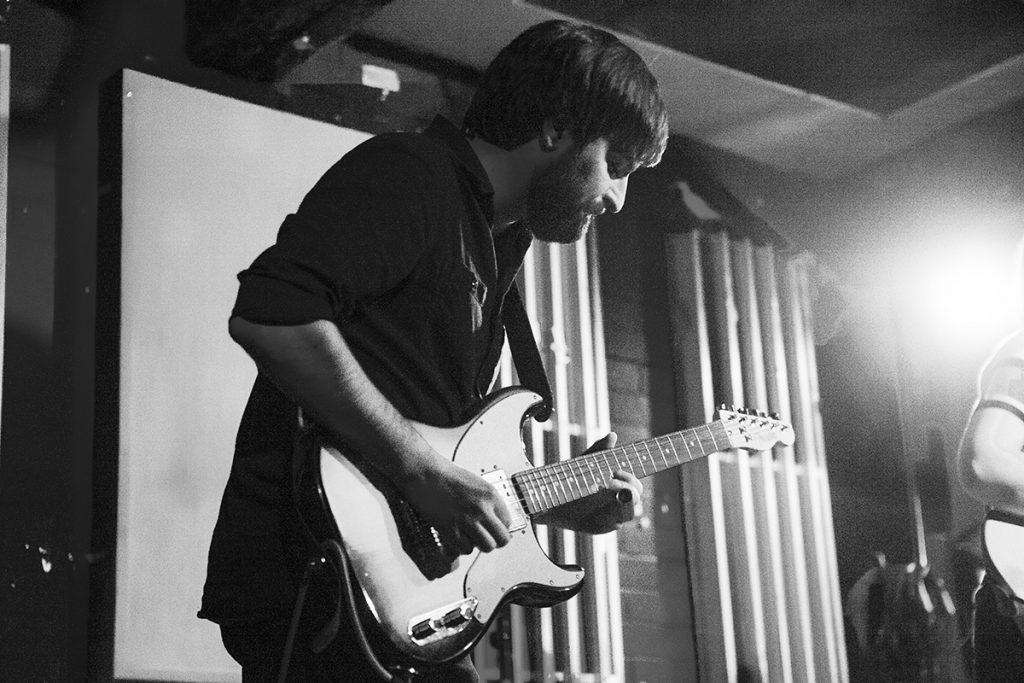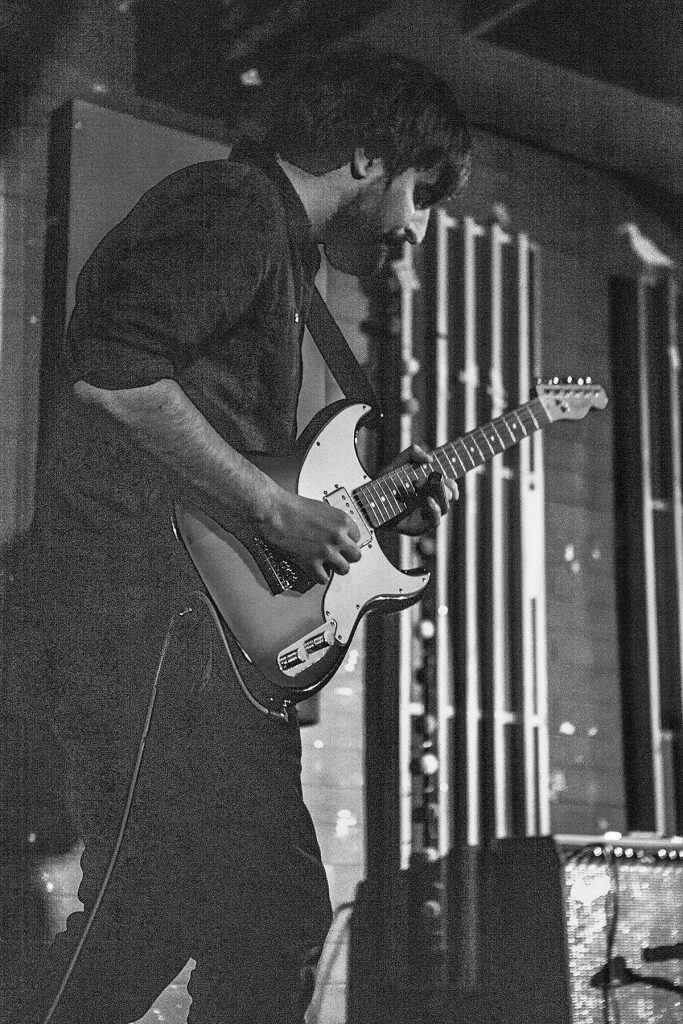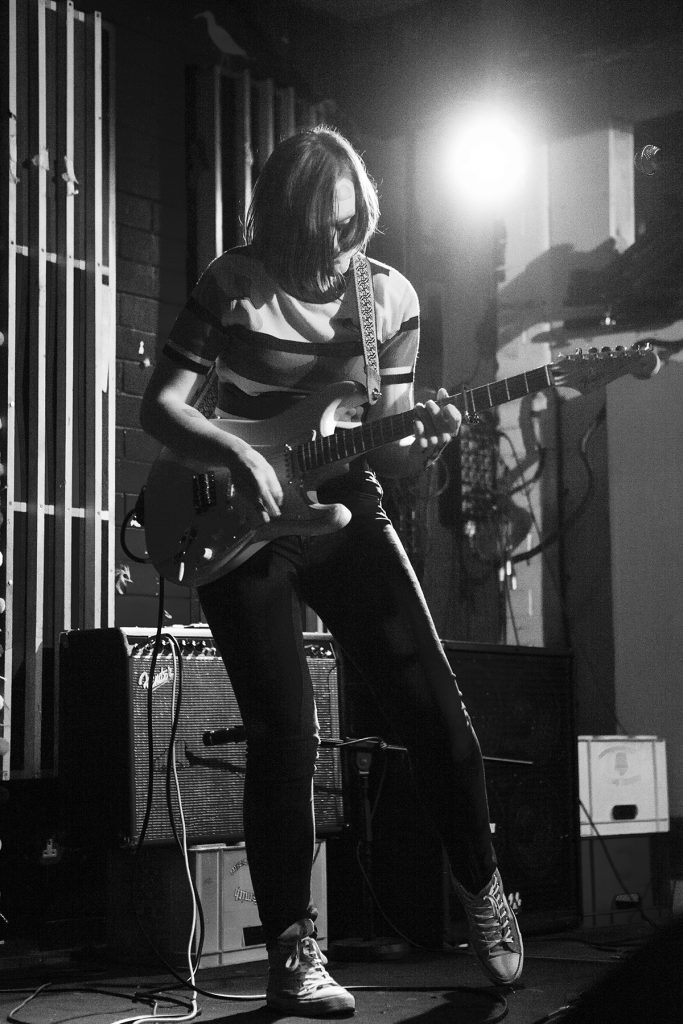 While, as their set went out, I began to think I had got them, there were moments where this all fell apart. There was one song that had of all things a slightly latin-ish thing going on that made me realise I hadn't got them at all.
So yes, the music is important but Amaku Miru write songs with words that are important – they write songs about social media, anxiety in social situations, politics and the media. The problem with seeing a band live for the first time is that you want to hear the words but your attention, well at least for me, is taken by the music. I want to see them live again so I get the words more.
They finish their set with An Introvert's Guide to Partying' and somehow it is better than the recorded version, it really benefits from a live performance.
This is band you should see if you like something a little different, that isn't mainstream.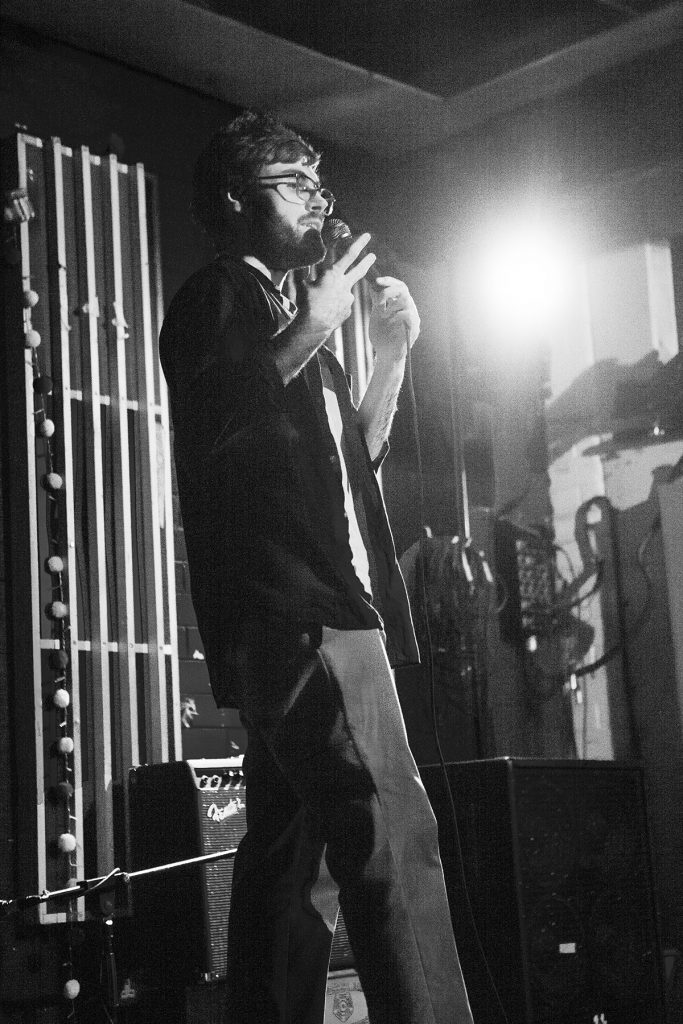 And so to our final act, Ennio the Little Brother. He uses guitar, loops and pre-progammed sounds to accompany his words. The words are so important. Indeed at times I mused as whether this was 'songs' or kind of spoken word poetry over music. I guess you could call it gentle hip-hop if you really had to.
But ultimately, I decided as the stream of wonderful words absorbed me, trying to define it is rather pointless. The issue is whether I liked it, and I did. There were times where I was overwhelmed by the words, trying to hear and understand them, but these were few and far between.
Two things stood out for me. A song called, I assumed at the time, 'Anthony' (I may or may not be right about this) which was gently moving and had the most wonderful coolest guitar. And a piece about a street in North Wales which described the most wonderful pictures in words.
Whether this is for you depends on whether you go for what I've described. But what I will say is that this isn't the sort of thing I usually like at all. I wasn't sure at the start of his set by the end I was vowing to myself to see him again.
All photos on this page © Frank Roper Photography