It's the first I have seen Fudge, and it is a special night for the band are launching their new single – 'Not A Threat. Just A Warning' – a quote from my review of that single, a couple of sentences that I wrote in a frenzy listening to the track appears in the short promo video, that came as something as a shock to be honest – check it out on their Facebook Page.
But before Fudge play we have to get warmed up, and the Lending Room was already busier and sweatier than I've seen and felt it before even for the first band on.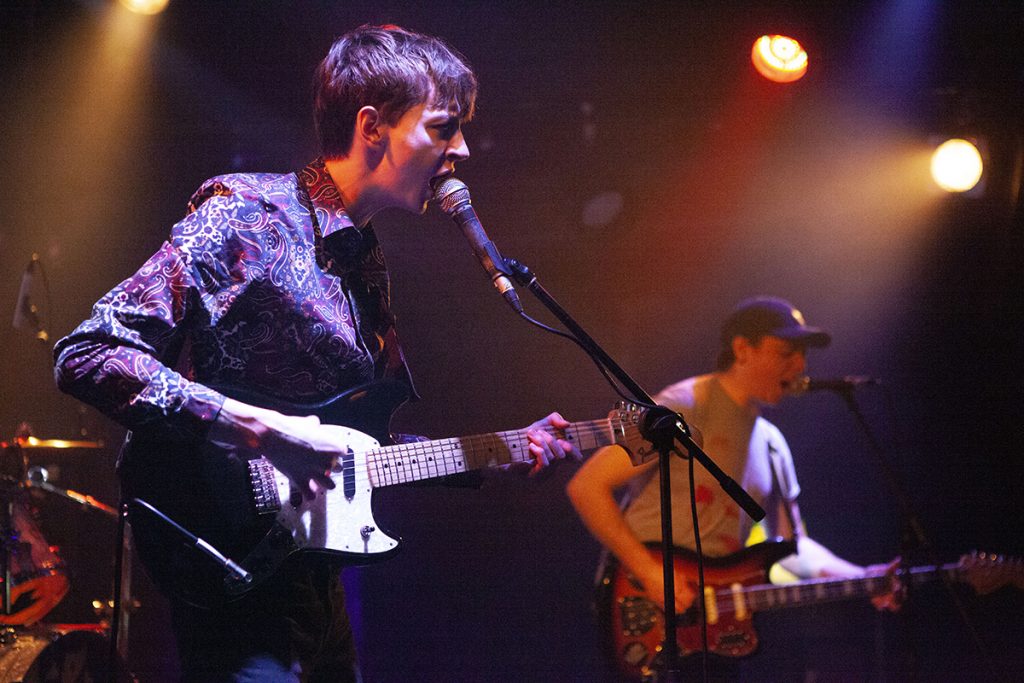 Opening the night Nervous Pills impressed me hugely. My notes – yep I'm still writing way more notes than I need to – say 'it's a punky post-punky sonic assault', I go on to say 'it's raw, it's exciting, basically more punky than post-punky'. On reflection I'm not sure I stand by that. The impression that sits there in my head is of something more dark and frankly quite scary post-punky alternative rock.
The focus of the band is their singer/guitarist, who at times had me worried that he was about to do himself some sort of injury, but his vocals had me in mind of all sorts of singers I love and adore. And although right at the start of their I noted that 'their songs are short on guitar gymnastics but long on a relentless pounding rhythm' this turned out not to be the case for he threw down some stunning guitar as their set went on.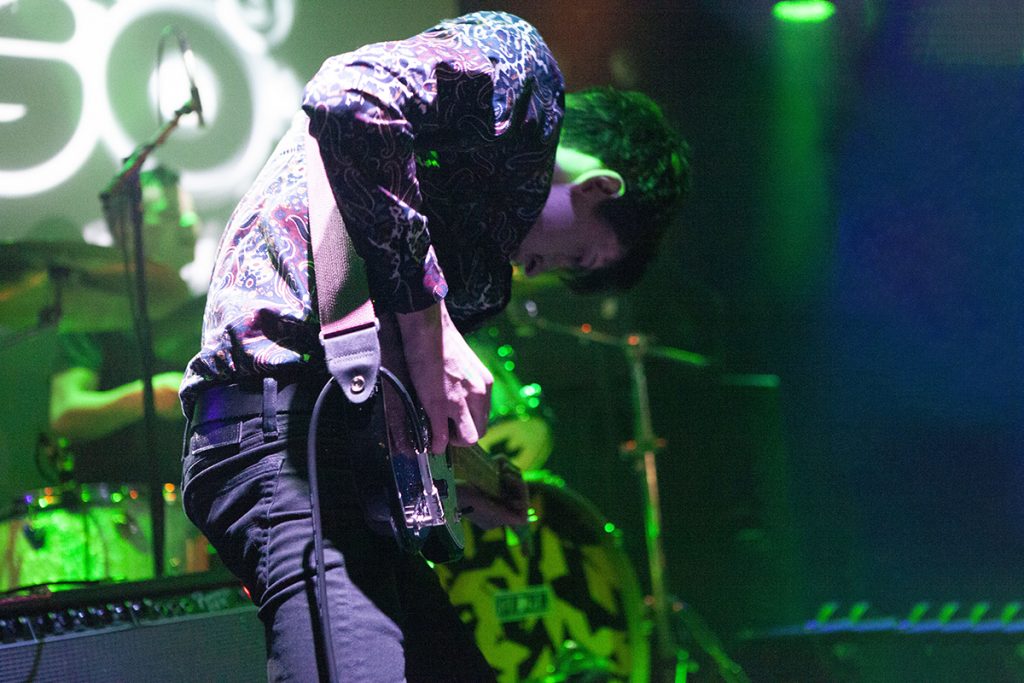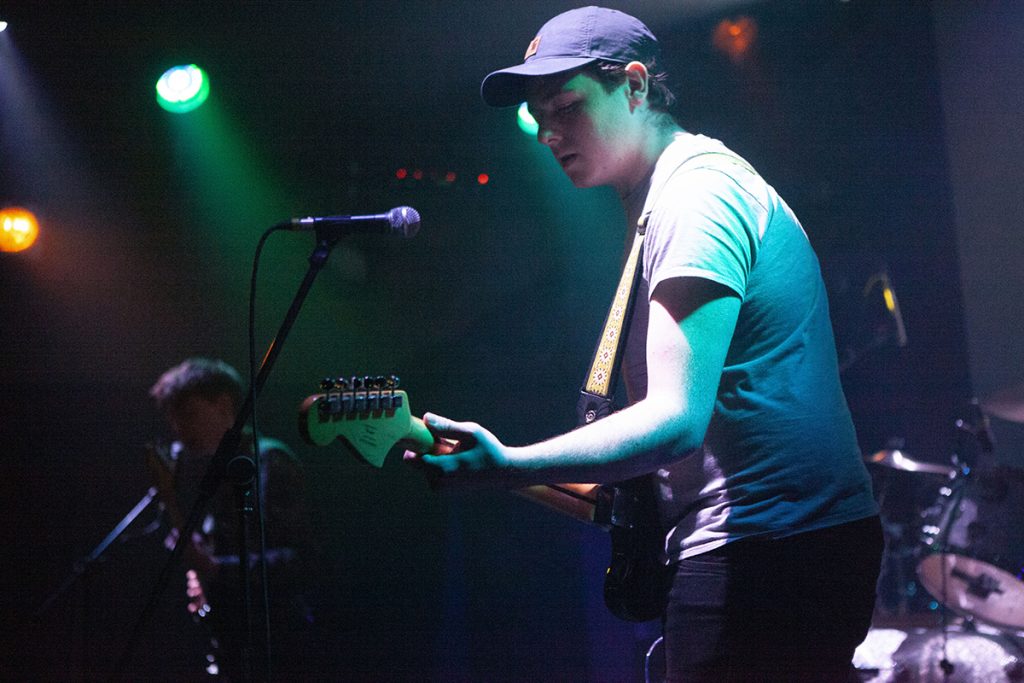 It was their third song that had me hooked, this was something that weirdly reminded me of Screaming Lord Sutch playing rather strange mutant surf (I know, my head works in a mystifying way sometimes) with a shouted vocal.
They end their all too short set (I wanted more) with a song 'that's all screamed vocals, and wonderfully random guitar noise and sounds, it's all very yummy'. Nervous Pills are a band I want to see again.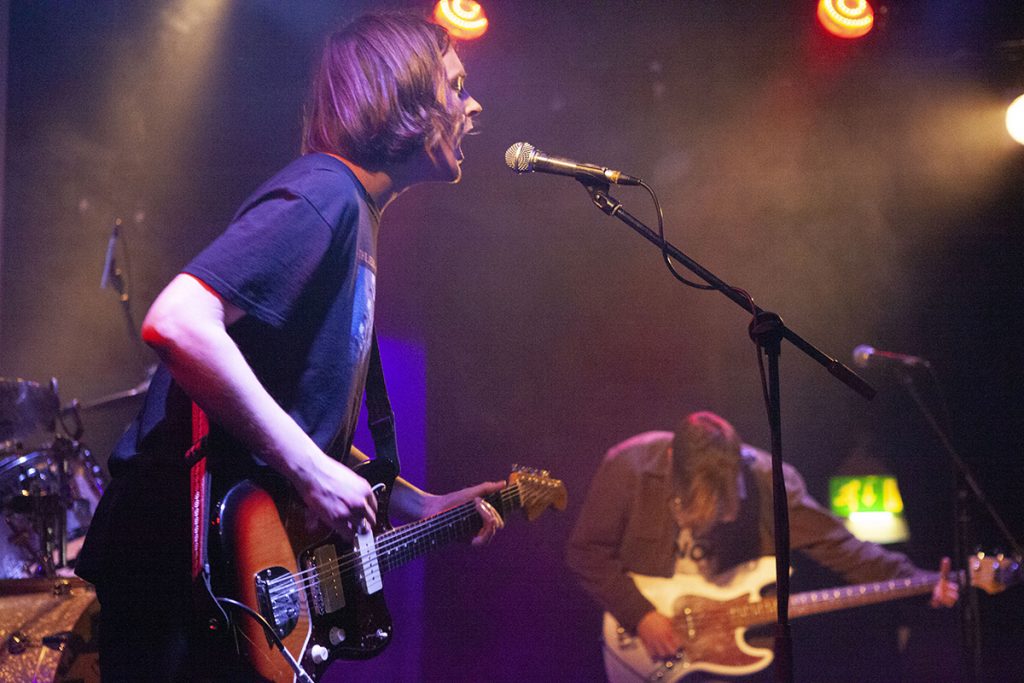 We'll Be Detectives – my notes say – 'give us something vaguely grunge-y, kinda alternative rock, it is riffy. It is, at times, almost punk-pop'. And if you really want me to say who it reminded me of of, I will, it does that Nirvana thing, it's not a copy but the influence is there.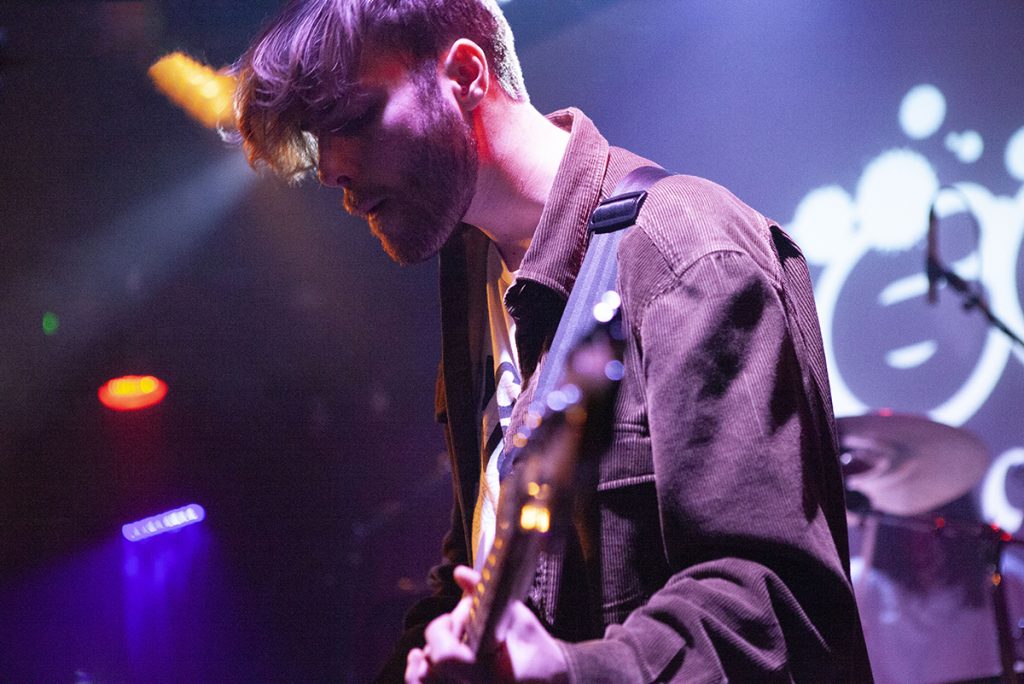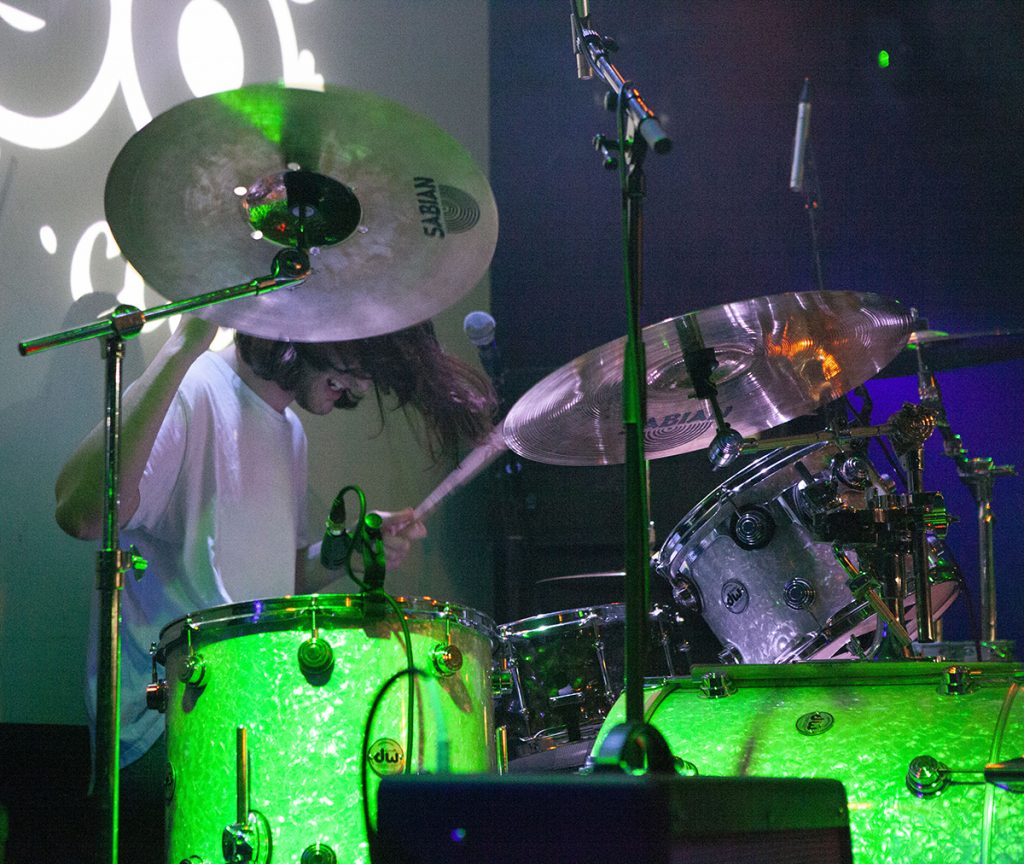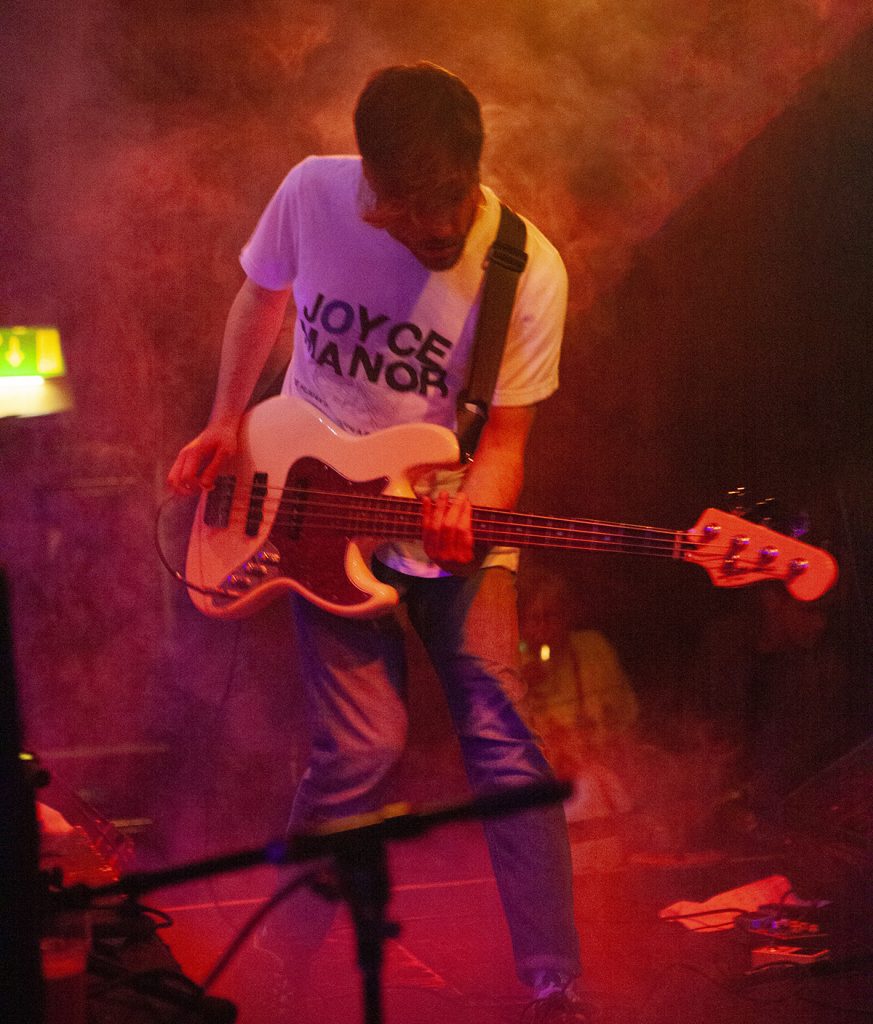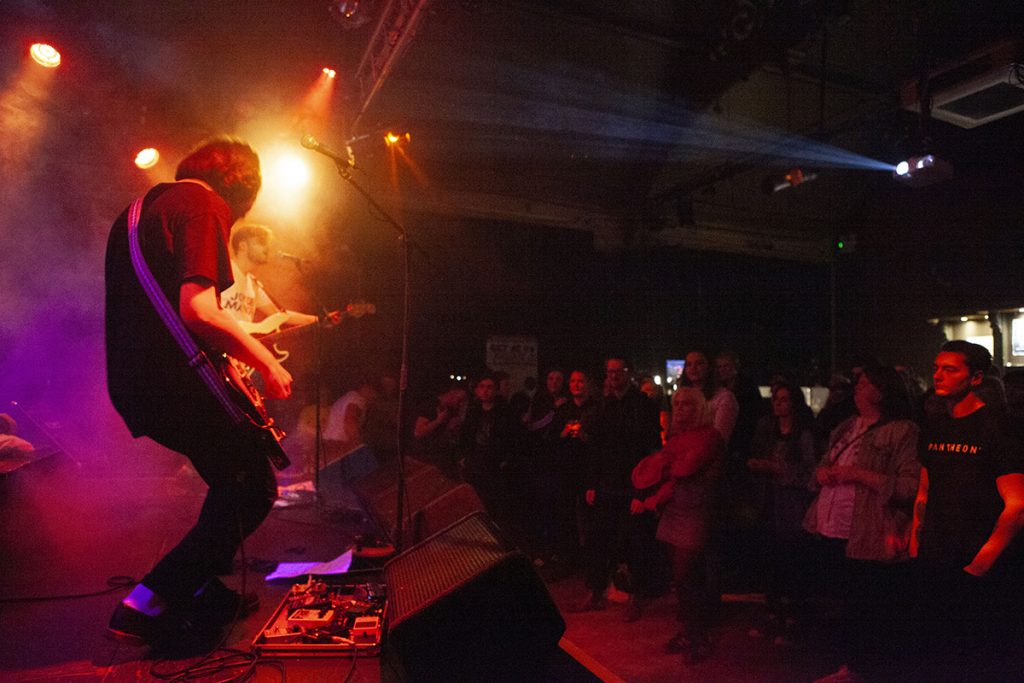 Early in their set I wasn't that grabbed. Another time, another place I'd have been raving right from the start but that night they didn't click for me.
I say this but at one point in their set they played something with a relentless pulsing beat with something of a post-punk thing going on in the guitar, and suddenly I was grabbed. This happens, you stand there, going 'well OK, impress me' and you're not, and then there's one song that works for you, that happened for me.
From that point on I got it, I got the moments of quiet and the suddenly bursting into loudness. That oh so wonderful fuzz of the guitars. I got that fabulous soaring thing going on. I was left, as sometimes happens, wishing that I could go back in time and listen to them again, having got it.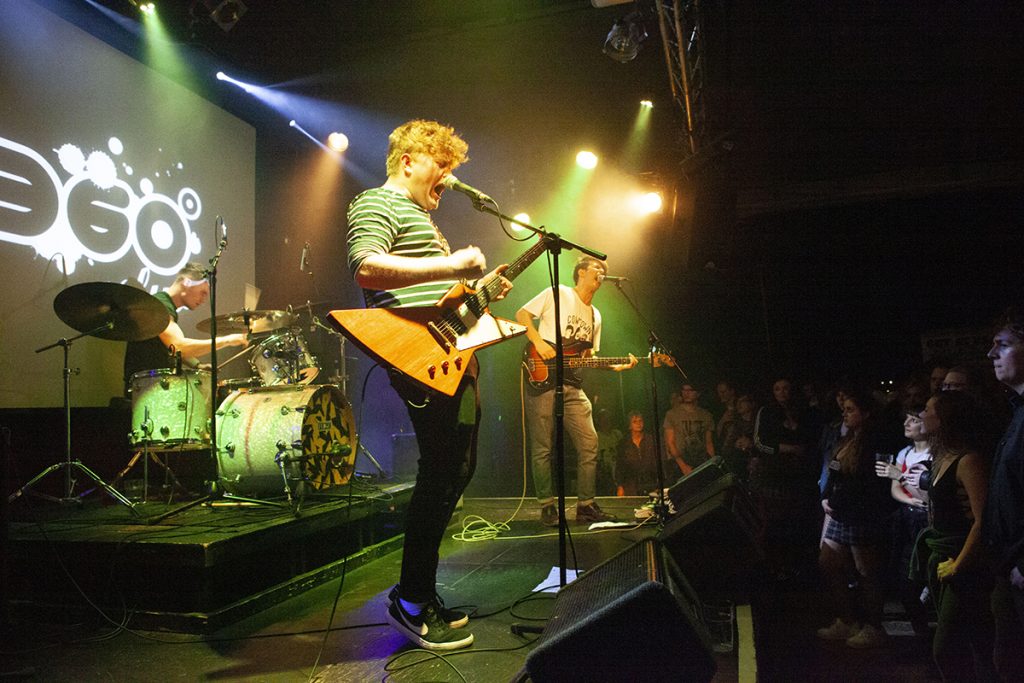 Up next were The Varletts. Although my notes say 'it is a raucous joyous sound. It's kinda punky, kinda punk-pop. It has tunes, big tunes. The songs have a snappy attention grabbing thing going on'. I was left feeling that The Varletts were just not for me that night.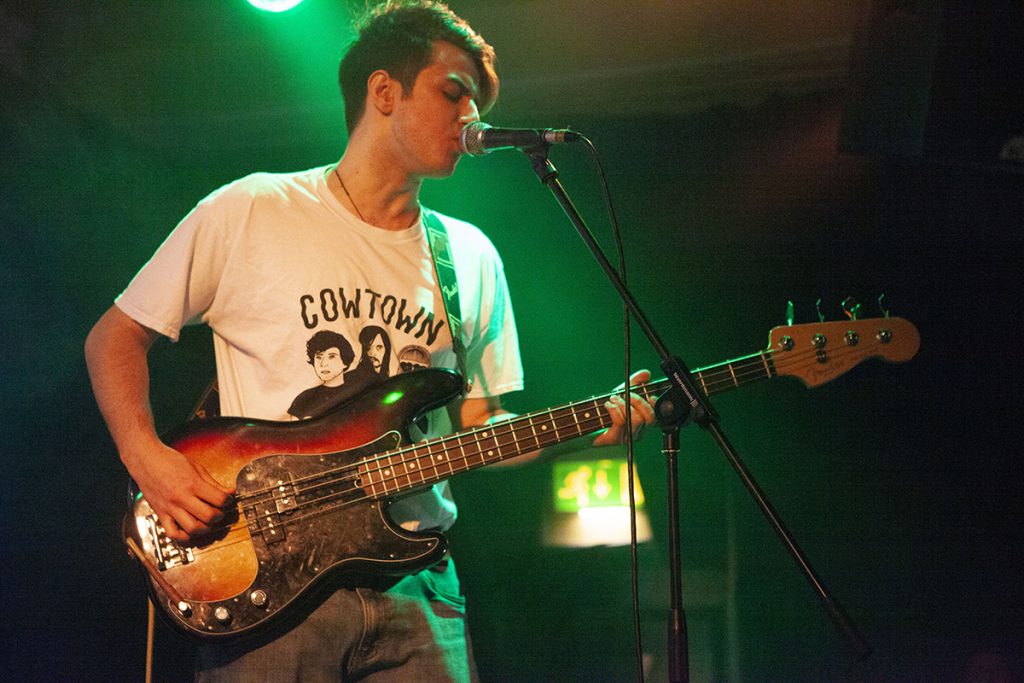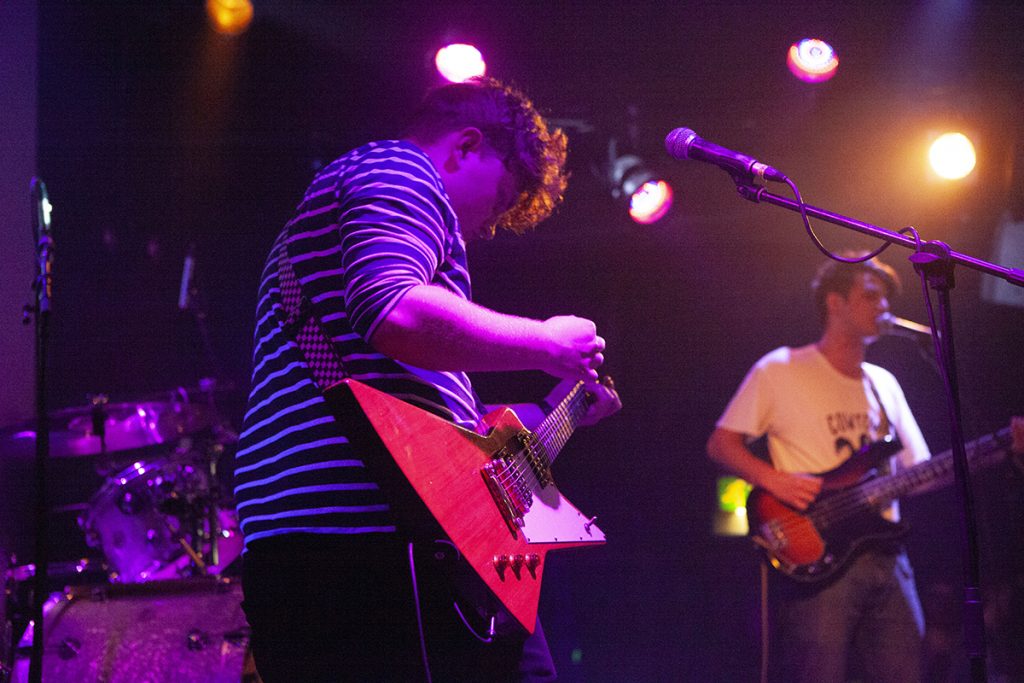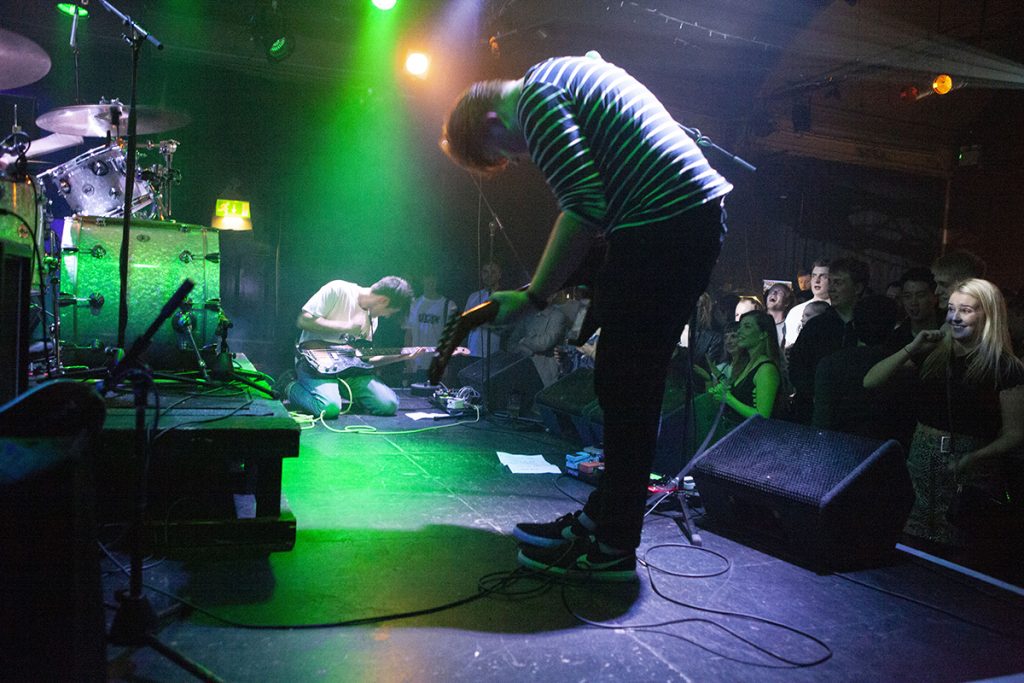 The thing is, that looking at the crowd, I was very much in a minority. The crowd loved them. This is not to say that there was nothing I didn't like about them, there were songs that I liked, the playing was excellent, their guitarist is fantastic. It's just that on the night, just not for me.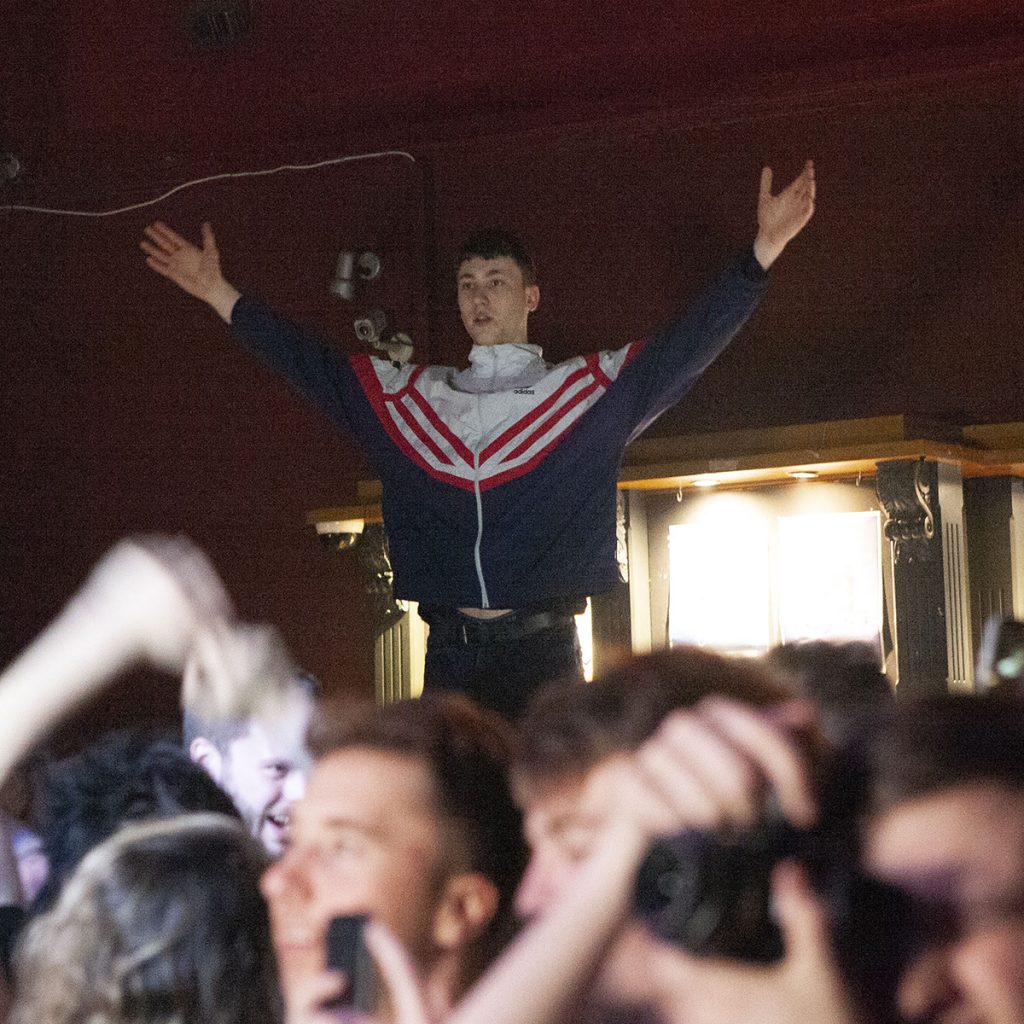 As the time draws closer to Fudge coming on, The Lending Room gets more packed, it gets 'sold out, doors locked downstairs' packed. There is a group of Fudge t-shirt wearing fans massing at the front of the stage. I am completely stuck at the side of the stage, there is no way I'm going to get anywhere nearer the centre to take photos, let alone the other side, there's just no way through.
And then they start, they start with Cam standing on the bar at the back, and then all hell breaks loose. And even at that moment I was thinking how in the hell do I review this, taking notes was impossible. And the thing is, I was warned it would get messy, friends who I told I was going to see Fudge said 'Frank it'll be messy, you're going to be bashed to hell if you try and take photos at the front of the stage'.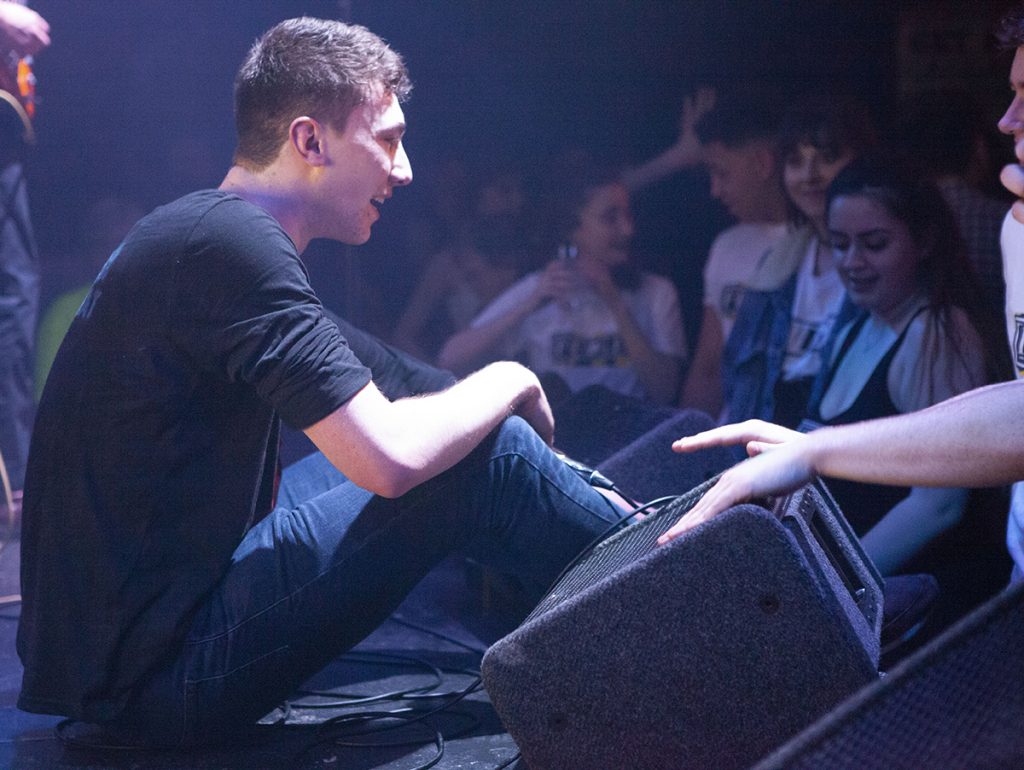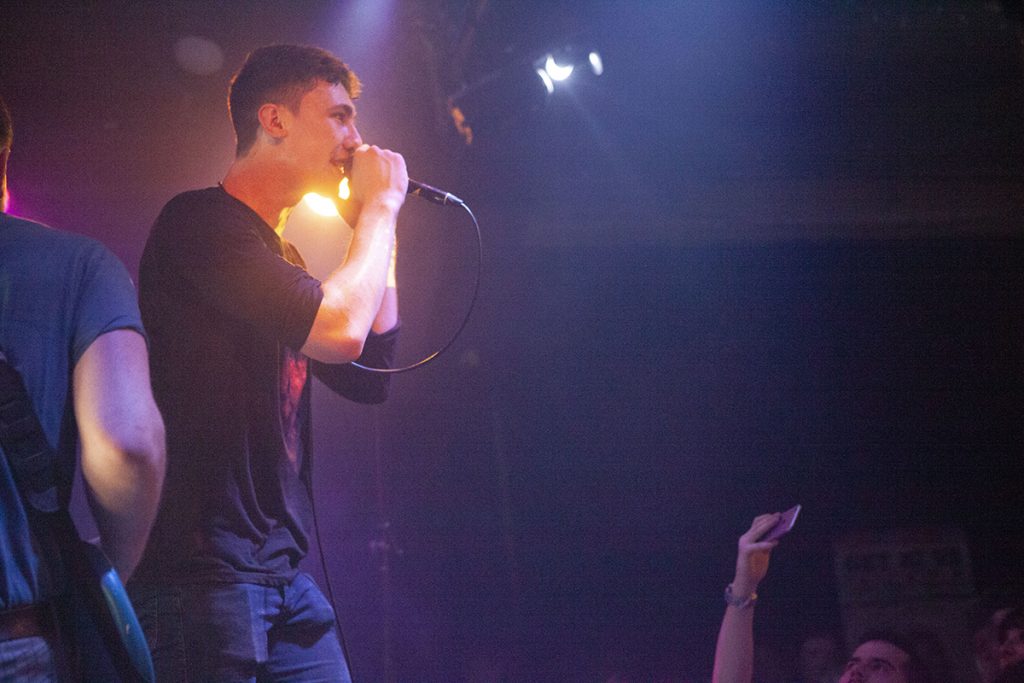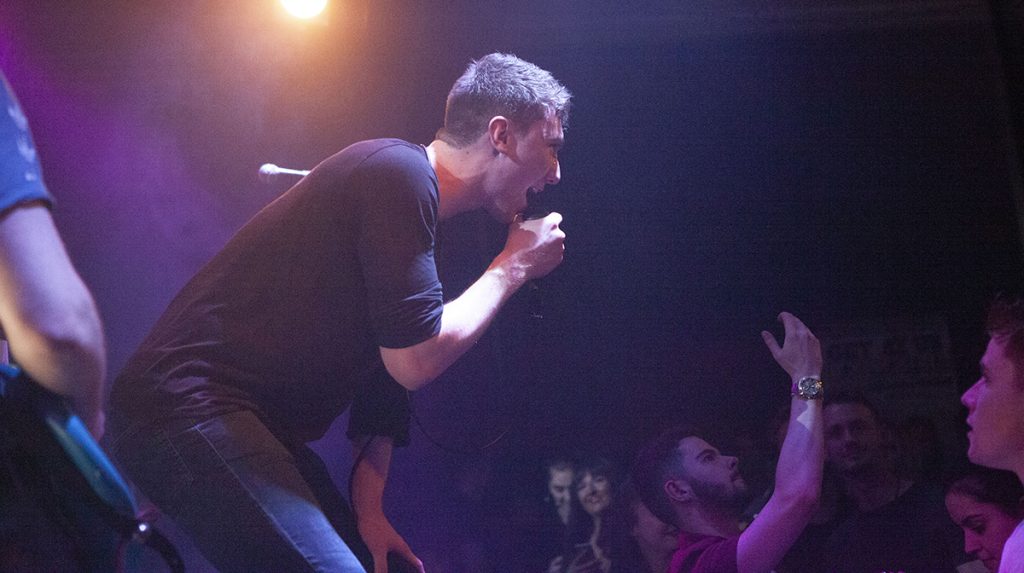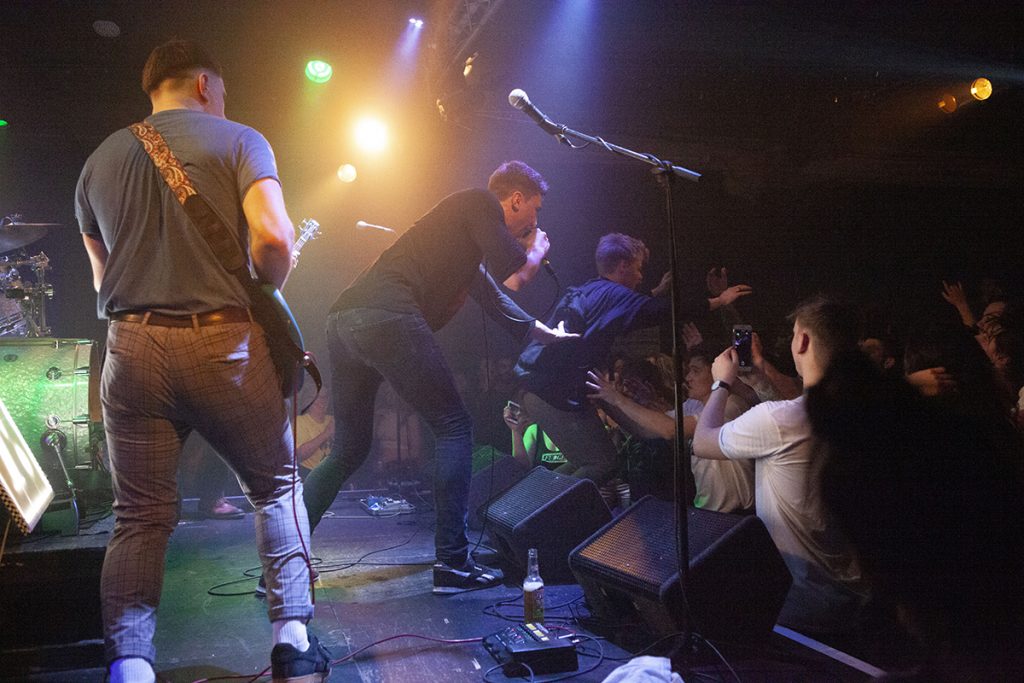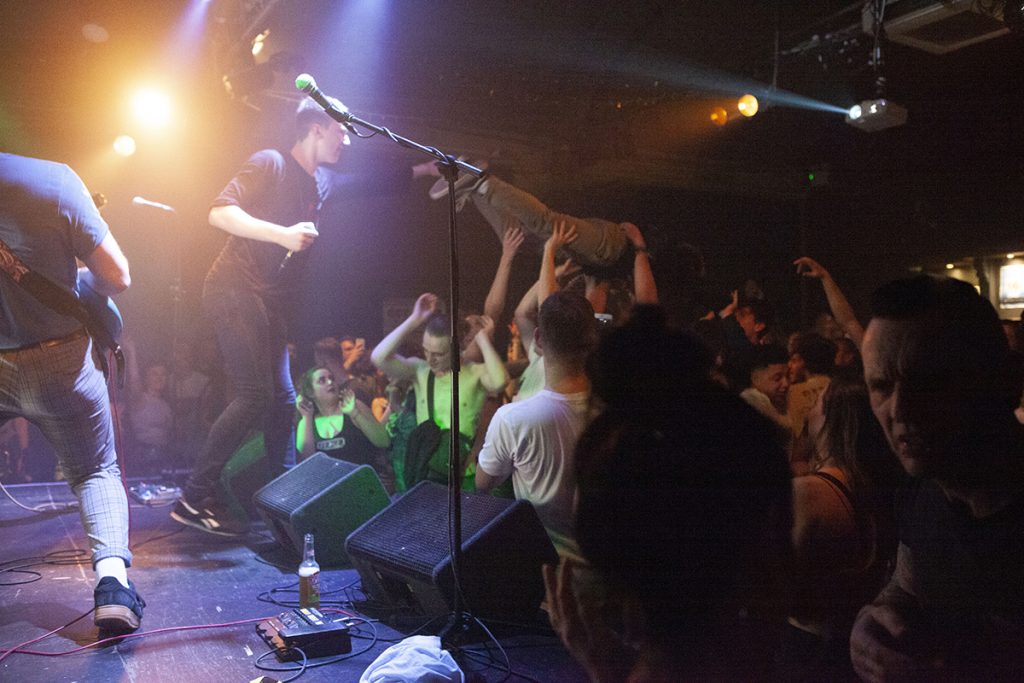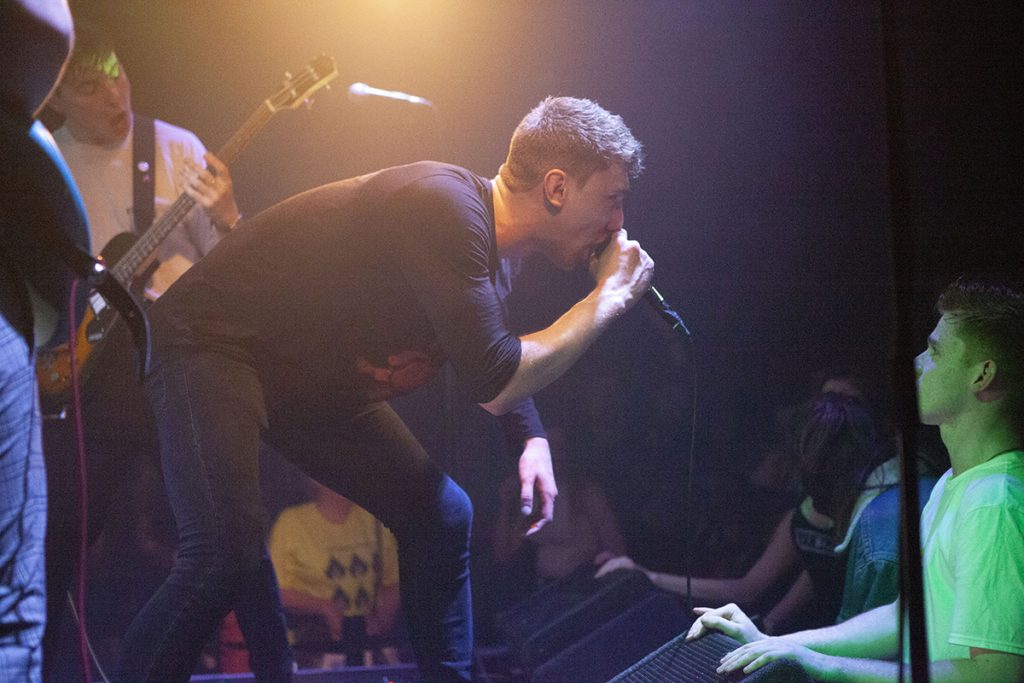 To describe this as merely a gig would be an understatement, it's an experience, a shared exhilarating experience. There was moshing, there was stage diving, there was crowd surfing. There was crowd participation. You could feel the connection between the band and the crowd, that feeling had a physical presence. It was incredibly exciting. It was a gig I wanted to be truly part of, not standing at the side making mental notes because I couldn't write notes down and trying to take photos.
But beyond that madness Fudge make fantastic music. Even as the band throw themselves all around the stage, the music they make is incredibly well played. Otto's guitar playing is compulsive listening, the bass and drums lock and provide the foundation their music needs. And Cam is one hell of a great singer as well as being visually this presence you just can't take your eyes off. And what you notice is that there is way more than just rock going on in their songs – there are hints of rap, there are hints of that Manchester thing (and boy does Cam swagger), and there is that punk thing.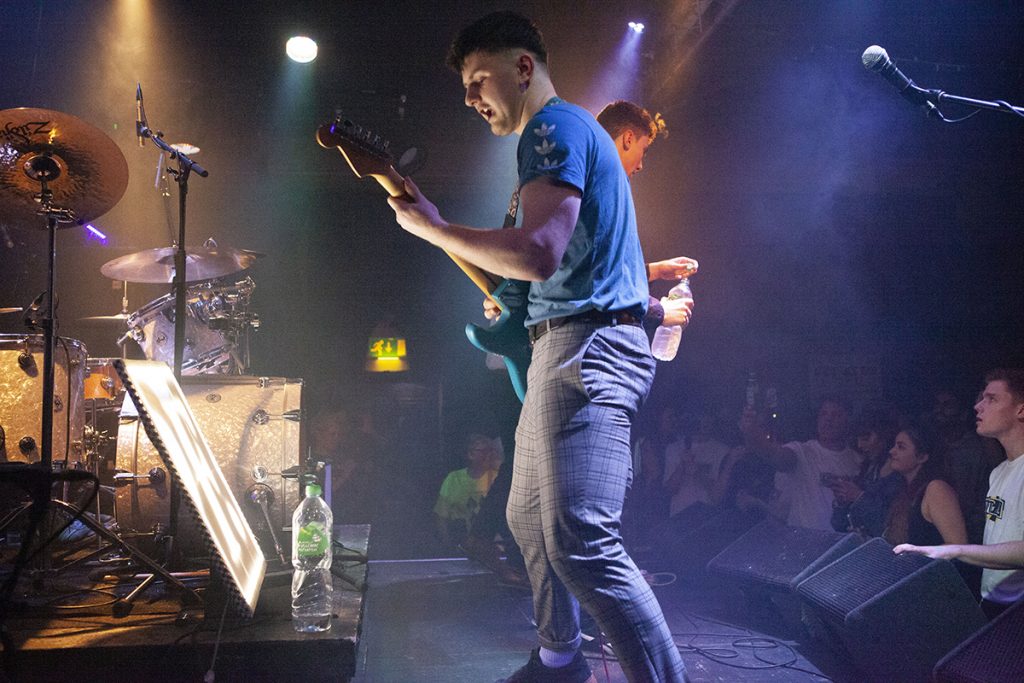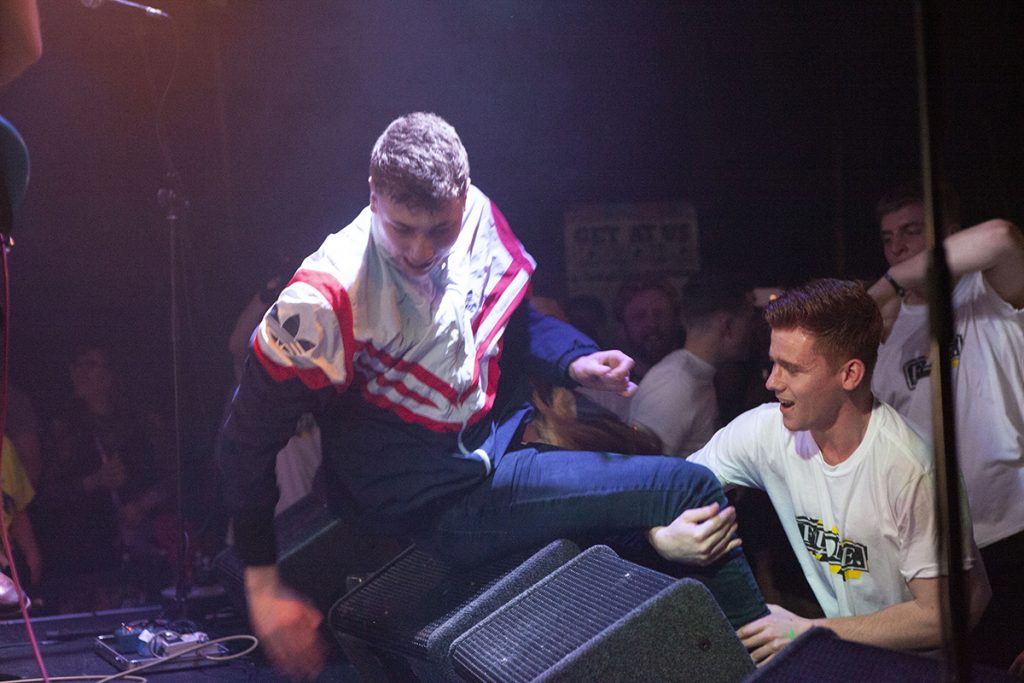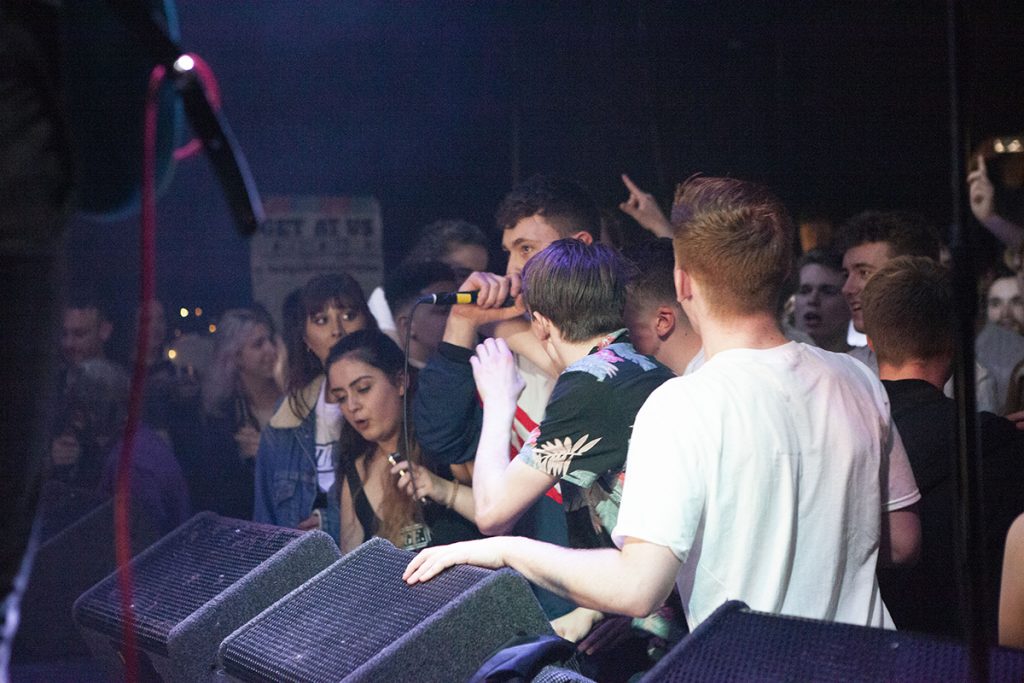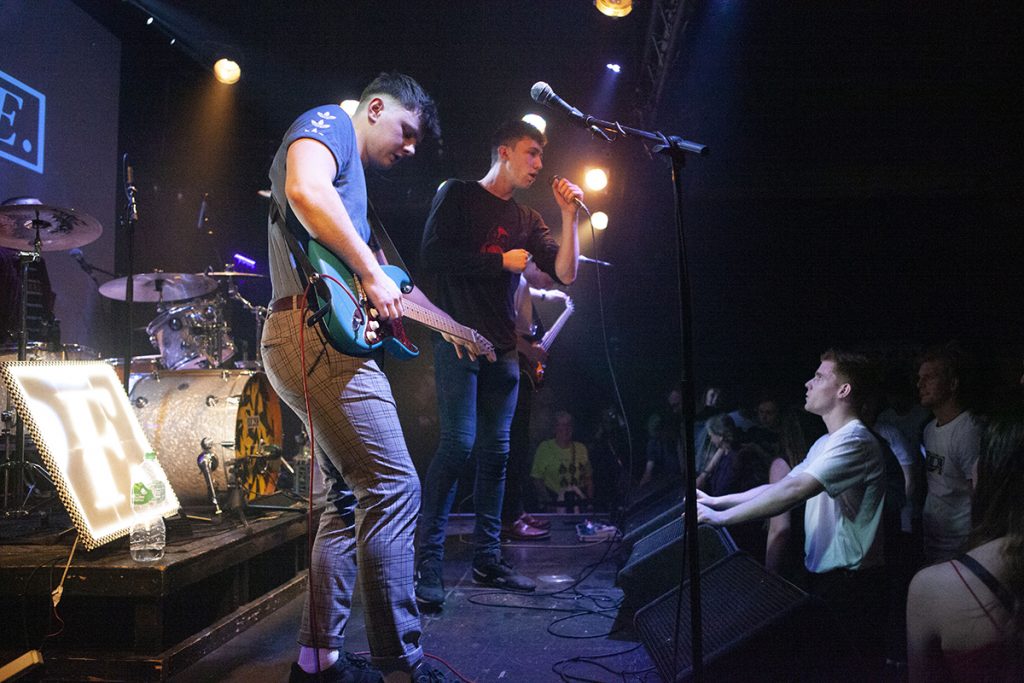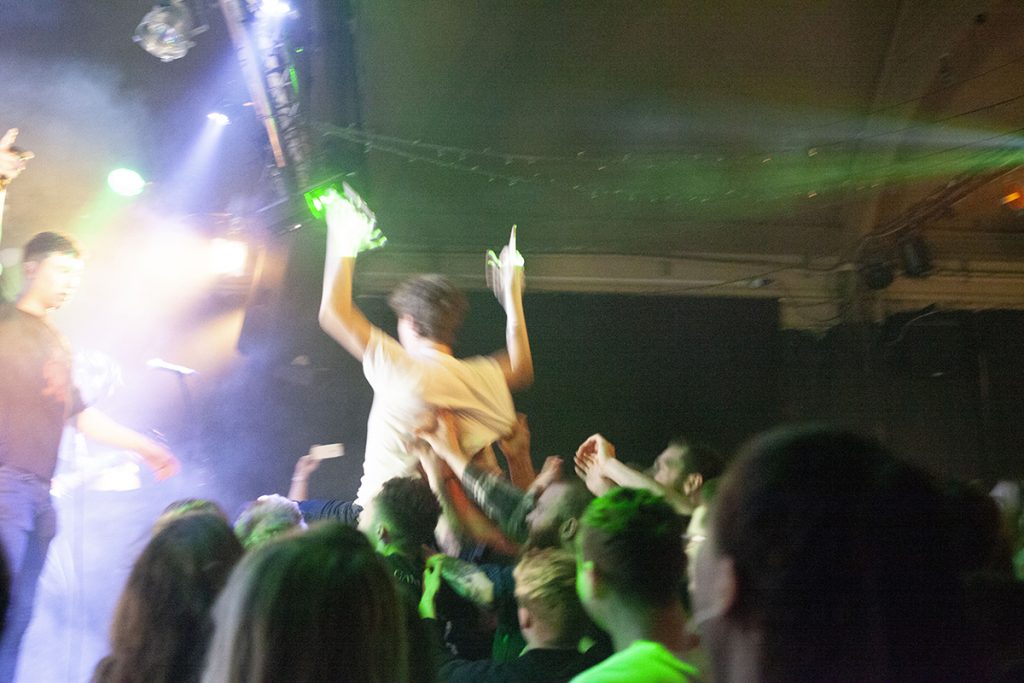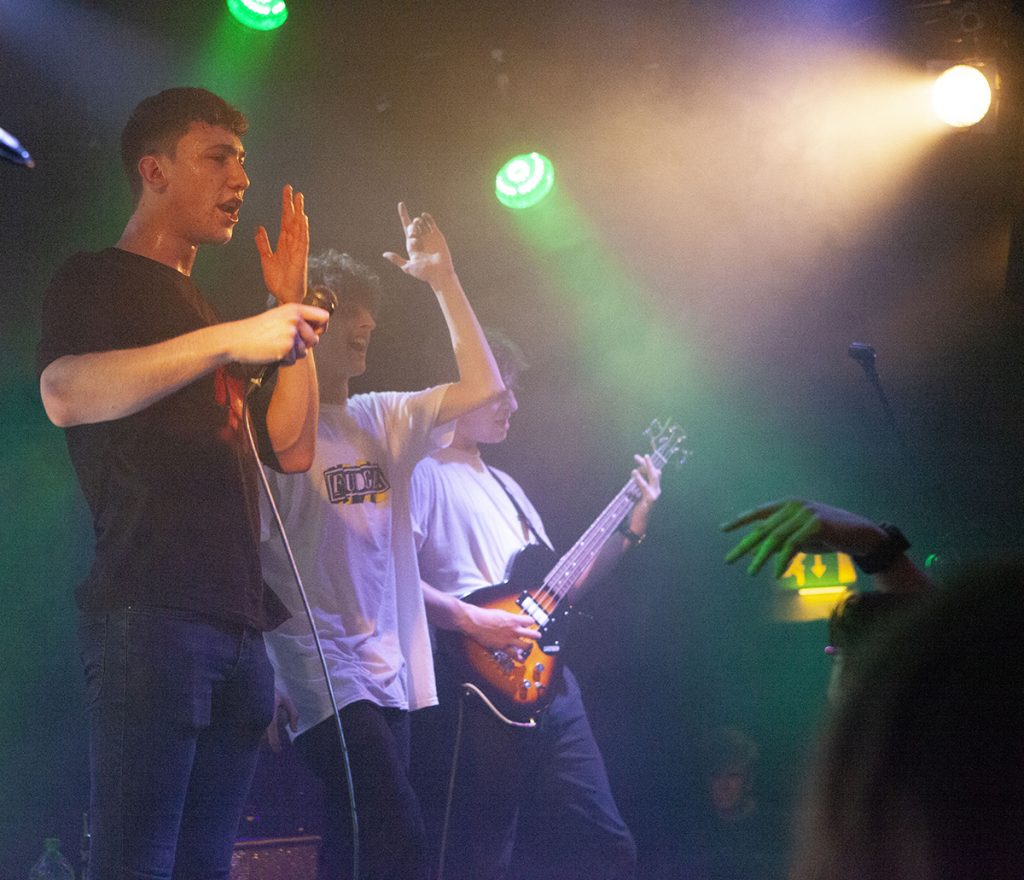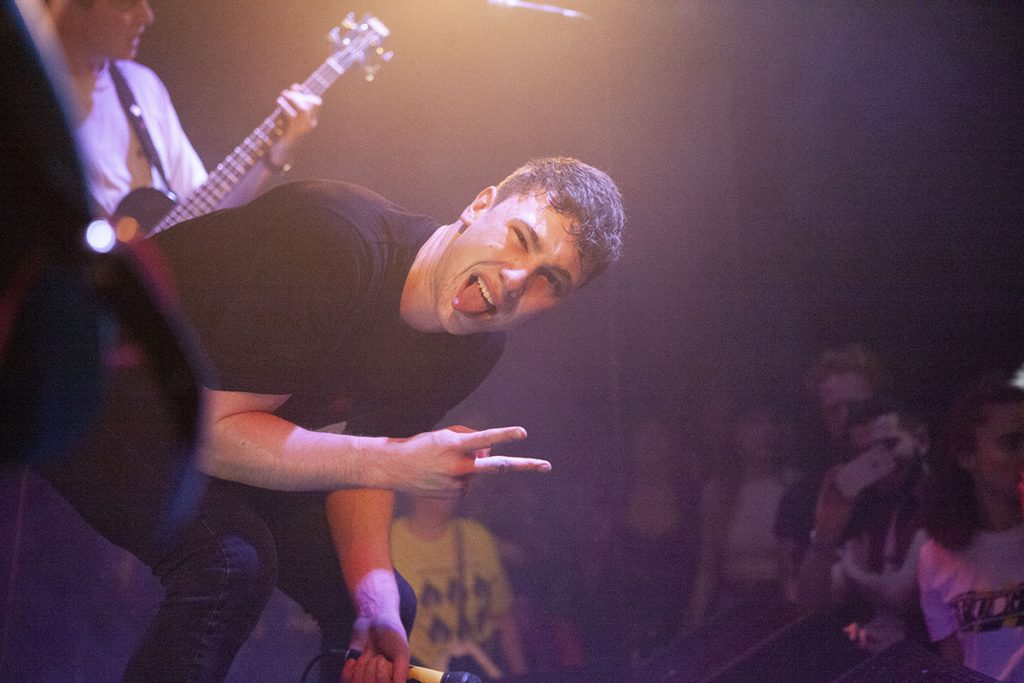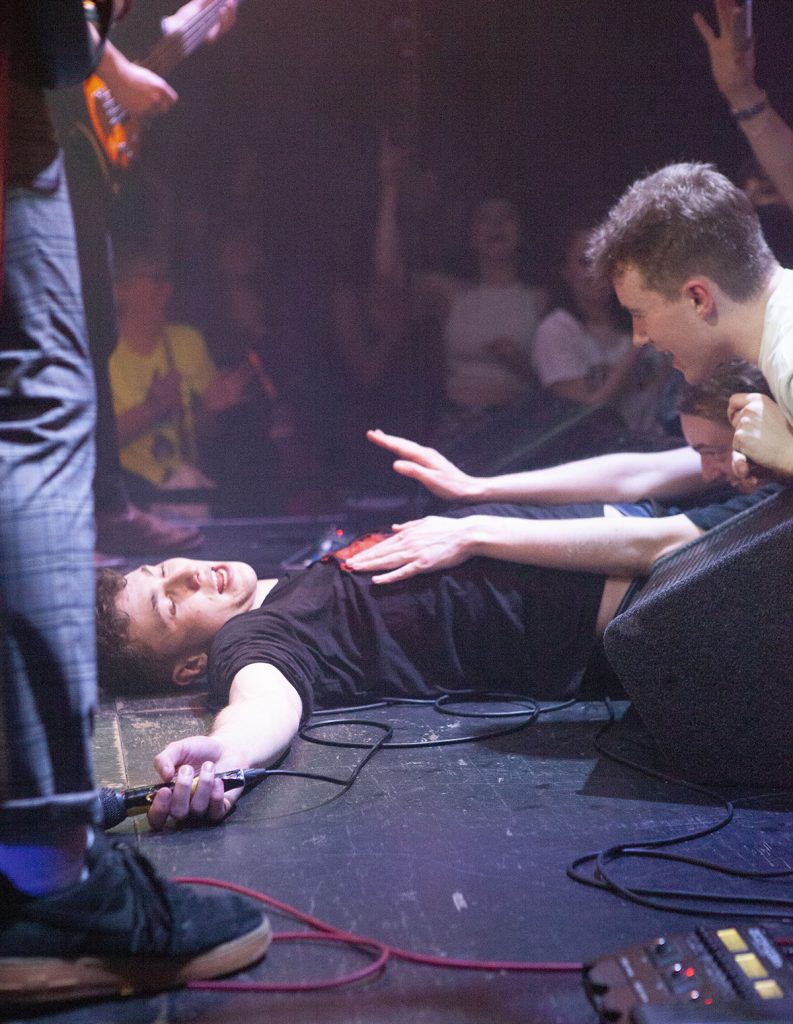 The set stand-out for me was 'Not A Threat, Just A Warning' – rather predictably I hear you say -which just has an extra venom in the delivery live.
But there is more that just songs, Cam does these, I'm going to call them, monologues before certain songs. They bring on a special guest vocalist for one of their songs. They even have this guy who steps up to the mic to rev the crowd up before their encore.
I was left overwhelmed, buzzing with excitement (and slightly disappointed that I hadn't said to myself 'fuck it, I'm not reviewing this, I want to be part of it' and plunged into the moshing crowd) and promising myself that I would see Fudge again as soon as possible.
I miss gigs like these, I miss that madness, that group madness, that a band who truly connect with their audience can generate. My recollection is that gigs back in the day – and I may be looking backwards through rose-coloured glasses here – were more likely to be like this. Granted some of the rather more, let's say, esoteric bands I used to go and see were more likely to have the audience sitting cross-legged listening to the band rather than moshing but even so. I go to way too many gigs where people just stand and listen, not even vaguely moving to the music.
You need to go and see Fudge play, you must go and see Fudge play, if you want to see a band who generate that energy, that excitement, go and see them as soon as you can.
All photos © Frank Roper Photography More photos of the gig on the Frank Roper Photography Facebook Page