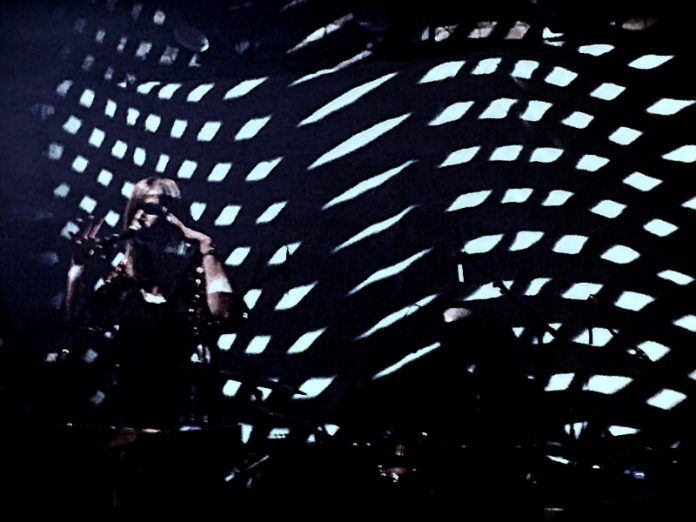 Late in the day we decide that we're going to make the trip from Manchester to Hebden Bridge Trades Club to see Jane Weaver – with The Sundowners supporting; With no ticket, no guest list entry sorted and no real knowledge that the show isn't sold out or will be by the time we get there, we go any way.
As we arrive there's already a buzz outside the venue with people milling around. "Straight in, straight in," I say to my companion and up the stairs we march. Eye spy with my little eye and who do I spy? I spy Alfie Skelly (guitarist with The Sundowners and brother of Fiona, singer in The Sundowners)and brother of James and Ian Skelly from The Coral. Incidentally, Ian Skelly is here tonight to give his brother support and his own band Serpent Power are ace, and going places in their own right).
I ask Alfie if he has any spares (I've known and worked with Alfie and The Sundowners a few times over the years). He sorts us out and we're into the main room…  Wow, I've never seen the room looking so good. It was like a lorry of 60's oil wheels, lazers and FX had crashed into the venue!
The Sundowners take to the stage and blow away the crowd with their double-barrelled female-fronted vocals, soaring over the band's sound. It's part The Byrds, part 70's Fleetwood Mac. And it's over almost as soon as it's begun.
It's been a while since I last saw the band; they seem heavier and more psychedelic tonight. I mention this to Alfie after the show and he says: "Yeah I can afford a few more FX pedals now".
Search out their eponymous debut album on Skeleton Key records. I guarantee you won't regret it.
By now the place is heaving and the crowd are eager to get near the front or a good vantage point of the stage, with chairs and tables being the order of the day. As the band take to the stage and start up their sonic assault of white noise and electronic sqewlch ambiance, we're all revved up! Jane takes to the stage with shimmerin', glitterin' cool – and delivers!
https://youtu.be/Pe1Dz5hCwZA
Coming on like a naughties Krautrock roundhouse kick to the head (think Can or Neu and you won't be far off), the music for 'Argent' cranks out of the PA. This music is throbbing and the walls are vibrating too, not just from the music I might add, but also from the exquisite visuals on offer tonight. (I'd take a guess that quite a few of them were Jane's tour lights). The beat is a strict motorik 4/4 that is closer to a drum machine than a living, breathing live band…and thank God for that too. There's nothing worse in my book than a sloppy, greedy drummer (less is more and keep it tight, drummers) …but none of that tonight.
The band are so tight, one would struggle to get a blue Rizla paper between them!  Jane begins her glorious whailing singing style over the top and we're hooked, lined and sinkered. We're pushing our way to the front, we're dancing and not giving a f***! Song after song flash by… I can't really remember what was played, but that doesn't matter a jot, as we were having a ball.
I remember the new single 'Don't Take My Soul' getting an airing, with it's crazy guitar and keyboard riff getting right in my head like a snake charmers flute. Around this point I remember I need to take a picture – which I duly get, but local smashed dancing man (you know the type) says, "Did you manage to send it? Now get dancing!" I don't need anybody telling me to dance… I am dancing my heart and soul out already!
Somebody shouts, "Nice Converse!" to Jane, regarding her trainer boots – to which Jane replies, "They're not Converse, they're Adidas" to laughs all round!
And that lovely reader is pretty much it, just enough time for set closer (if my memory serves me correct!) – 'Your Time In This Life Is Just Temporary'. (But if all nights were that good it doesn't matter – Ed.)
…which in a word is incredible. Jane and the band are on fire tonight, seriously good and off into the night we shake, rattle and roll.
Jane Weaver's October tour  is still ongoing and her latest album The Silver Globe available now at finderskeepersrecords.com is out now on husbands Andy Votel's Finders Keeper Records (please buy it it's simply beautiful).