With exception of The Scoon on drums, The FOXTALES are a nearly-all-girl band hailing from Manchester. Made up of the aforementioned Scoon (drums), Amy (guitar, mandolin and vocals), Cassie (guitar, mandolin and vocals), Angela (guitar and vocals) and Briony on bass…….tonight they truly graced the stage of the Deaf Institute, yet another convivial  Mancunian venue – our city is just full of 'em! If it's intimate venues you want…come to Manchester. This one is particularly appealing with its tiered steps, dance floor and small balcony area.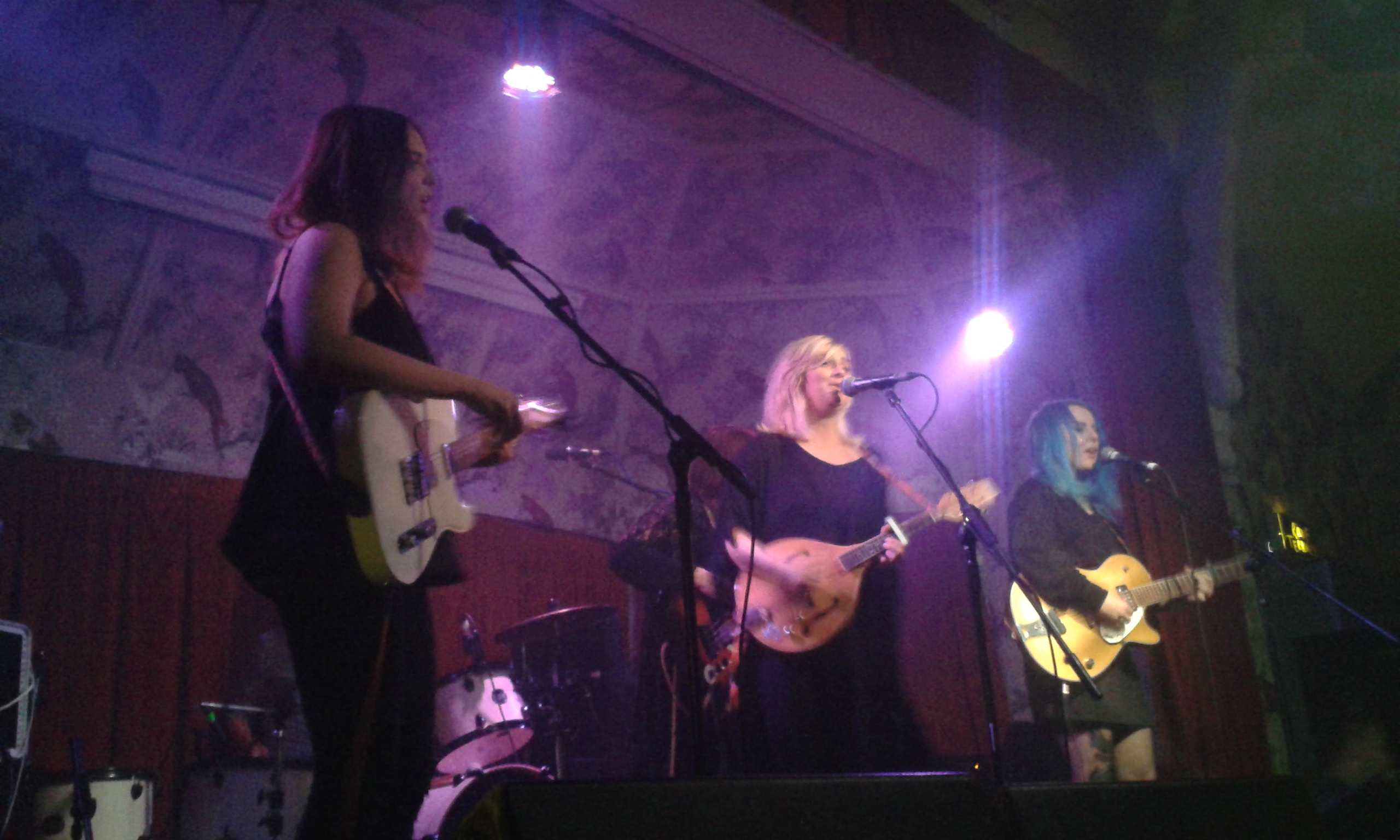 The FOXTALES are difficult to label, but we decided a bit new-age was the way to go. They wouldn't be out of place in one of the more hippier tents at Glasto. They took us through a number of pleasingly, sweet, melodic, breezy, summery tunes, and with the all-female vocals and mandolins, the band carry a unique, identifiable sound. The first tune 'Rain Sister' was the most impressive as my friend commented, 'beautiful resolution and discord'….the harmonies were spot on and the dreamy all girl sound put me in mind of First Aid Kit. The tune 'Spider' is their upcoming spring debut single release. It's an airy, catchy tune, which I didn't really feel they did justice live, but having listened to prior to the gig, limited lyrics aside, did get under my skin as I found myself humming it a few days later.
The stand out talent was Amy, moving seamlessly between instruments (guitar and mandolin) as well as accomplished finger picking, singing, playing the guitar with ease and chatting comfortably with the crowd. Cassie also drew us in as she naturally seemed to take the role of front-woman, again demonstrating ease with the crowd as well as polished playing and singing. The others in the group seemed somewhat stage shy, especially the bassist, very much lurking in the background – come out, we'd like to see more!
Overall, the FOXTALES were a tight unit who certainly entertained, were well received and fitted in nicely with the other bands on the night's billing. They pitched the set just right as warm up, playing just four or five tunes to an appreciative audience who, judging by the reaction, no doubt will seek them out again.
Next up was the headliner, Liam McClair. I heard Liam a few years ago in a tiny venue in Didsbury, just him, his powerful voice and guitar, so I was intrigued to see how is getting on now, playing with a full band. He impressed – immensely; there wasn't a dud moment in this gig.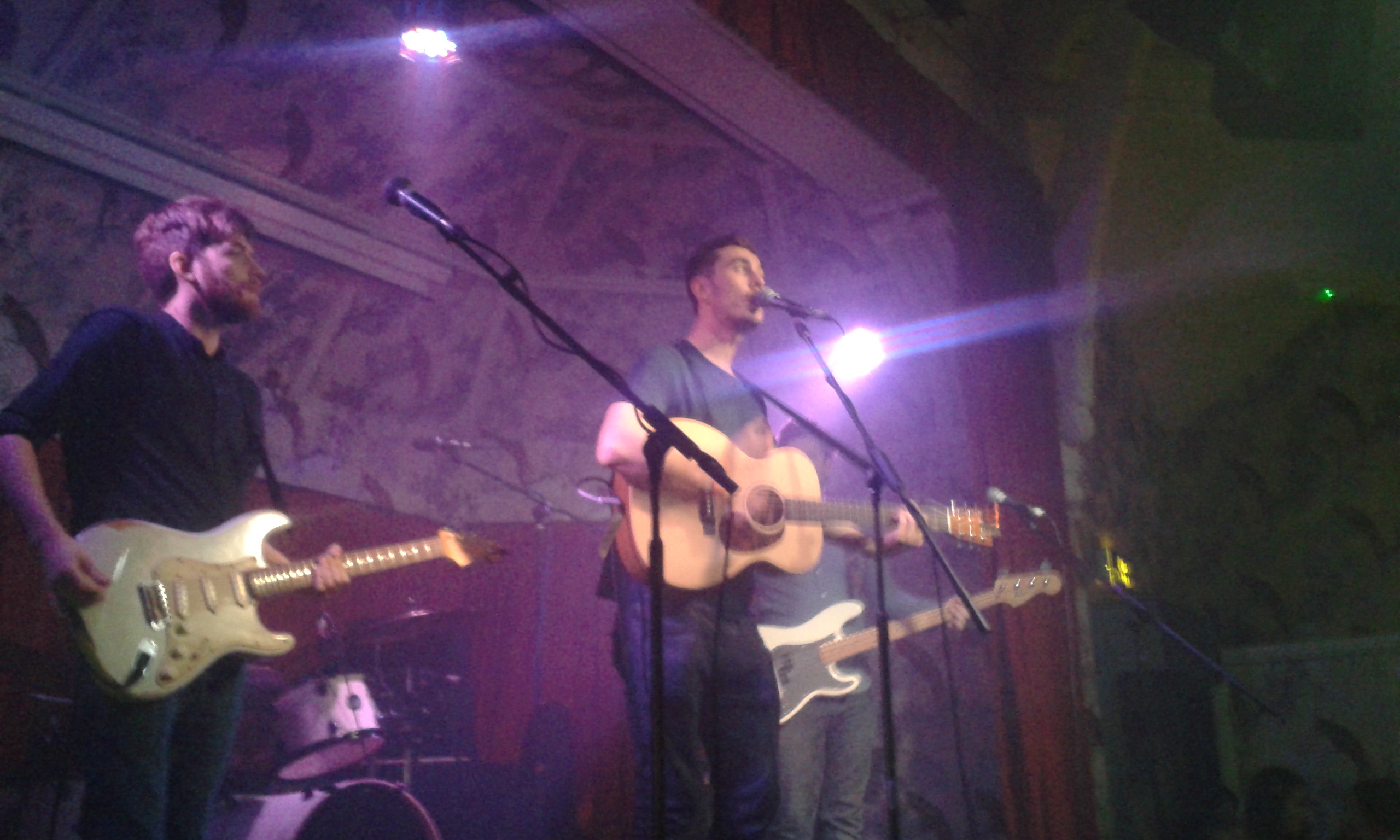 Liam commanded the stage; I know I've said this charisma business before, but Liam positively personifies it. His velvety smooth, strong folky voice filled and lifted the roof off the venue. His chord changes are clinical and he pulls you in with his emotional lyrics. The track 'Honest' belies his years (25 – it was his birthday the night of the gig) and confident guitar playing whilst maintaining constant eye contact with the audience is captivating. The fact that he and all the band look like they're having a blast contributes to their infectious appeal as does Liam's killer smile. This gig saw the launch of his new single 'Hunted' – blisteringly, soaring vocals and intriguing lyrics takes you on a splendid musical journey…my friend commented, 'I don't know what he's singing about, but I love it!' Liam loves some well-pitched audience participation and his tune 'Lose My Faith' allows for this in spades. At the Didsbury gig, our little gang had the pleasure of providing percussion for this tune (tapping on the table) which Liam remembered (we chatted after tonight's gig)… tonight audience clapping provided percussion…expertly done I might add. This is a runaway, perfect tune that I've played over and over and tonight the audience were also seduced by it. Liam knows how to charmingly work an audience whilst remaining humble … He truly seemed taken aback that all these people had showed up to see him. His new song 'Fame' left us speculating whether it was prophetic, only time will tell. A nice touch was inviting warm up band Stained Glass Ceiling up on stage to play – it's great to see such collaboration between musicians.
I hope Liam retains this humbleness as he has a bright, bright future. I urge you to go to see him. He is absolutely my cup of tea!