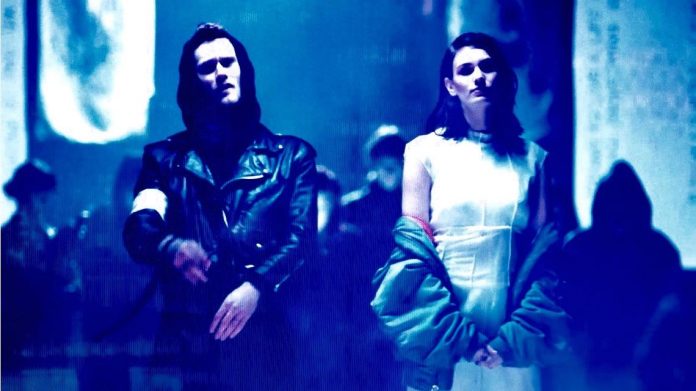 Manchester band Wu Lyf created quite a stir five years ago. No sooner were they firmly established as favourites with audiences and media alike, however, than frontman Ellery Roberts quit the party in dramatic fashion.
Now he's back as part of a duo with Dutch artist-girlfriend Ebony Hoorn under the name LUH (Lost Under Heaven). A debut album, 'Spiritual Songs for Lovers to Sing', was released on the 6th May, the same day LUH chose to launch a European promotional tour at The Deaf Institute.
The CD was produced by Wakefield-born avant-garde musician Bobby Krlic, aka The Haxan Cloak, who recently collaborated with Björk on her celebrated album 'Vulnicura'. While Wu Lyf was a relatively traditional guitar band, it's safe to say that LUH's music is something of a mountain to that molehill. 'Spiritual Songs' veers from punk rock to Johann Sebastian Bach, acoustic guitar to electronica, violin solo to African drums. This is music with a mission.
Where the lyrics are concerned, the breadth is just as broad. At one extreme, there's Lament, a crowd favourite with the largely young audience at The Deaf Institute, which has the singalong chorus: "The powers of old/The powers that be/You fucked up this world/But you won't fuck with me."
Politics, in fact, offers a bleak backdrop to both album and gig. The epic '$oro', for instance, provides a dystopian confection on greed that on disc and in live performance is like being force-fed Black Forest gateau until you vow to renounce cake forever.
At the other extreme, we have existential angst, with love the answer, specifically Ellery's love for Ebony, as he sings to her on 'Lost Under Heaven': "I always knew it would end like this/On a sinking ship/The only lovers left/In a world that's lost all meaning/Your truth got me believing."
As this is very much the plot of Emily Bronte's Wuthering Heights, I couldn't help but see the pair as a real-life embodiment of that novel's lovers, Heathcliff and Catherine. Then again, LUH's 'Future Blues' is so reminiscent of Lou Reed's 'Pale Blue Eyes' that it would be just as easy to equate Ellery with the Velvet Underground frontman and Ebony with Nico, particularly as the former sings in a similarly foreign-accented monotone to her predecessor.
Where this comparison breaks down, though, is in the fact that Ellery Roberts' voice is like gravel to Lou's velvet, while his performance is sheer drama compared to Reed's almost apologetic offering.
This, in fact, was an essential difference between LUH's album and their gig. For while Ebony perfectly complements Ellery on disc – the contrasting chorus on standout-track Loyalty providing my most memorable moments – her understated singing on stage is rather swamped by her partner's OTT live performance, despite his best efforts not to rock the love boat.
This was compounded by the fact that the duo were backed on stage by multi-instrumentalist Oliver Cooper and drummer Steven Hermitt, who, along with Ellery Roberts himself on electric guitar, provided a loud, loud show for the packed-out audience. You could actually feel the vibrations.
Putting aside tentative criticisms, however, there's no doubt that, while, in my view, still an up-and-coming band, LUH is already a force to be reckoned with. If Ebony can persuade her partner to desist from commenting on the apocalyptic significance of his achievements and concentrate solely on his writing, then perhaps we'll have something that equates to the truism that love conquers all.