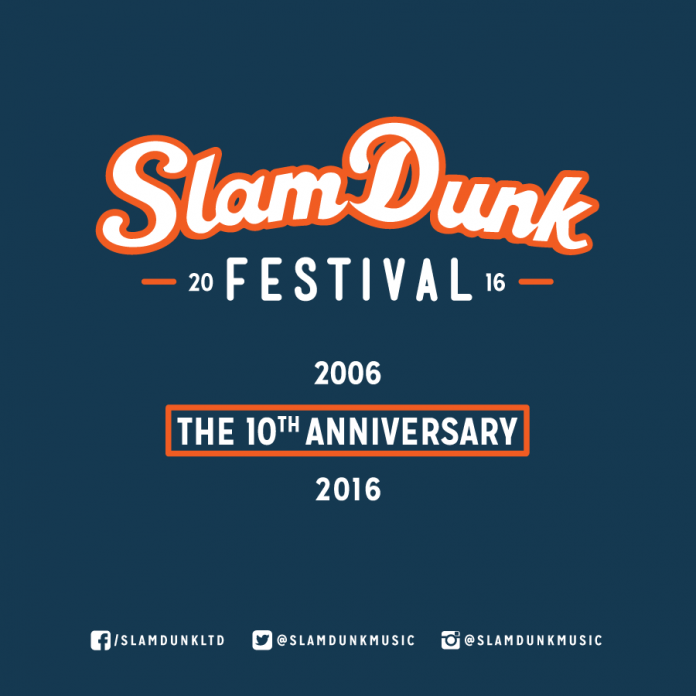 Saturday 28th May at Leeds city centre including: Millennium Square, O2 Academy, Leeds Beckett Uni and outdoor stages. Gates open at 1pm and Bands finish by 11pm
Every year Slam Dunk Festival surprises us a little bit more with the huge bands it manages to bring to the line-up. Not only do bands bridge the north-south divide to present the whole of England with an entertaining day of phenomenal talent but many of our favourite American bands go the distance to make the experience unmissable.
In 2015 we saw Taking Back Sunday, Knuckle Puck and Reel Big Fish come over to share in our love of music alongside UK headline act You Me At Six. The Kerrang! Award for Best Festival went to Slam Dunk in 2014 and 2015, beating renowned festivals; Reading and Leeds, Sonisphere and Download. The line-up continues to please this year as Slam Dunk Festival celebrate their 10th anniversary.
Taking over the main stage to headline this year is Panic! at the Disco. The American pop rock band formed in 2004 and haven't stopped since. Their new album 'Death of a Bachelor' was released January this year and has followed in the path of their many other popular albums, receiving an award nomination for Alternative Press Music Awards Song of the Year with Hallelujah.
Their well-loved album 'I Write Sins Not Tragedies' achieved double platinum status in America and speaks wonders for the overall talent of the band. Lead singer Brendon Urie led the band to further victory with Alternative Press Music's Best Vocalist award in 2014. Matching their talent is their creativity and passion to entertain. MTV Video Music's award for Video of the Year kick-started a succession of victories for Panic! at the Disco in 2006. They also went on to win TMF's Best Video International award, MTV Asia's Style award and just last year took home Rock Sound Readers Poll Video of the Year.
Supporting Panic! will be American pop punk band New Found Glory who've been playing together longer than some festival attendees have been alive. Their most recent album 'Resurrection' was released in 2014. True to its name New Found Glory were resurrected and jumped back onto the scene with a more 21st century rock sound with the added bonus of those old school pop punk roots intertwined.
Slam Dunk Festival has a reputation of bringing the best bands from the alternative/ rock scene to its stages every year along with a huge variety and this year is no exception. Other headliners on the across the stages are; The King Blues, The Story So Far, Of Mice and Men and Every Time I Die.
The King Blues split in 2012, lead singer Itch said: "We simply feel we have taken things as far as they can go and it would be unfair on you if we were to go through the motions like so many other artists do" regarding their breakup. He then went on to a successful solo venture but fresh from their time apart and all worries of repetitive material dissolved they reformed late last year and are back with that same passion and flare they always had.
The amount of outstanding bands available at this year's festival is immense. Ten years on and the alternative music scene is still as strong as ever and I predict yet another year of raw, fresh, entertaining talent.
More information: http://slamdunkmusic.com/festival/