The Nu Soul event covered just about every genre out there. The music took on a life form of its own fuelled by influences from: jazz, funk, hip-hop, latin, afrobeat, soul, house and drum n bass. The genres covered just about everything with a groovy beat and the audience, just about anyone with a will to move their feet.
Up first were Necktr, a nine piece soul band on a mission to modernise jazz by drawing on influences from afrobeat, latin and hip-hop. The band formed in 2016 but are already making a name for themselves as one of Leeds' up and coming diverse jazz bands. You can catch them at Belgrave Music Hall alongside Nag Champa on March 5 2017.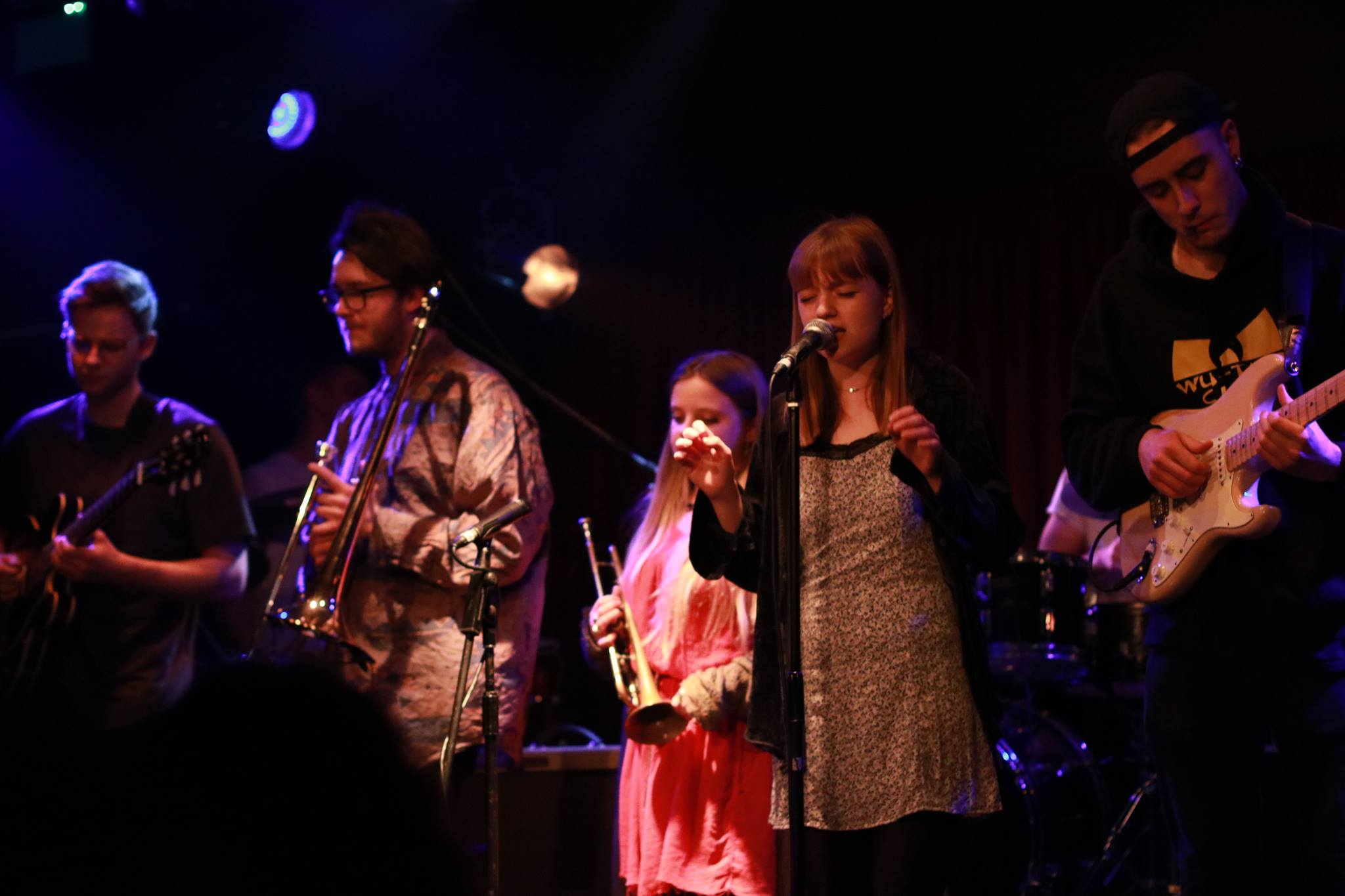 Following Necktr, filling the stage with just one less band member were the eight piece soul group Tetes de Pois. Another horde of musicians to rise from 2016, Tetes de Pois have already caught some attention with their uptempo cover of 'Stepping Into Tomorrow', originally by Donald Byrd. The band exudes talent and there is absolutely no chance of missing it with all their attention focussed on blasting out powerful percussion. Each band member demonstrates a great talent for their prescribed instrument whilst coming together cohesively to create a sound that soothes the audience and encourages them to become involved with the music further than as a mere spectator. Whether you're looking to loose yourself in the sobering sound of the sax or are looking for a beat that's going to compliment your dancing without shattering your ear drums, Tetes de Pois can provide.
Performing last for the bands were seven piece jazz (and everything else) tribe, Nag Champa. Watching Nag Champa perform live is like throwing seven random ingredients into a bowl blindfolded, mixing it all together and ending up with a cake capable of winning you the Great British Bake Off. By no means is that what they've done but the seven Leeds College of Music attendees manage to incorporate sounds from a variety of different genres, composed across 7 instruments and vocals to create a unique sound that looks easy to create, is easy to listen to but in reality involves more graft than is imaginable. The sharpness of each musician and ability to play as one whilst mastering their personal composition is what gives off the air of ease. This ease is what propels to audience to feel so free to move along to the rhythms without analysing them too much; to the crowd it doesn't matter how they've done it, just that they have. Their stage presence is also a point to be admired, between remembering their own parts, timing it with the rest of the band and being ogled by a crowd beneath their feet Nag Champa manage to maintain a group charisma which makes them approachable beyond the stage. You can read more about Nag Champa in our feature
The crowd were treated to a lively night of soul, funk and jazz by Necktr, Tetes de Pois and Nag Champa. The good vibes and relaxed atmosphere remained through the night and all three bands did a great job of supporting one another and supporting the night by once again showing Leeds has a lot of talent just waiting to be discovered.
After the bands the audience continued to party into the night with DJ's Desodah and Dbrief DnB. Desodah followed the same theme of the night and kept people dancing with his jazz, funk, disco and house mixes. He made the transition from live bands to djing smoothly and set about mixing the perfect tunes to up the ante and keep people wanting more from the local soul and jazz scene.
Following Desodah was Leeds resident Dbrief DnB. Dbrief brought an eclectic mix of soulful drum and bass to the table, adding a bit more variety to the evening whilst maintaining the atmospheric vibes. The bands for the evening used their passion for jazz and varying genres to keep the night alive and the crowd moving despite covering three hours with similar music. Much like the atmosphere during the live bands Dbrief kept the crowd alive and anticipating what was next mixing a huge range of soulful DnB including the likes of; Spectrasoul ft Tamara Blessa, LSB ft Tyler Daley and DRS and a Dbrief Orchestra original. His final track 'Kiksuyapi', which is due to be released March 1 2017, shows his versatility as a musician and a DJ. The original by the Dbrief Orchestra combines classical piano, flute and harp amongst many other instruments to create a truly unique drum and bass sound.
Every musician that played Nu Soul at the Lending Room showed great talent, professionalism and charisma to put on a huge night for all local lovers of music and showcase Leeds' huge amount of growing talent.
Links
https://nagchampaband.bandcamp.com/ – Nag Champa
https://www.youtube.com/watch?v=tO75uGNXd-U – Tetes de Pois
https://www.facebook.com/necktr/?fref=ts – Necktr
https://soundcloud.com/desodah – Desodah
https://soundcloud.com/dbriefdnb – Dbrief