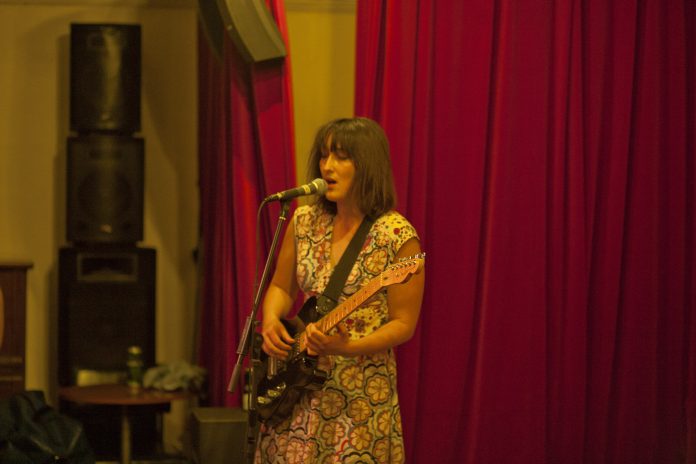 The Drink are a three piece band from London – Dearbhla Minogue (Vocals, Guitar), Daniel Fordham (Drums) and David Stewart (Bass) – who are usually put into that indie-folk niche. Having played their album 'Company' to death before seeing them I thought I knew what to expect – hints of folk (both English and Irish), a fair spattering of Warpaint, bits of African finger picked guitar, Dearbhla's voice sometimes veering into Brit-pop territory.
However I was frankly shocked (in a good way) by Dearbhla's guitar playing. What we got was some fierce blues-tinged finger picking. I really found myself thinking 'well why isn't there more of this on the album, it really adds something to the songs?'. When you hear this you really understand the band members' shared love of Captain Beefheart. I don't know whether The Drink ever feel the urge to 'jam', but if they do I'd love to be there.
The songs themselves are dark and intricate with lyrics that are really worth listening to. Dearbhla's voice slips effortlessly between different styles – sometimes English folk, sometimes Irish folk and sometimes just her own unique style – but you can always hear the words which is really important for these songs.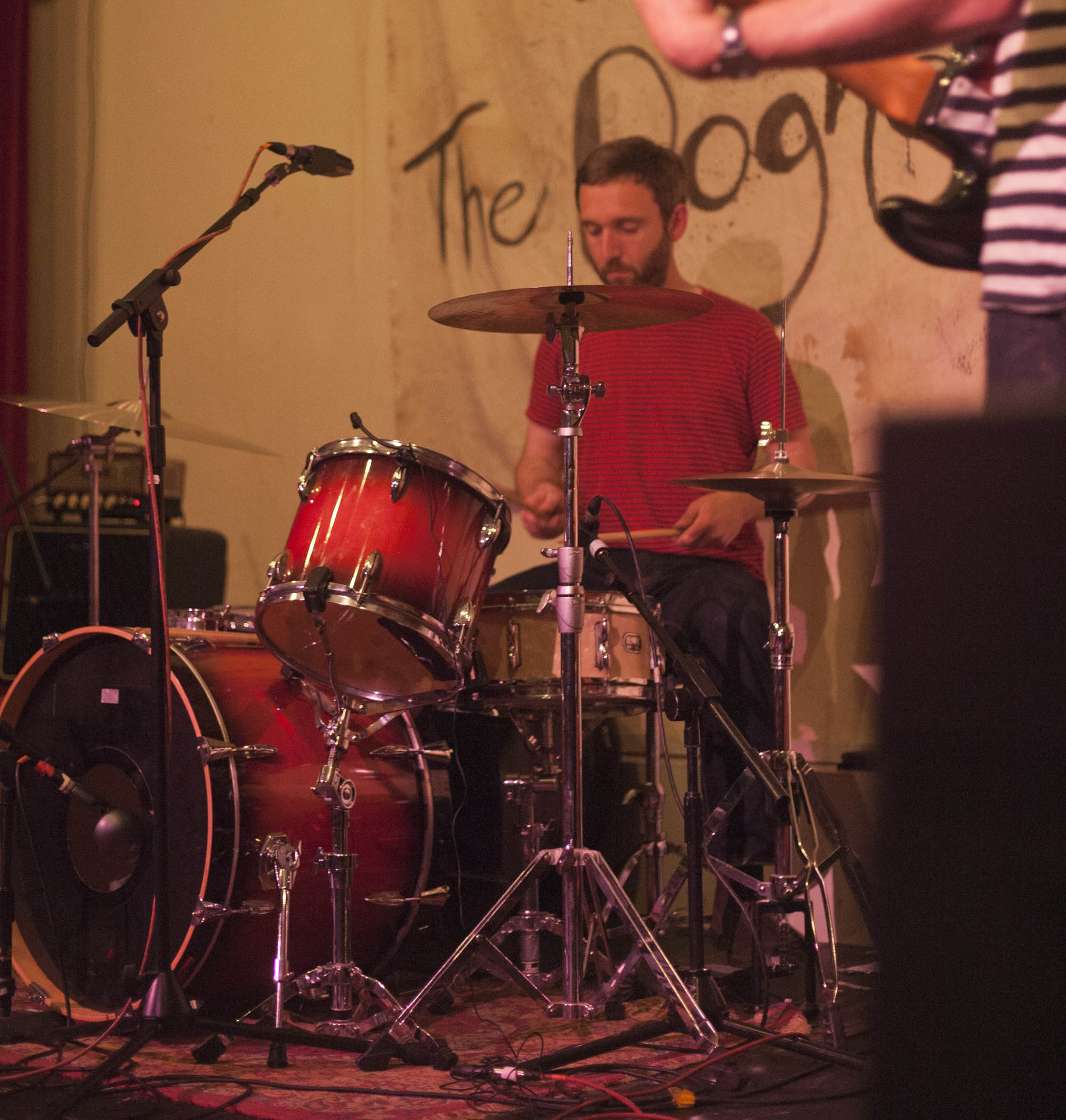 Also, I can't fail to mention Daniel and David's playing – which was faultless. I loved David's drumming which weaves it's way through the complex tracks with ease, while Daniel provides a really solid base.
I was in the difficult position of reviewing the gig and taking photos so I can't comment on all the tracks in their all-too-short set, but frankly I could have stood and listened for hours. This band simply can play! It felt to me that I was experiencing a group of musicians who just happened to land in a bar, had some songs and just played them in the order they felt was right at the time. The secret of their performance was that there was no performance as such – it was just all so incredibly relaxed.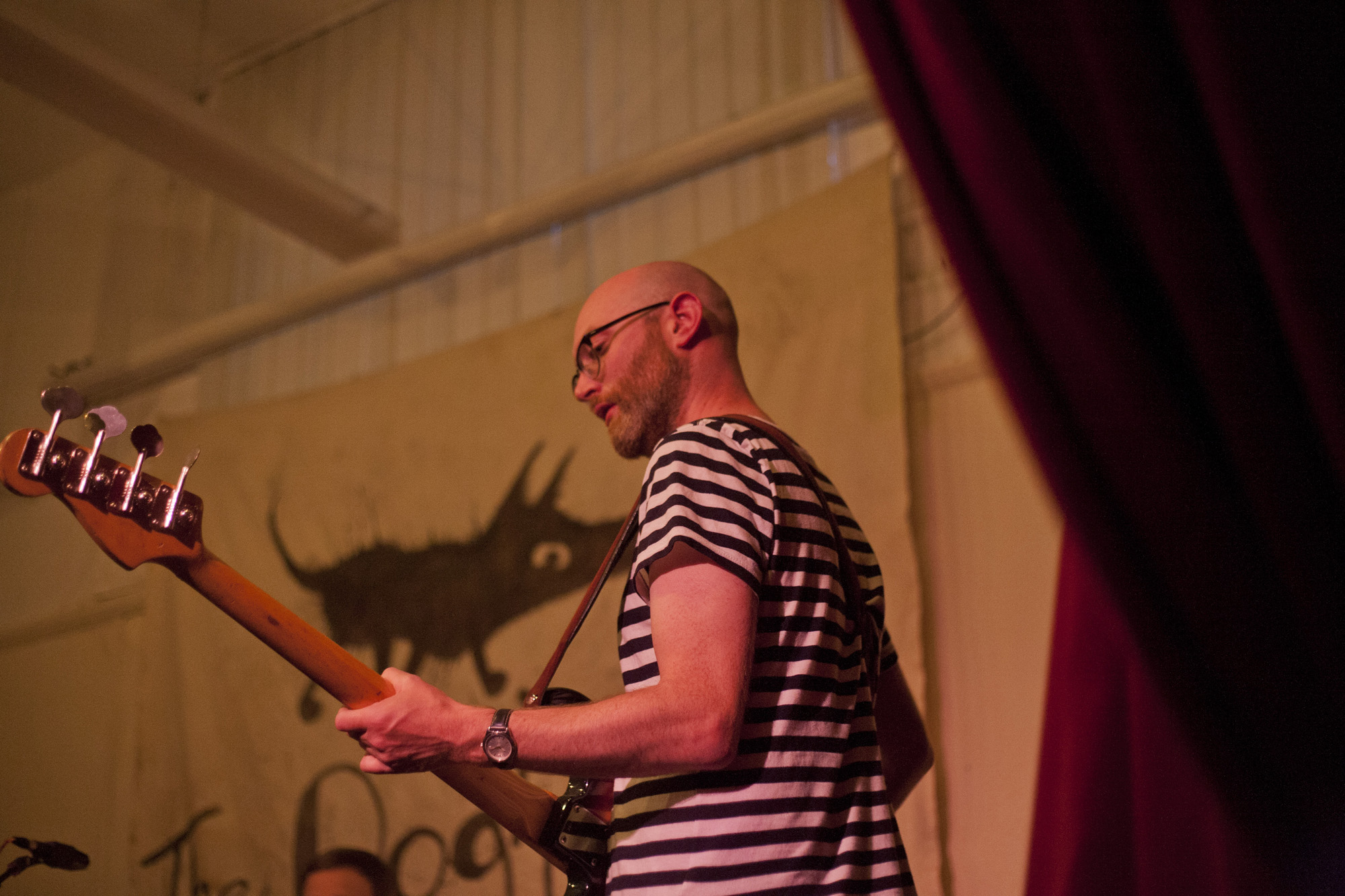 Set stand outs for me included 'Demo Love', with its soaring vocals and a catch beat rhythm section that I really loved and 'Playground' which started with African finger picking and went into, what sounds to me, like a real Brit-pop thing – I keep thinking of a hint of Sleeper whenever I heard it.
'At The Weekend' – which opens with the line 'It came to me in a blood transfusion', (yes really) – has this really nagging bit with the lyrics 'internally' 'externally' going on, which ought to be really irritating but was actually hypnotic.
Before their final song, Dearbhla announces that her mother came from Halifax, although she's never been there before. May I suggest a return visit is in order.
If you're a fan of dark folk-tinged songs with some weird arrangements, I'd recommend buying the album, and then seeing The Drink live for that added extra of the fierceness of their guitar sound.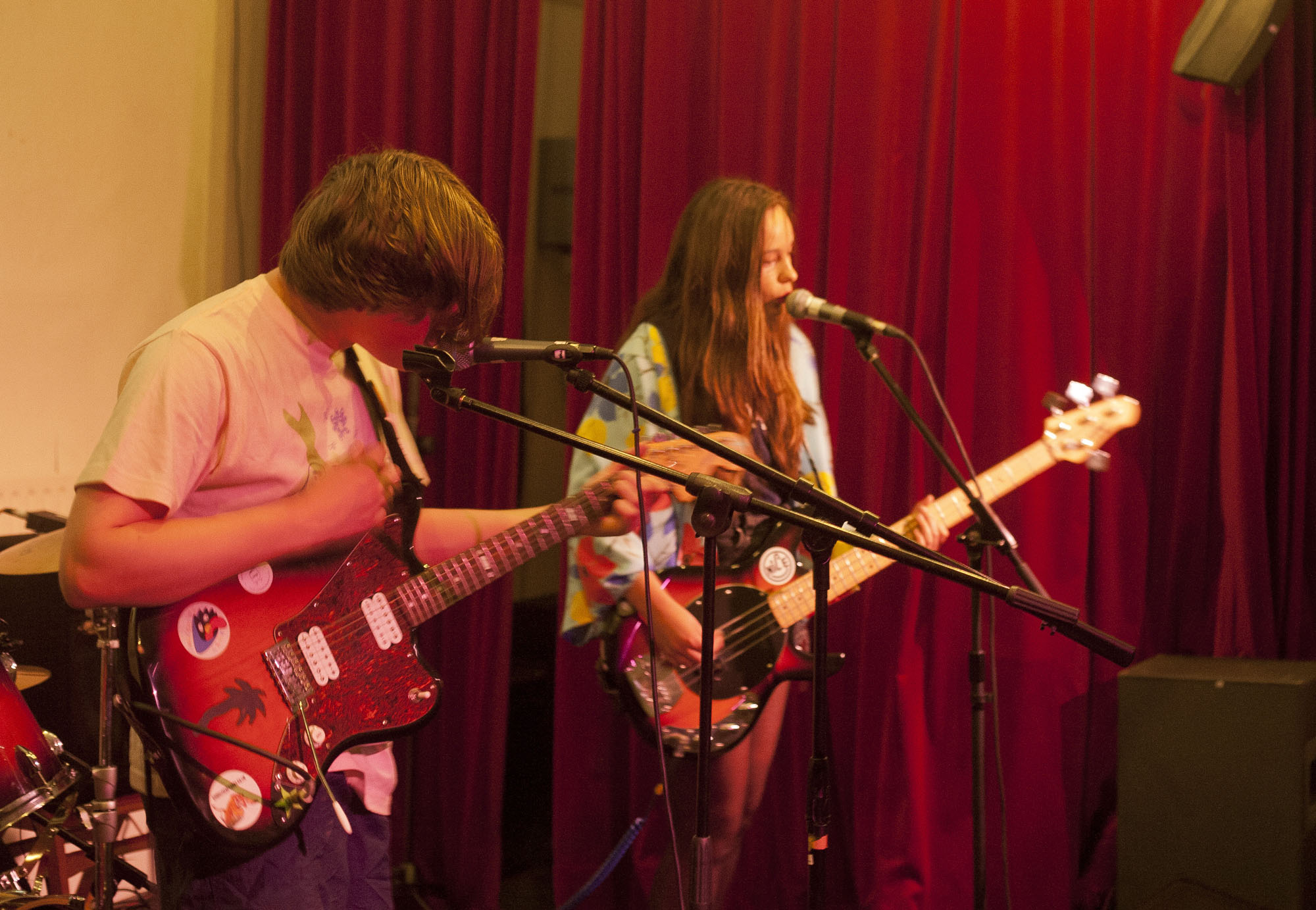 Playing second on the bill were The Orielles – a scarily young and accomplished band from Halifax. Their garage surf influenced psych is already creating quite a stir.
Esme-Dee Hand-Halford (Bass Vocals) Henry Carlyle Wade (Guitar Vocals) and Sidonie B Hand-Halford (Drums) tick the psych boxes – effects drenched guitar, that sweet sounding female singer – but bring to it something else. I got hints of pscychobilly, punk and post-punk (the bass is really featured on a lot of tracks), plus the surf thing.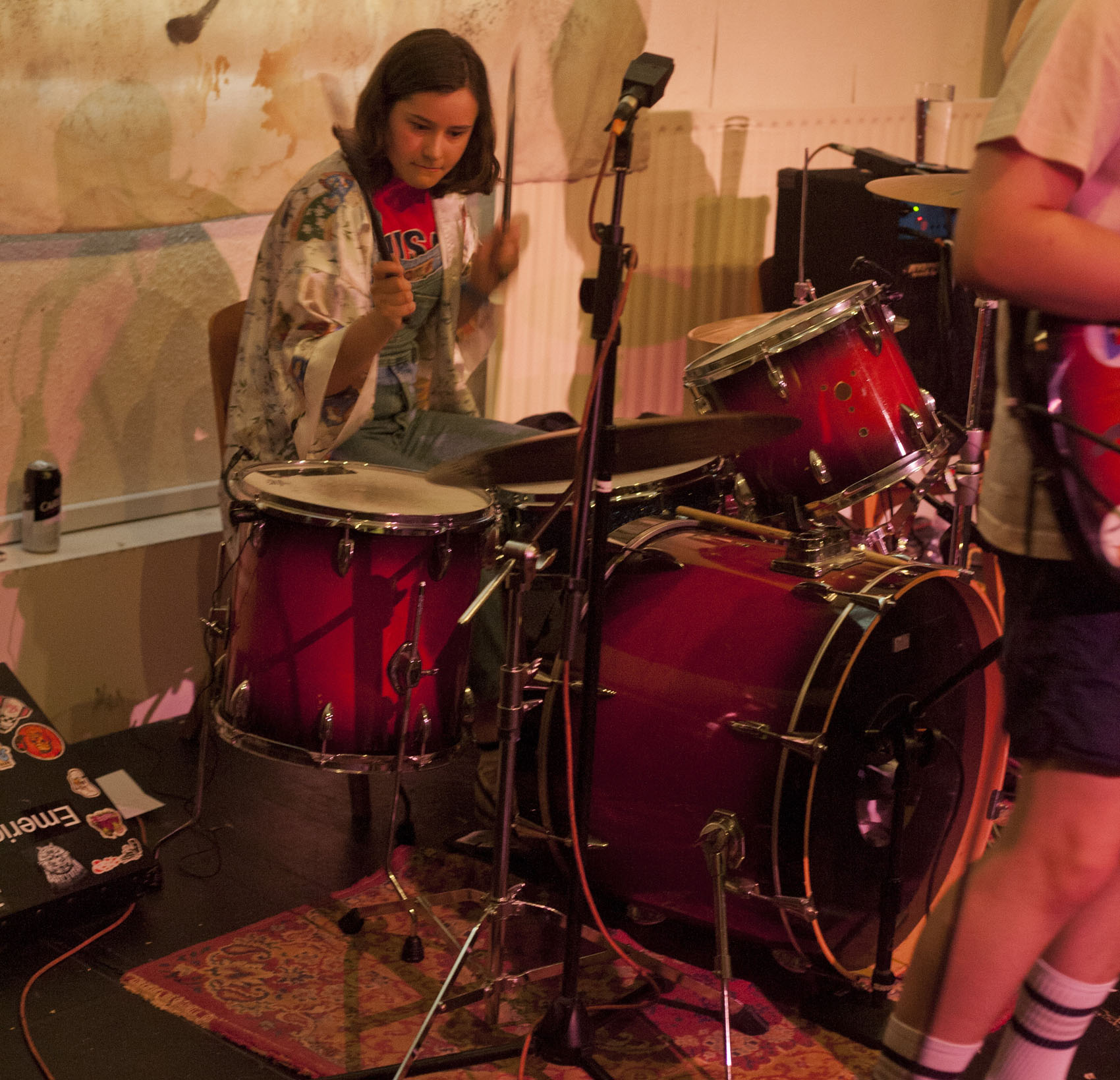 I'm going to mention two tracks in particular. The first had a title that was something about a Chinese girl and I'm fairly sure it had the word pink in there somewhere. I do wish I'd written that title down at the time. Anyway, take my word for it that the song title already marked this out as something interesting, and the song didn't disappoint.
My other favourite was their set closer – a new one – starting with a doomy bass this moved into choppy guitar (an almost Siouxsie and The Banshees sound) and moved into a guitar effects fest with Henry staggering off the stage and into the gap in front of the crowd. Sid's drumming on this was really utterly fab.
The Orielles are one to catch soon, if you haven't already.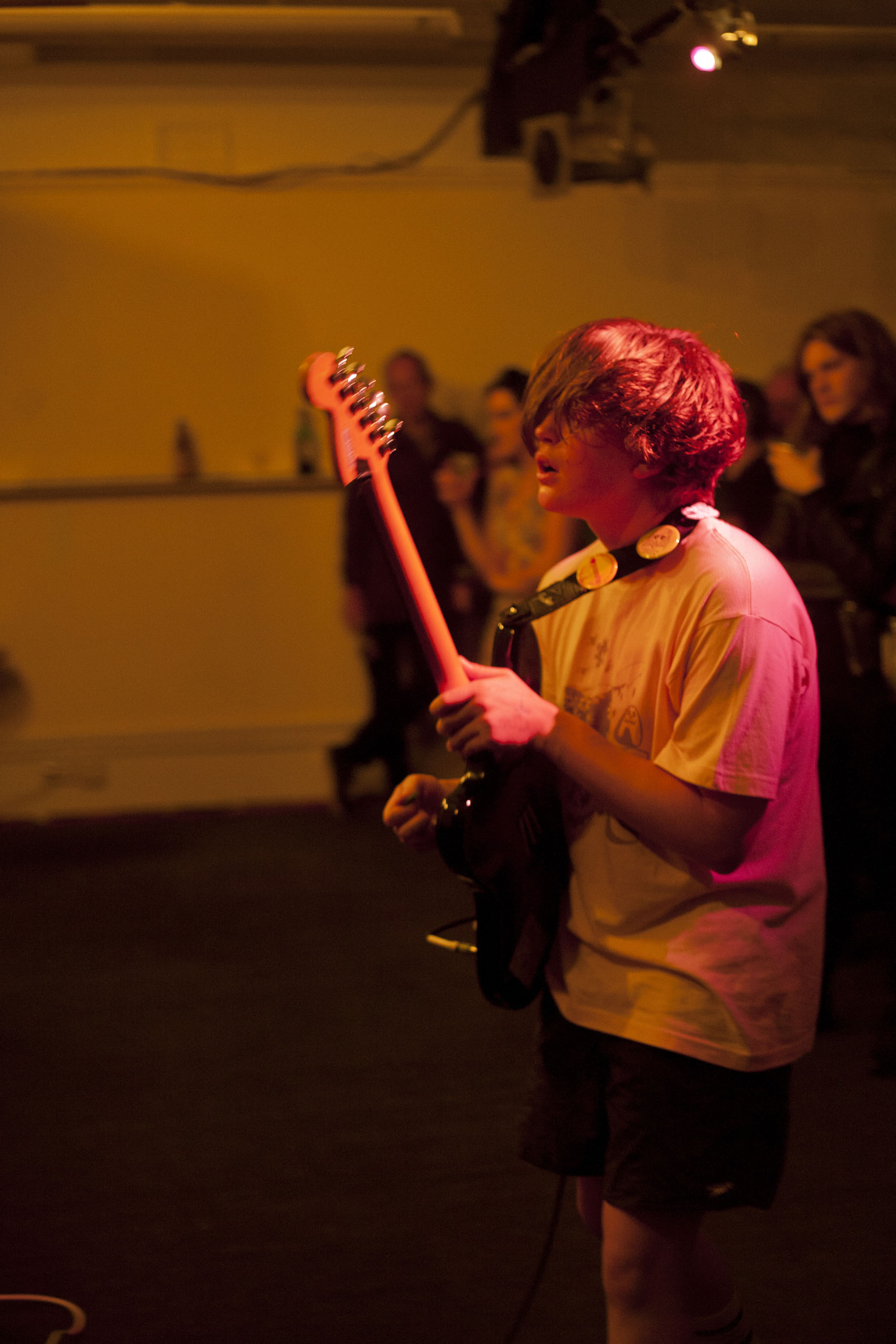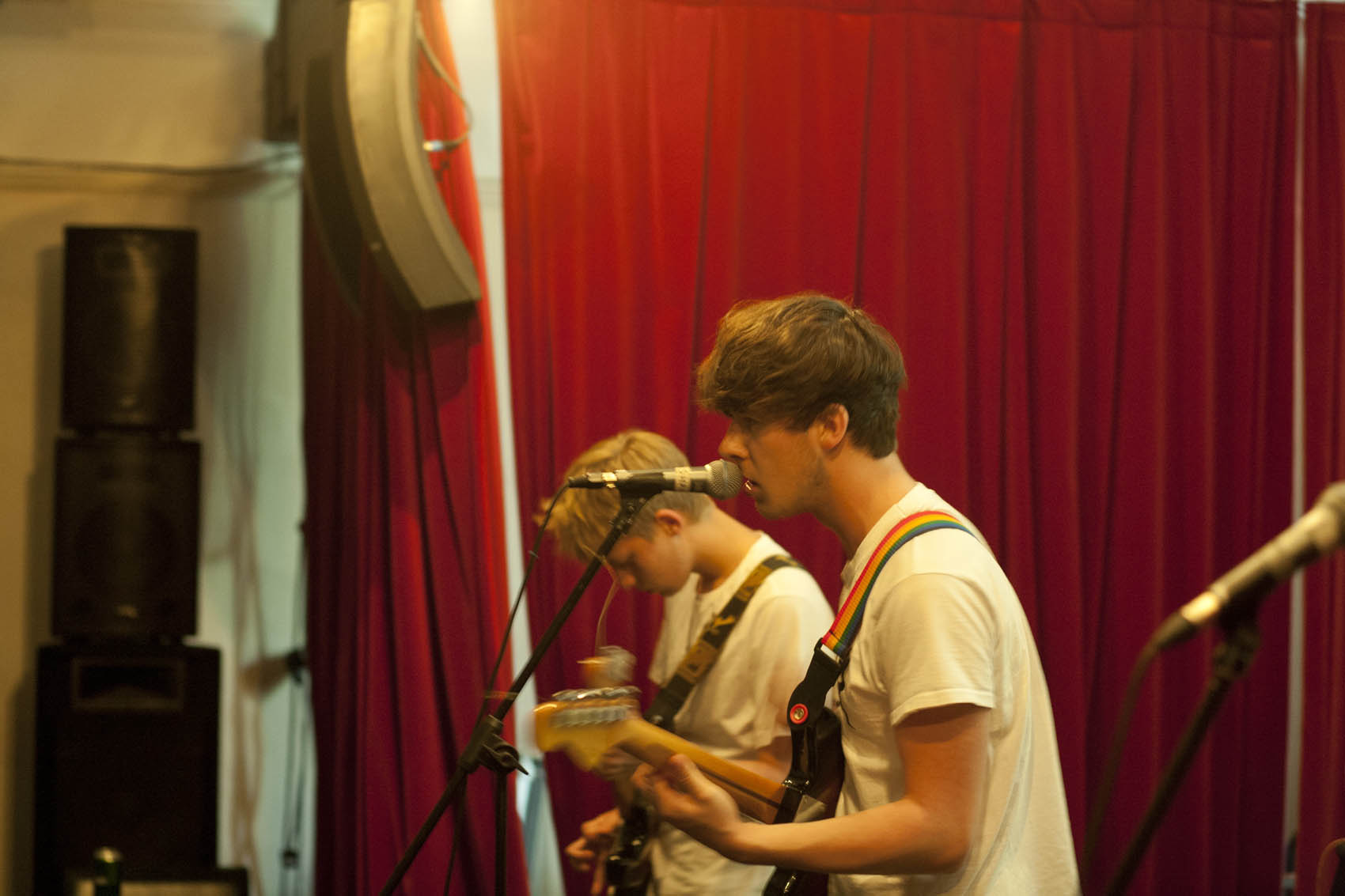 I also want to mention The Stray, another young band from Halifax, who opened the gig that night. They gave us a solid set of Indie-rock, but included a a stand-in guitarist which may be the reason some of their songs had endings which rather lost their way and fizzled out at the end. I may be going out on limb here, but I'm guessing they may have been influenced by early Jam. I was startled by them covering 'Psycho Killer' – a bit risky some might say because it's an iconic track. It was slightly faster and definitely rockier and fuller than the original, but really worked. The other highlight was 'Byrons Boots' (available as a free download) which is bit shouty and punky in a good way. This type of Indie rock isn't really my thing, but they clearly have a loyal and enthusiastic following.
Links
The Drink
The Drink on Facebook: https://www.facebook.com/thedrinkthedrink
Buy vinyl, CDs and downloads from The Drink's record company Melodic: http://www.melodic.co.uk/word/product/the-drink-company/
The Orielles
The Orielles on Facebook: https://www.facebook.com/theorielles
The Stray
The Stray website: http://www.thestrayband.co.uk