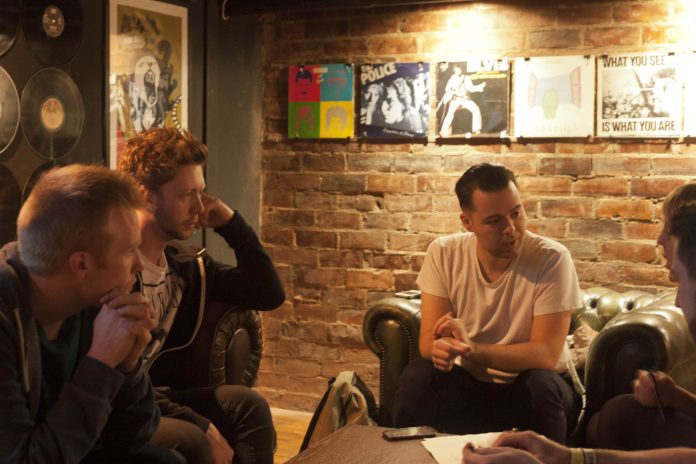 We had a fabulous time interviewing Stop Drop Robot at Long Division because they're so enthusiastic. These guys are so much a unit that sometimes they all contribute to the same sentence – so where we couldn't identify just one speaker we've attributed it to the whole band ie. SDR
LSF: Nathan, you have the role of engineer and producer, as well as bass player in the band. How does that work in a recording session? How do you separate the roles?
Sam: Nath's in charge!
Nathan: I'm actually more comfortable recording than the person being recorded. I hate sitting down and recording myself.
LSF: Does it cause any arguments?
SDR: No, because we all have our own input and write our own parts and give feedback to each other's parts. For the most part, we're definitely a jam band. We'll jam something out and then everyone writes their own bits and feeds back to each other, then Sam channels it vocally.
LSF: So in the future is there a possibility that you may adopt that role and acquire a new bass player, Nathan?
Nathan: Nooo!
SDR: He loves playing live too much.
Nathan: I like to be on stage playing bass. There was a time when I was using synthesizers a lot but I just wanted to rock out with my bass.
LSF: At what point does the electronic aspect come into it?
SDR: Either at the very end or right at the beginning.
Dan: It's either an electronic idea that we build from the start or a band idea and we'll add the electronic sounds later. We went through a transition of being a punk band then I got the click and started playing to it. It was really weird playing to a click at first, but I got used to it.
LSF: Sam do you write all the vocals? Where does your inspiration come from?
Sam: Yes… I'm from an 'arty farty' background where I like to go to weird dark places; usually they're metaphors for other things. Definitely weird and 'out there' in a good way.
LSF: How did you meet?
Dan: Sam and I were in bands when we were 13…
Sam: They're three people I met at different points in my life and then pulled them all in together. I met Matt at university and was running gigs in Sheffield where I met Nathan while promoting them.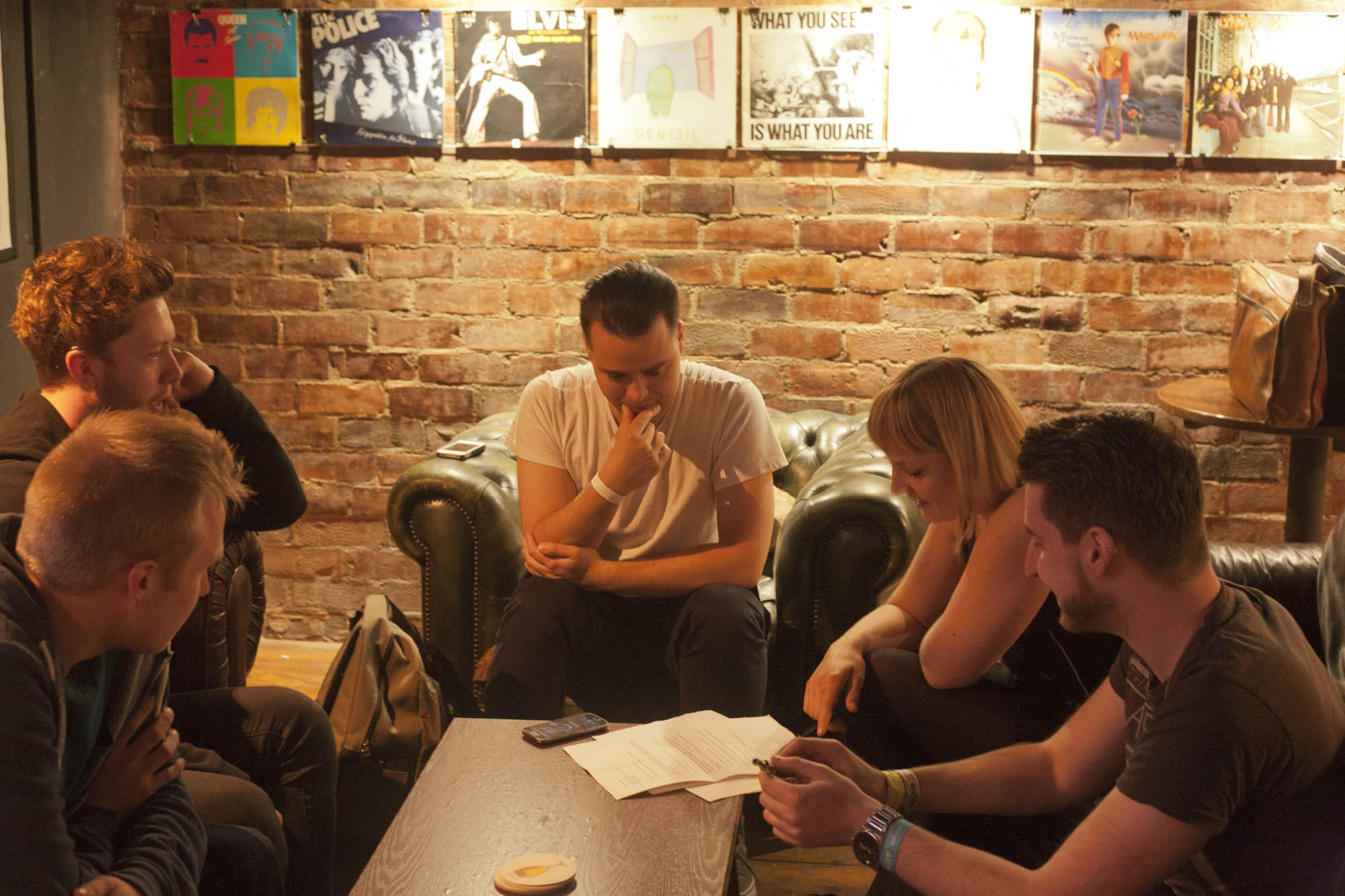 LSF: You are supporting some pretty big bands such as Alabama 3 and Heaven 17. How did those gigs come about?
Sam: Gift of the gab… I'm good at blagging stuff. I do fall naturally into that kind of management role. After a while you get to know people. We have got industry infrastructure in place – we have a publishing contract and they bring a lot to the table. Once we have decided what gig we want, they set it up for us. I make sure the rest of the band can do it – spending long hours in an office environment emailing to get there, basically.
LSF: How did you come to work with 3x Grammy nominated producer, Karl Helibron?
SDR: Through social networking; we are social media savvy. We really put the time in on Twitter and Facebook about two years ago and tried to connect with new people. We approached him asking him to check the band out and he asked if he could do some production for us.
LSF: He's produced Soundgarden, Guns 'n' Roses and Rage Against The Machine – that's an impressive CV!
SDR: It was TLC that clinched it for us! Seriously though, he's worked with Pearl Jam, Snoop Dog, Rhianna, Jay-Z, Jeezy, the list goes on…
LSF: How did you find working with another producer, Nathan?
Nathan: We got all the electronic synths sorted out and got the band recorded and sent it all through to him and said he can add what he wants or change what he wants. Bit of back and forth. We've done about four songs with him so far. It's an ongoing relationship. The next producer we're working with is Sheffield-based and was a Human League producer. I still imagine it will also have some back and forth production.
LSF: What advice would you give to kids starting out in a band?
SDR: Give as much support as you can to other bands because it comes back to you; be as social as you can and get out there, get in touch with other bands. And practise, practise, practise!
LSF: What's your opinion of the industry, do you think it is enough to be good at what you do, or is there an element of networking needed too?
SDR: There is a certain element of networking needed. You might not get picked if that promoter doesn't know you. But also you need to rise above the rest and be tight at your craft. We sent out over 750 festival applications for this summer and we got 10 approved. If you only apply for 10 then it's doubtful you will get one approved. You can't have a defeatist attitude. You come back stronger each year with positive testimonials from the festivals and carry on.
LSF: After the festival season is over what are your plans? New music?
SDR: We squeeze that in between gig appearances. We have a few songs ready to record.
LSF: Album?
SDR: No, an album has to be the one. You only get one debut album, so it has to be right.
We're planning more gigs. We're already building the next tour and planning where we're going to go. We have a lot of international fans in Russia, Japan and Croatia – we're hoping to play there at some point, as well as the States.
LSF: Thanks Stop Drop Robot.