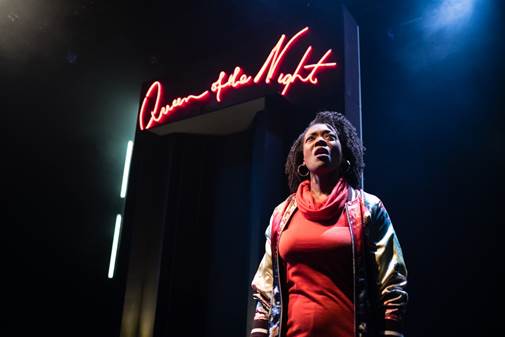 This new English version re-invents The Magic Flute in fabulous new robes for the era of Trump and recessions, casting rays of light and love into the darkness through Glyn Maxwell's mischievious poetry, Alex Beetschen's lively orchestration and Valentina Ceschi's theatrical creativity.
Invited behind the velvet rope at London's most exclusive club, Tamino doesn't have time to stop for beggars, paparazzi or even his girlfriend Pamina. Going to bed after a blazing row later that night, this ordinary couple relive the events and encounters of the evening in dreams made extraordinary by the lateness of the hour, their befuddled senses, and yes, a touch of magic.
Writer Glyn Maxwell is celebrated across a variety of forms, including libretti (Royal Opera House's The Firework-Maker's Daughter), plays, novels, poetry and two unclassifiable works which straddle literary criticism, fiction and comedy, On Poetry and Drinks with Dead Poets. He and director Valentina Ceschi (OperaUpClose's Elixir of Love and Dido & Aeneas) have re-shaped the archaic values of The Magic Flute to celebrate the other more progressive ideals which are at its core: tolerance, compassion and joy. This new version will be performed by six singers (double-cast) and four instrumentalists in a new orchestration for piano, double-bass, guitar and reed instruments by Alex Beetschen (OperaUpClose's The Marriage of Figaro).
Square Chapel Director, David McQuillan said: "For us, this launch season in the completed building was about trying things that were completely new but also acknowledging the past and the amazing history of Square Chapel. Our performance space has always been incredibly intimate and the joy of it is your proximity to the performers and that the whole experience is accessible to all. OperaUpClose's ethos really resonated with our own, and this was an amazing opportunity to bring a full length opera into an intimate space. The Magic Flute premiered in 1791; less than twenty years after the original Square Chapel building was completed; just as our architects have beautifully enhanced and modernised Square Chapel, so have Opera Up Close with the Magic Flute, making it a perfect combination of celebrating artistic and architectural heritage from over two centuries ago with some of the best new work in one of the most exciting new art spaces in the country."
Artistic Director of OperaUpClose, Robin Norton-Hale, said: "This is the perfect show for a dark winter's evening, as it's so full of light and ultimately hope about humanity – which we need a bit of these days! We're really excited to be introducing OperaUpClose to audiences in Halifax with this thoroughly modern interpretation of Mozart's timeless opera about finding the person you love."
For more information and to book to see The Magic Flute, visit Squarechapel.co.uk or call the Square Chapel box office on 01422 349422