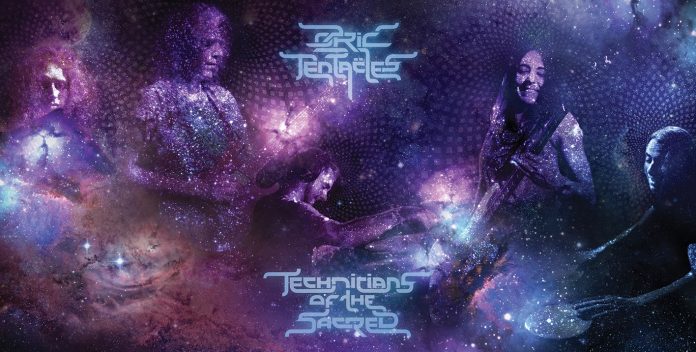 The mighty Ozrics line up a date at Manchester Academy.
Ozric Tentacles are, simply put, legends of the UK underground. One of the most influential bands to emerge from the UK's festival scene, The Ozrics layer ambient and ethereal landscapes with freeform dub trips, incredible rave grooves and psychedelic progressive rock. It's an open exploration of music and the soul.
In their 25 years, the Ozrics have experienced the vicissitudes of the rock and roll life. The band has flourished through a number of line-up changes, spawned several side projects (including Eat Static and Nodens Ictus), created their own record label (Dovetail & Stretchy), put out 25 albums, scored a hit record, and sold over a million albums world-wide. And yet, the basic motivation behind the band's existence has never wavered.
A campfire at the Stonehenge free festival in 1983 witnessed the birth of Ozric Tentacles. It was there that composer and band leader Ed Wynne (guitar), and brother Roly Wynne (bass), who were performing in a band known at the time as Bolshem People, along with drummer Nick 'Tig' Van Gelder (Jamiroquai), stumbled upon synth player Joie Hinton. From that very first jam session, a musical compatibility was evoked that has since been a trademark of the Ozric Tentacles. It's a signature blend of hippy aesthetics and raver electronics with spiralling guitars, textured waves of keyboards, midi, samplers, and supergroovy bass and drum rhythms. The Ozrics swiftly claimed their place as a staple of the UK's burgeoning festival scene, and are now credited as one of the influential musical linchpins of the scene's re-emergence.
Throughout the early 1990's, constant touring of the UK helped the Ozric Tentacles to build a tremendous national fanbase on a grass roots level. With the band's 1993 release "Jurassic Shift," which debuted at #11 on the British pop chart and climbed into the Top 10 in the National Album Charts, the Ozrics eventually won over the adulation of mainstream press, and found themselves heralded in publications such as NME and Melody Maker. It was, and still is, an astonishing accomplishment for a band with no hit single, no celebrity status, and no major record label backing.
"The Ozrics drift to rock fusion purgatory, where song structure crumbles and whim takes the reins. Riffs splinter like shrapnel. Protracted solos come casually, sometimes two at a time. The sound changes chameleonesquely, from solid, tightly-wrapped fusion to warped, chaotic drone." – Bob Gulla, Creem Magazine
Over the years Ozrics have toured extensively both at home and abroad, performing regularly throughout Europe, North America, South America, and Asia. Last year Ed and the Ozrics celebrated their 25th anniversary. To mark the date, Ozrics released the first ever live DVD of them performing it what is well in truly their home environment. "Ozric Tentacles" live at "Sunrise Festival", is the band filmed outdoors, in Somerset, on a beautiful evening, at the perfect example of an English Festival, in their element. Sunrise Festival is the first video release to be edited and mixed by the band. It provides incredible insight into how the songs are constructed, played, and what it actually feels like for the band to perform them.
Ozric Tentacles released their new studio album "Yum Yum Tree" in 2009. "Yum Yum Tree" is distributed worldwide by Snapper Records. Copies are available from the band's website www.ozrics.com Yum Yum Tree is based around the guitar work, synthesis, and compositional skills of Ed Wynne, founding member of Ozric Tentacles. Having a musical identity that is as broad as his influences, the album is a body of work that combines rock, world music, trance, and ethereal jams with organic drums and bass in a way that only Ed and Ozrics can.
Last year Ozrics celebrated their 30th anniversary. To mark the date, Ozrics finally granted the wishes of many fans, by re-mastering and re-releasing a series of classics from the catalogue, which have previously been out of print for nearly 20 years. Ozric Tentacles' "Vitamin Enhanced" Box Set was released in late 2013 and contains the entire first 6 albums recorded by the band
Ozric's website: http://www.ozrics.com
Tickets: http://www.manchesteracademy.net/Artiste%20Pages/ozrictentacles.html