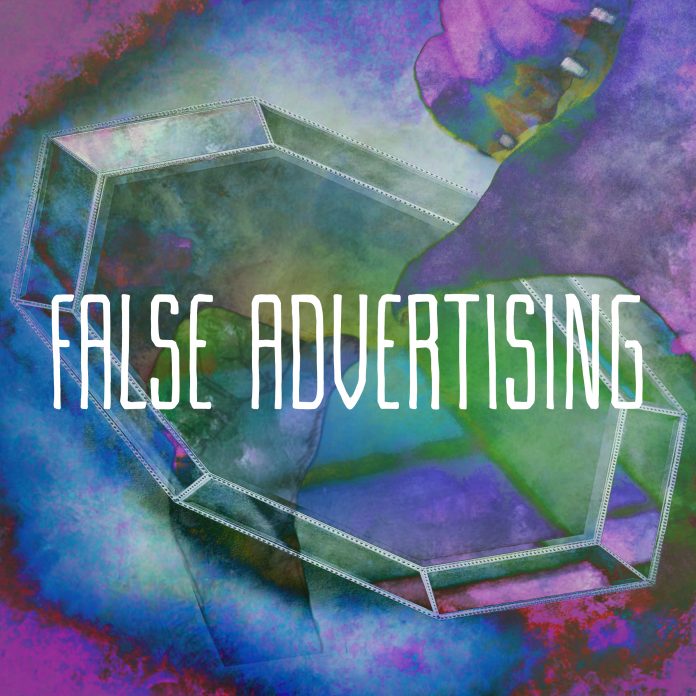 This eponymous debut album by False Advertising, Manchester's contemporary answer to late-era Pixies and Seattle style early '90s grunging, is loudly inviting, packs a sonic punch, and features some crafted and well-honed song writing.
Strong lyrical delivery is provided by Jen Hingley with her powerful voice, and sometimes Chris Warr also takes lead, with Jen acting as his backing. The third member of the trio, Josh Sellers, lays down a nice line of fluid, meandering but synchronous bass lines, providing the foundation over which fuzzed-up hammering chords are thrown at – and over – you.
Drumming duties are shared between Jen and Chris, and they both provide crisp, nicely sparse rhythm that doesn't drown out the fuzz, but counterpoints it beautifully. All the tracks are well structured, coherent and very tight, perhaps surprisingly so for a band that only made their live debut in April of this year. The songs have been longer in the making though, and you can tell that this is a band that have definitely rehearsed their noise and song writing muscles before they started twiddling with knobs in the studio.
It's a self-produced album. Chris Warr has previous form in this area, manning the desk for The Orielles – and this shows. 'False Advertising' is well produced, with all elements loud yet sharp, and blended well so the craft of the songs and musicianship shines through. First listening left me wanting to go back, and this album grew on me every subsequent time I got my ears round the tracks. This is because, as well as nodding to the grungemeisters of my youth it flirts at times with more contemporary threads, which is refreshing. And means that it's not about rehashing of ancient gods in new guises.
The tracks on this album aren't all noise and fury. Most bracket calmer, quieter interludes nicely spread as breaks, around chorus and verses alike. There's no identikit composing here! The stand out tracks for me are 'All Of The Above', 'No Good', 'Only Way' and 'Something Better'. I also liked the frenetic driving narrative of 'Dozer'. There aren't really any weak tracks though, and my selection of the above is just personal taste and previous influence shining through. To me it's at heart a proper album of 11 jagged and throat-grabbing songs that sound great, go somewhere and do something. Let's hope that bands like this can do something to resuscitate the flagging heart of album craft.
I would recommend you go and see them if you like loud, meaningful guitar, a grunged up approach, and still worship at the altars of Santiago, Frank Black and Cobain. They've got a trio of forthcoming gigs in Manchester – and they deserve to be well supported, on the back of this excellent first release.
The album can be purchased from BandCamp, iTunes and Google Play.
http://www.rdio.com/artist/False_Advertising/album/False_Advertising/
False Advertising on Facebook: https://www.facebook.com/falseadv
False Advertising on the web: http://www.falseadvertising.co/
Upcoming gigs
19th September – Academy 3, Manchester
21st November – Deaf Institute, Manchester