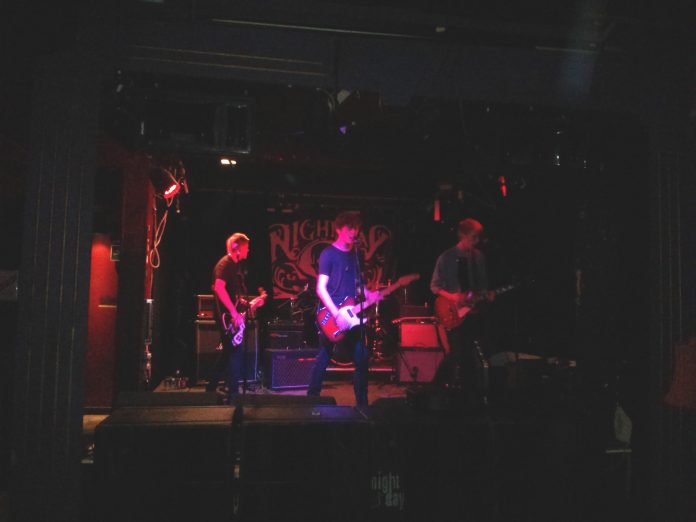 Jekyll are four young lads from Blackpool that form a tight-knit and highly competent alternative rock outfit. They play with their hearts and guts akimbo, and a fire rising in eyes and bellies, all topped with honed technique in their fingertips.
They made great use of their penultimate half-hour slot in this local showcase night, filling it with aplomb, shooting six searing bolts of song into the lacuna. They also chucked in a few skilful reprises of their tunes in between songs that kept the crowd involved, this old git engaged and everyone's eardrums got a good old thumping.
The first thing to say of them is that if you dig Muse (which I do, a bit), then you'll certainly dig these guys. However, they offer a bit more than that, otherwise I'd have got bored and that certainly didn't happen. They opened their set with a balanced, thumping, heavy, driving, feedback infused sophistry entitled 'Tantrum'. It delivered the energy and feisty verve of its title.
Their next track, 'Cramp', played with arcs of repeating, jagged chords and lead overlays, remained Muse-esque, but I detected hints of The Fall in there and little scraps of early Radiohead. It was skilfully rendered, tight and together. This unit are obviously incredibly well rehearsed, intuitively playing together and bouncing off each other's technique and styles to create a synchronous mash of noise with all its individual elements easy to hear, discern and enjoy.
Their third track 'Othello' continued the thumping theme but also had pleasant, delicate, jangly interludes straight out of the indie shoegazers songbook. Next came 'The Wounds We've Ignored', a track I'd heard before I went to see them, from their live BBC Radio Lancashire sessions (check them out on SoundCloud – well worth a listen). It started as a slow and delicate bud, flowering eventually as a rousing, hard-faced crescendo of finely crafted racket cut out of chopped staccato chords. There's as much Metallica as Muse in them at times (especially when they play their reprise interludes between songs).
One such interlude took us into their penultimate track, 'Eager To Please', which featured a surprisingly sweet, mellifluous Garage-Pop style chorus, shoehorned well in amongst the more frenetic parts of the tune. They packed in more technically masterful, shimmering shouting noise with their last offering, 'You Bled Me Dry'. This featured a beautifully intricate bassline and driving percussion submerged in a squealing soup of intricately delivered guitar noise. A nice touch was the use of a child's death-ray space gun raked over the guitar strings by Johnny Chatterton, with a flashing lit barrel, generating a weird but fascinating noise amongst the feedback and rhythm section's work. It was a nice visual, jokey, spacey rock and roll moment.
Vocalist and guitarist Joel Foster has a great rock voice, imagine Mark Almond fused with Thom Yorke if you can, and when he screams, boy can he holler and raise the energy and power of their tunes. Liam Singleton is an accomplished and tight, stylish drummer who obviously enjoys a close synchrony with bassist Lewis Armistead. They give a foundation stone to build on that many more famous and feted bands would envy.
I hope these guys continue playing together, develop their songcraft and continue to attract attention. I've seen many worse bands who've been signed to labels, and wish them luck in their budding musical career. If I had any advice for them it would be to concentrate on their stagecraft a bit, and play out to an audience rather than to each other, which only stems from the fact that they are so well rehearsed. If they can develop their songs to move away a tad from Muse-themed homage and towards more classical influences such as say, The Velvet Underground or The Stooges, then there will be no stopping them. As they stand now they are a good rock and roll outfit that entertain, fill a room with keen percussive noise and are well worth seeing and listening to. Keep up the good work fellas.