The sky was tipping it down when we turned up to Day One of Puzzfest. There's only so long a body can bear to stand around in the cold with rain seeping through the canopy, but it was one of those afternoons you were glad you'd ventured out. Pity they didn't do vegetarian burgers (the meat ones smelt so good) but apart from that, we can't fault the welcoming atmosphere The Puzzle Hall Inn created in its courtyard. And it's all for free (apart from the beer) so what's not to like at this fab little festival!
And it really wasn't their fault about the weather – the first weekend in May has a duty to be sunny. It says it in statute somewhere. Honest.
The Puzzle Hall's Beautitudes Acoustic stage may be a very large shed with the front taken off, but it's finished with doll's house precision that is intrinsically pleasing.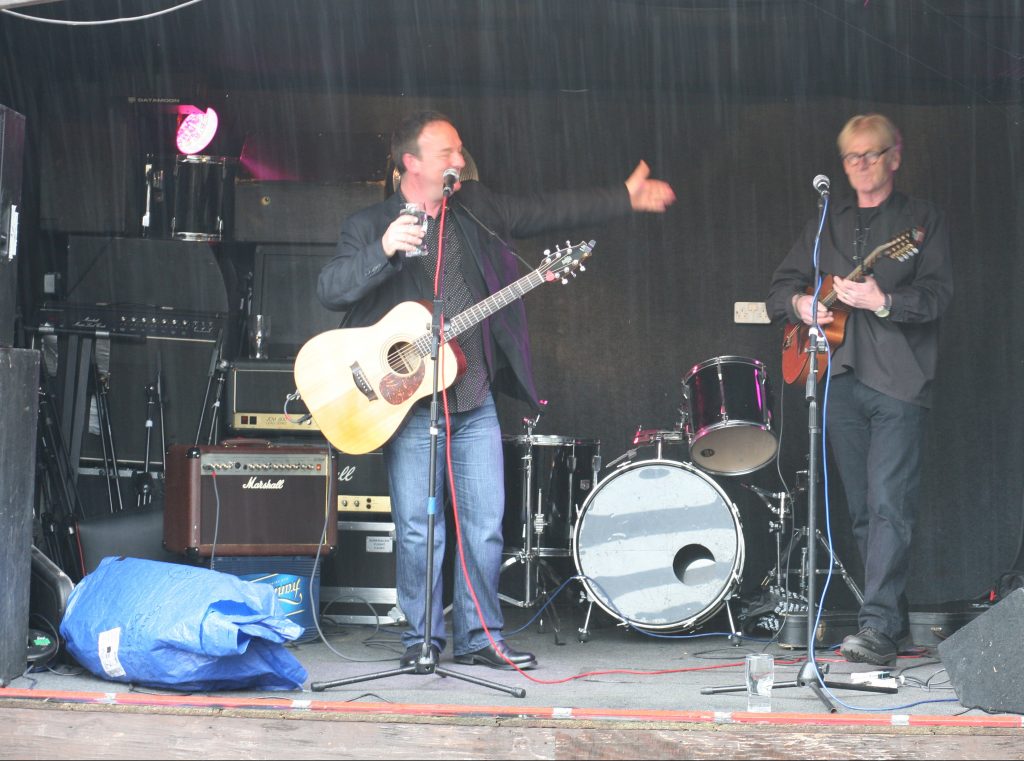 When you're billed as The Fabulous Duffy Gibbons it's quite a lot to live up to – but this guitar-playing duo were providing great entertainment to an enthusiastic but soggy audience, huddled around the outdoor bar. With lyrics like 'It's a long hard road we ride' and 'how many more times to ride the carousel?' the songs provide a mix of stirring, foot stomping stuff and a wistfulness reminiscent of Country music. There's more than a strong hint of Gypsy blues in this music, and it's no coincidence that John Duffy also has his own Duffys Gypsy Band.
These guys have the rapport of musicians who are truly comfortable and happy to be performing together. There's an easy banter between them and the audience, and they joke about having played on this spot at Puzzle Inn Hall 'since it was an f***ng car park'.
John Duffy and Jon Gibbons have played together for 22 years and met while living in Bradford 'at a garden party' (which Jon cheerfully admits isn't exactly rock 'n roll). Jon G was making an album at the time and invited John D to do some of the music. As part of the band EgoMania they played across Yorkshire for many years, but more recently moved 300 miles apart and only get to play together on special occasions. 'But we love coming back to Yorkshire,' Jon says. 'You get the best audiences around here.'
And the audience at PuzzFest was certainly pleased to see them. For a cold afternoon it was uplifting, exhilarating and downright enjoyable.
Read about Egomania in Bradford's Noise of the Valleys: Volume 2: A History of Bradford Rock and Pop 1988 -1998 Paperback – 19 Nov 2013 by Gary Cavanagh and  Matt Webster
It's a Long Hard Road We Ride is taken from the 1994 Album, Paris or New Orleans, by Egomania, which both Duffy and Gibbons were both part of.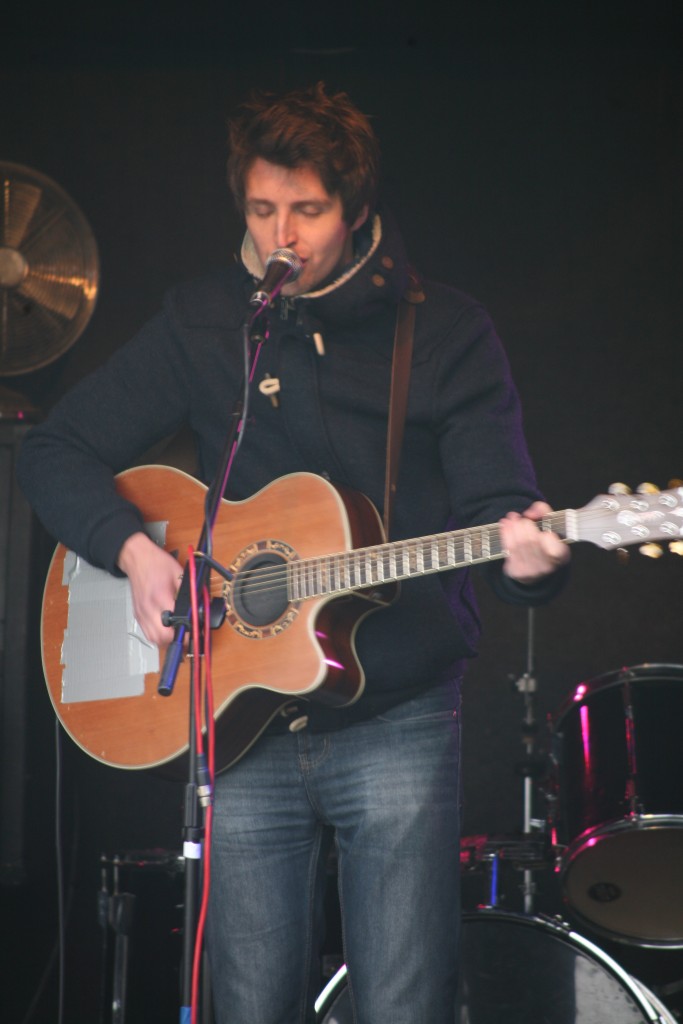 Next on in the rain was Paul Straws – who was replacing The Treated. Paul's website describes him as 'a multi-instrumentalist singer songwriter from Liverpool. He plays Guitar, Mandolin, Ukulele, and Piano, though not at the same time..'. but on this day he only had a guitar on stage with him – and some pretty sophisticated material for creating FX.
Paul took the time to explain to his audience that he created his sound by recording his voice and playing 'in real time, and then playing this back … adding extra layers with my voice and harmonies, so the song builds'.
This female reviewer was rather charmed by Mr Straws' clarity of voice, his thoughtful lyrics ('She says I don't think I matter… I say I can't go to sleep without you in the room') and his baby-faced, ruffle-haired good looks – but my male companion wasn't quite so impressed. He found the whole performance little more than a clever technical exercise, and Paul's use of 'looping' certainly left some unresolved questions about how you define 'live music'.
Website: paulstraw.com
The last band we caught before the cold drove us home was Harry Bird and the Rubber Wellies. And very glad we were too that we stayed for them, because it was their refrain 'There's a river, there's a river..' (from the song of the same name) which earwormed us both on the return journey.
We fell in love with Harry's infectious grin when we first spotted him carrying a piece of equipment in his mouth (because his arms were full) and stopped him for a photo and a quick chat. Harry's sunny disposition transferred seamlessly to the stage and together with band member Christopher Capewell, they created a good old-fashioned bit of 'Summer of Love' feel in the Spring greyness of Sowerby Bridge. Describing themselves as a 'travelling folk band' these guys (who have a base in Sheffield) sing about grubs emerging into butterflies, being evicted from your squat and a lot of 'love, love love', with an open-hearted honesty and joy that was truly infectious. You could almost say they were giving it real welly (but we aren't that trite).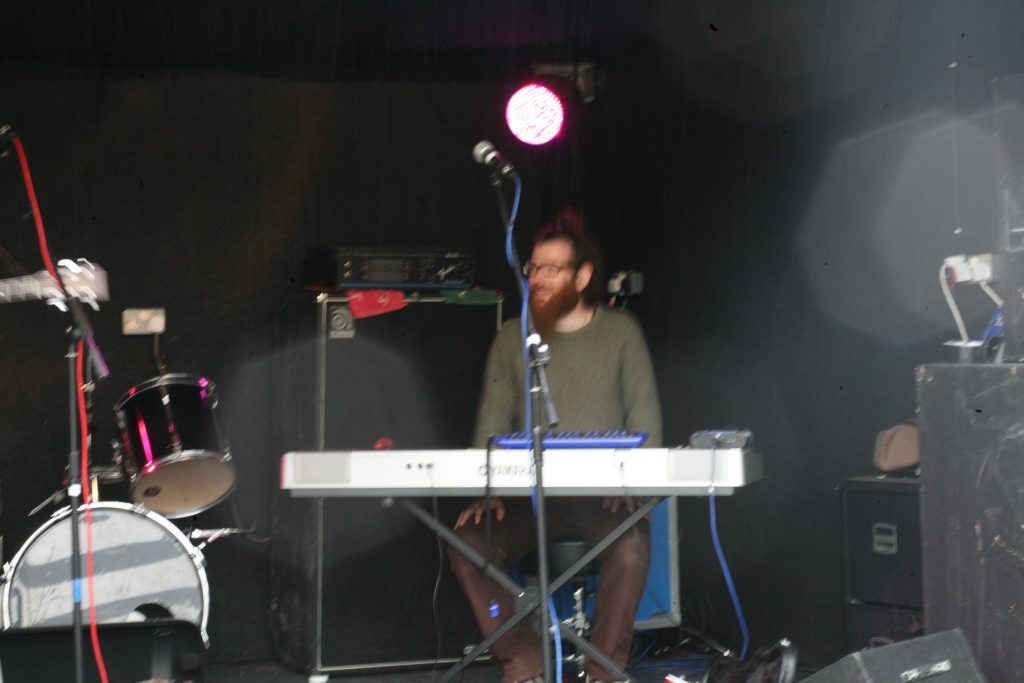 The guys play a plethora of instrument: Harry wields a much-loved guitar pasted with CND stickers, a gazoo and mouth organ, and Christopher proves himself versatile on violin, and a natty little mini-keyboard thing that he blows into with a pipe.
The people behind us were sneering about the band's similarity to 'Blues and Bob Dylan' but the rest of the audience seemed happy enough to be carried along on this catchy, life-affirming stream of late 60s/early 70s pyschedelia meets blues and folk combination.
Harry Bird and the Rubber Wellies: https://www.facebook.com/harrybirdandtherubberwellies  & www.hotdroprecords.com
More Puzzfest to come on 22nd to 24th May