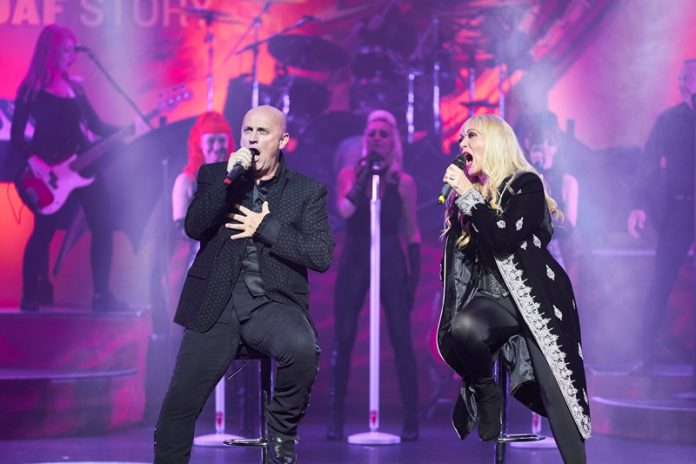 On Friday 13 March, Steve Steinman, the creative force behind the hugely successful Vampire's Rock returns to the Victoria Theatre Halifax to open his 2020 tour of the epic musical concert Anything For Love: The Meat Loaf Story. Steve will be joined on stage by special guest star Lorraine Crosby who is known for her amazing duet with Meat Loaf on the Grammy Award winning song and Number 1 hit 'I Would Do Anything For Love (But I Won't Do That)". Well known for his sense of humour and stage presence, Steve, along with Lorraine, will recreate some of the best-know duets and moments from Meat Loaf's world tours and record-breaking albums.
With a full cast of singers, dancers and musicians, the show will have you up on your feet and dancing in the aisles to all the greatest Meat Loaf hits including Bat Out Of Hell, Dead Ringer For Love, Anything For Love and many more.
Steve Steinman has come a long way since his appearance as Meat Loaf on ITVs hit TV show Stars In Their Eyes back in 1993. His journey can only be described as remarkable. For the past 27 years Steve has constantly toured all over the world in the hit show The Meat Loaf Story that he wrote and produced. His journey has taken him to some of the most iconic venues such as Sun City South Africa and the London Palladium which Steve rates as one of his all-time achievements.
Whilst on a trip to Vegas Steve had a chance meeting with Paul Crook (Meat Loaf's guitar player). Soon Steve and Paul were great friends leading to a funny and bizarre night out where Steve and Pattie Russo (Meat Loaf's Leading Lady) sang the duet Paradise By The Dashboard Light in the car whilst on their way to dinner.
Steve has some great stories from years of touring and he's now recognised as a star name in his own right having also written and produced another Rocktastic Musical Concert "Vampires Rock" which has also had incredible success all over the world.
With over a million people seeing Steve's productions it doesn't look like Steve is ready to slow down any time soon with his Meat Loaf Story tour about to hit the stage once again in his latest production. You can expect nothing but pure Meat Loaf music combined with incredible stage sets a cast of singers and dancers and Steve's own band the Lost Boys and not forgetting Steve's well known sense of humour.
Tickets for this show are available from £31.25. Purchase tickets online, www.victoriatheatre.co.uk, or by calling the Box Office on 01422 351158