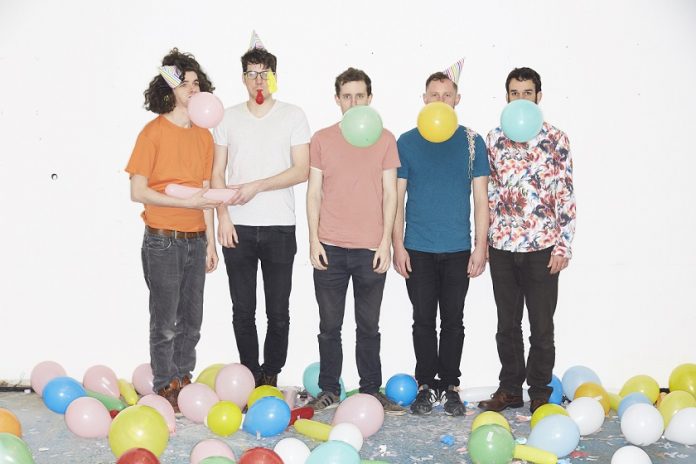 Steeped in malfunctioning improvisation, passive-aggressive minimalism, surreal avant-punk and free jazz trances, Leeds quintet Shatner's Bassoon sound like little else. Since their formation in 2010, the experimental outfit's intense maelstrom of beguiling yet disturbing noise has earned the group a reputation as a must-see live act. Now with 3 years of experimentation and refinement since their last release, Shatner's Bassoon are set to untether their new album, 'Disco Erosion' – out 27th April 2018.
'Disco Erosion' captures the visceral energy of Shatner's Bassoon's live performances, retaining their brazen and uncompromising identity, which is not only drawn from their mesmerizing resonance but largely from its bold and direct delivery. The band are comfortable to sit on the fringes continuing down their own path without conforming to trend and mediocrity. Each member has a wide and disparate influence and approach to making music which all filters into the bands overall sound.
As menacing as it is playful, the album is built on intricate yet often evasive song structures, angular rhythms and anxiety inducing psychedelia. The distinct featured instrumentation includes circuit bent delay pedals for keyboard, a myriad of off-kilter sax, a slice of Theremin, clarinet, cowbell and a pinch of Transylvanian organ. The result is a glitchy and deranged carnival of paranoia, which blends influences from the likes of Mr. Bungle, Frank Zappa, The Cardiacs, Tim Berne, John Zorn, Man From Uranus and Fred Frith.
Speaking about the new album Mick and Johnny, said "For this album we wanted to produce a more direct and immediate music whilst retaining the unique characteristics of Shatner's Bassoon. Because our music is fringe music we regularly perform to a wide demographic of audiences (DIY, Jazz, Unsuspecting general public) – presenting freely improvised and experimental music within a different context. This influenced how we conceived, produced, presented the music for this album and is our proudest work to date."
Shatner's Bassoon's aberrant amalgamation of styles, create an unforgettable spectacle, which has previously taken them to festivals such as North Atlantic Flux Festival, Copenhagen Jazz Festival, Manchester Jazz Festival, Lancaster Jazz Festival and Beacons Festival. Similarly, the band have toured extensively around the UK, previously playing alongside the likes of Melt Yourself Down, Matthew Bourne, Roller Trio, and more, whilst captivating audiences as if by hypnosis at every outing. 'Disco Erosion' captures this sensation perfectly and in doing has led Shatner's Bassoon to create their most accomplished and urgent recording to date.
Shatner's Bassoon is:
· Johnny Richards – Keyboard
· Michael Bardon – Bass
· Craig Scott – Guitar
· Oliver Dover – Alto, Baritone Sax and Clarinet
· Joost Hendrickx – Drums and Cowbell
Tour Dates:
APR 23 – The Domino Club – Leeds
APR 25 – Verdict Jazz – Brighton
MAY 4 – The Old England – Bristol
MAY 5 – DROP The Dumbulls Gallery – Liverpool
MAY 8 – Fizzle (Improv Birmingham) – Birmingham
MAY 17 – Fuse Art Space – City of Bradford
MAY 18 – Small Seeds – Huddersfield
MAY 23 – Jazz At The Lescar – Sheffield
MAY 25 – The Jazz Café – Newcastle upon Tyne
MAY 26 – Stour Space – London
JUN 2 – Long Division – Wakefield
JUN 7 – Wharf Chambers – Leeds