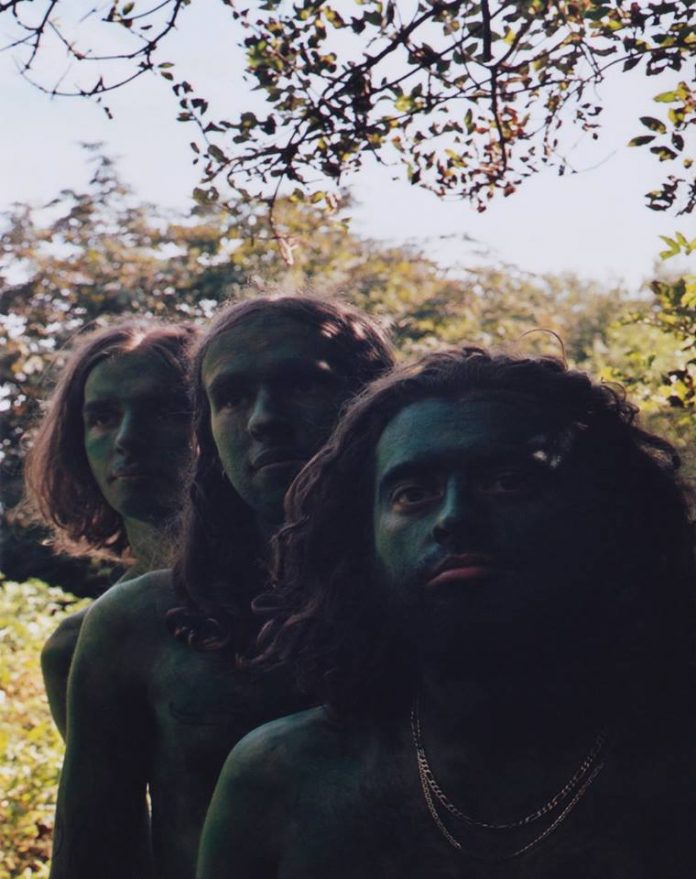 Brighton's GANG will release their wonderfully twisted macabre new 7" single, 'Dead' / 'Enough Nothing', on November 25th via Ra-Ra Rok Records.
Following their praised 'Animalia' 7", released earlier this year via Corner Shop Pop Records alongside a self-organised tour of the UK, and a BBC 6Music session with Marc Riley, 'Dead' arrives in a haze of mystic fuzz and tangled dirge-pop.
"Dead was written following an epiphany of sorts," singer and guitarist Eric Tormey explains. "A cold, universal light leaked through my skull as I drowned in anxiety, showing me the insignificance of human struggle. We are self-aggrandising bacteria on the surface of a rock floating in a huge, mostly empty space. Anything we do or think is inconsequential, and there is only one outcome. One day our earth will be gone, any trace of anything anyone has ever known will be gone. There will be no rights or wrongs, no alternate paths. All the glorious and tragic events of humanity will compress into one finite moment. At first this prospect terrified me. I lay quivering on the floor until the following morning, holding my mother's hand while my father proclaimed that I "had probably had some bad speed". As the days, weeks and months passed I developed a sense of clarity. I realised that to focus on what's important in one's life is all there is to do. Don't be governed by petty desires that are thrust upon you. You don't need wealth, or love, or sex, or fame, or recognition. Look inside yourself and see what it is you desire. Anything else is fool's play."
Originally from Canterbury and Margate, now residing in Brighton, Gang are brothers Eric and Jimi Tormey and adopted sibling Joseph Hunt. Relying on a strong set of ethics, driven by the ethos to 'do it themselves', they seek to remain unified, not unaided. "To separate us is to conquer us, and unity is strength", Jimi explains of their manifesto. "For this reason we surround ourselves with likeminded, creative individuals, forming a community – Gang is a messiah, an illustrator, a photographer, a videographer. We are any and all who aid us. Each of us is branded with a Gang tattoo committing ourselves to unity. D.I.Y, as we know it, is dead – R.I.P to D.I.Y – killed by vapid, lo-fi bedroom pop. We'll D.I.O until we D.I.E."
'Dead' stems from modern apathy," Jimi continues. "We're all dying right now and sadly in this modern, consumerist age we are taught, throughout life, to be concerned most with the clothes that cover us and represent us in death. Because of this we'll be releasing this song alongside a clothing item with our friends at Terrible Merch (post ironic, huh?). If life is like writing a letter, then dying is one's signature and death itself is the sealing of the envelope. We need not fear the end because it is one's life that will echo in the words of the letter. One end is a new beginning and as long as the postal service doesn't misplace you then the lives we have led will echo endlessly. So why don't we stop trying to feed the void with money's lack of sustenance and try to get a better feel for what's important. We don't want to feel better. We want to better feel."
Gang have spent 2016 touring the UK, playing alongside Sub Pop's So Pitted and US sludge-lords Wand, who Gang will reunite with on a small UK tour through November on the dates below. All of Gang's music is recorded by Eric at Barnroom Studios, the garage/studio of their father, cult guitarist Bernie Tormé (Ex-Ozzy Osbourne & Atomic Rooster), utilising the weird and wonderful recording equipment that he has collected over the years.
Pre-order 'Dead' / 'Enough Nothing' here via Ra-Ra Rock Records – http://www.rararok.com/shop/gang-deadenough-nothing-7-pre-order
Tour Dates
November
4 Boston Arms, London w/ Wand
5 Brudenell Social Club, Leeds w/ Wand
6 Hope and Ruin, Brighton w/ Wand
December
3 The Old Blue Last, London (single launch show)
Gang are: Eric Tormey (vocals, guitar), Jimi Tormey (drums, vocals) and Joe Hunt (bass).