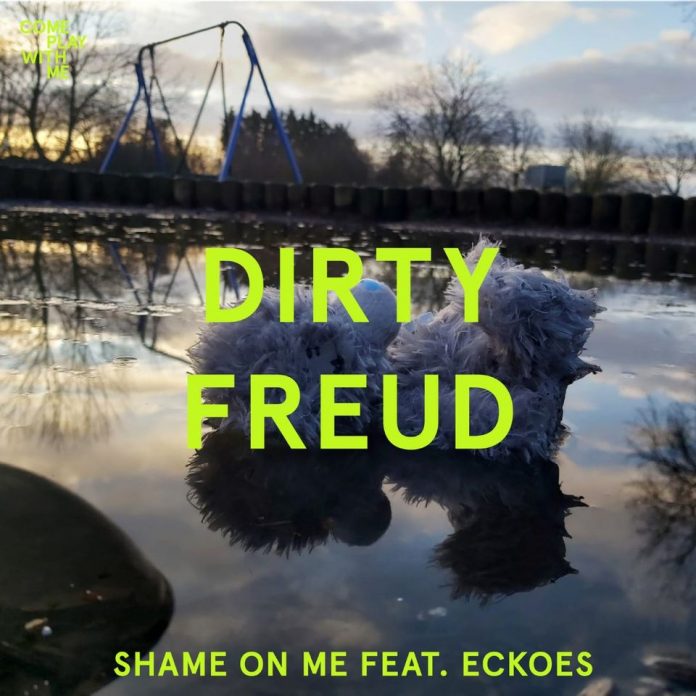 Come Play With Me have announced the fifth release from their current series of singles, showcasing incredible emerging talent from the West Yorkshire region. The fast-growing Leeds based record label and development organisation's latest offering sees award winning electronic artist and producer Dirty Freud deliver his single 'Shame On Me' ft ECKOES.
Dirty Freud is the pseudonym of ambitious electronic live & recording artist Danni Skerritt, who has forged his own way with his trademark, uncompromising brand of self described 'electrodub'. Hailing from London, the DJ has found success since relocating to the North of England, collaborating with musicians across the country involving a revolving cast of characters and collaborators into the world of Dirty Freud. Having steadily built a reputation on the live scene through a string of energetic performances across the UK, Danni has taken to the stage at Glastonbury, All Points East, Citadel, Boomtown, Beatherder, with shows globally in Germany, Croatia, France and more.
The single reflects Dirty Freud's sphere of influence and varied musical palette with intricate beats, samples and synths. The track is enigmatic and energetic whilst exploring complexities surrounding those who belittle in order to soothe their own insecurities. Accompanied by a soundtrack of futuristic synths, featured artist Eckoes fluidly switches between smooth vocal chorus hooks and a haunting cry as she delivers 'shame on me, shame on you' as it sits somewhere between dancefloor and experimental electronica with a powerful impact.
The track features vocals from ECKOES, who brings cutting edge textures and soulful pop hooks to 'Shame On Me'. Previously scouted by Grammy Award winning artist & producer Naughty Boy, Eckoes has been praised by tastemakers including BBC 6 Music, Clash Magazine, Q, Wonderland, BBC Introducing, Indie Shuffle, Afropunk, and the MOBO Awards amongst others.
Stream/Download: https://smarturl.it/DirtyFreudSOM
Come Play With Me's much-celebrated series of singles releases has been running for several years and has previously featured a wide array of incredible artists including Harkin, Team Picture, Treeboy & Arc, Talkboy, Fizzy Blood and many more. Other supported artists in the series include Adult DVD, Bad Idea, Josephine Sillars and Fuzz Lightyear.
Come Play With Me is a Leeds based development organisation, record label and magazine first launched as a singles club in 2015. Since its inception the label have supported a huge number of artists from the region as well releasing over 30 releases on vinyl for Yorkshire-based artists including recent compilations 'Boundless' (a call out for music from creatives of colour) and 'Side by Side' (showcasing some of the best new music from women, people of marginalised genders and LGBTQIA+ artists). CPWM are also responsible for a number of events including LGBTQ The Music & HERFest.