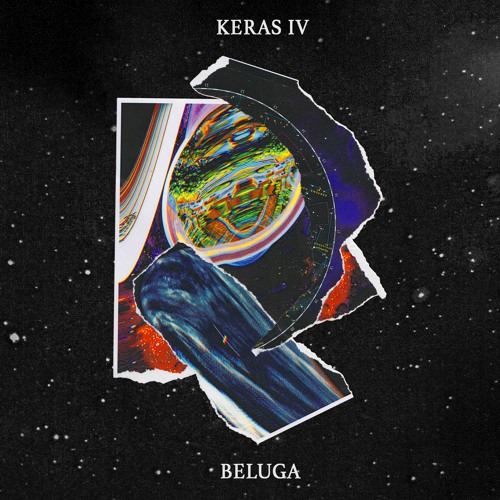 Back in January I reviewed Beluga's single 'Painting with Three Colours' and was hugely impressed with their progressive instrumental music. I know that they describe what they do as 'instrumental prog-rock' but I feel uneasy about that as a term. I'm not going to repeat my argument here; if you want to read that check out the review of 'Painting with Three Colours'.
With 'KERAS IV' the band mainly explore what I'm going to call jazz rock – although sometimes it's rock with a jazz edge, and sometimes something else – in an epic musical journey. A journey that comes in several seamless parts; light and staccato, delicate and beautiful, heavy, delicate and almost psychedelic, a return to the heavy, and finally a return to the staccato. Beautiful musical moments abound – some lovely organ and piano, frankly stunning drumming and some really inventive guitar.
This may sound like a technical exercise in music making but, a big but, it isn't; moods and atmospheres run through the whole piece.
As a fan of progressive music I get hints of some favourites here – the Jan Hammer/Jeff Beck collaborations, late period King Crimson, Frippertronics/The League of Gentlemen (a band formed by Robert Fripp), the Norweign band The Hedvig Mollestad Trio (see below), and Nektar (a progressive rock band formed in Germany by UK musicians in 1969). And that's not including the hefty dose of early 70s' soul-y jazz. And finally a high dose of what we might describe as 'traditional prog-rock'.
But, and it's yet another big but, for all these hints I get what the band have done is make something that is very much their own. The way the different parts slide in and out seamlessly is frankly jaw-dropping at times. It's never predictable; this thing twists and turns like a snake. And with repeated listens more layers of sound reveal themselves; this is music you can really get your teeth into
So you get the picture, this track is a trip; a trip through sounds, textures, moods and atmospheres. Played with an outstanding musical ability, and put together beautifully. I absolutely love what this band does.
The info
Beluga formed in 2016 when Joe Kershaw (Guitar, Bass), Tommy Diplock (Drums) and Ross Munro (Sax, Keys, Production) met whilst studying at Leeds Conservatoire. The trio combines rhythmic intricacy, powerful riffs and heavily fxed sax and synthesiser tones, expanding the scope of a traditional rock trio and pursuing a variety of musical textures throughout their compositions. Both the classic Prog giants of the 1970s (Yes, King Crimson) as well as modern innovators in groove based instrumental music (Snarky Puppy, Tigran Hamasyan, KNOWER) serve as inspiration for the band.
The Hedvig Mollestad Trio
This isn't the first time I've referred to this band in my reviews so I thought I should give you information. The band describes their music as 'Outgoing & progressive instrumental rock'; although you're going to get 70s heavy rock, free jazz, prog and psychedelia. And they ate not strictly instrumental. Their albums – all recorded live in the studio – feature some stuff that will blow your mind. Hedvig Mollestad Thomassen is by the way one hot guitarist. They truly rock.