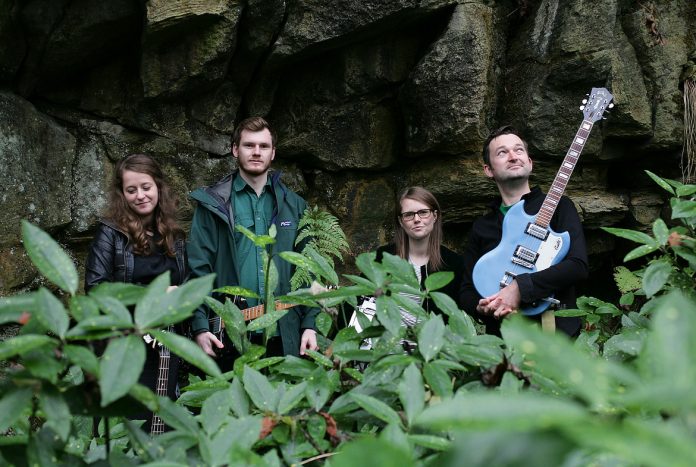 I wasn't expecting to like this quite as much as I do. Look I read the blurb from the band and sounded kinda strange and even plain weird. OK so in common with Birds and Beasts' other songs this takes an 'animal based idea'; they say that it's about how sharks use their electric super-powers to locate food and friends, and that it is "a romantic song of devotion and perseverance that is easy to relate to". I'm not entirely sure that helps if I'm honest, I'm not entirely sure I get it being romantic.
But the song itself is a hoot, good time sort of country/blues based psychedelia with some frankly out there guitar going on. Actually the more I listen to this thing the more it sounds like some sort of mutant B-52's track. It's in those 'oh so mannered vocals' and the frankly groovy sound. And those backing vocals. It is strangely addictive, I found myself listening way more times than I actually needed to. And at one point I felt moved to throw some way out there shapes round the living room of LSF Towers – this is music you can dance to, dance madly.
Look as much as the concept might be perhaps strange, the music is great, it's music that you can wig out to. It's music that makes you smile. Music that I could imagine just throwing myself round a venue to, with a huge grin on my face. Although I hear voices saying 'but Frank you like strange stuff, what about us?'. Well come on people we all need to hear music that makes us smile at times, don't we? We all need music that is just fun.
So, put your inhibitions to one side, get on your dancing shoes, and throw some out there shapes. AND JUST HAVE SOME FUN.
The single will be launched with a fancy dress party and show at Small Seeds in Huddersfield on the 9th March.
The info
Imagine a parallel universe where David Attenborough left the BBC in the 60s and shared his love of the natural world by starting a psychedelic rock band. With an instinct for memorable pop music, this is a band spreading its wings and evolving fast.
A simple concept underpins Birds and Beasts; all their songs are inspired by animals but reflect our human lives, hopes and dreams. It has proved to be an idea that resonates with people and they have been quick to build a fan-base in their hometown but now have big ambitions to evolve further and spread their wings to a wider audience.