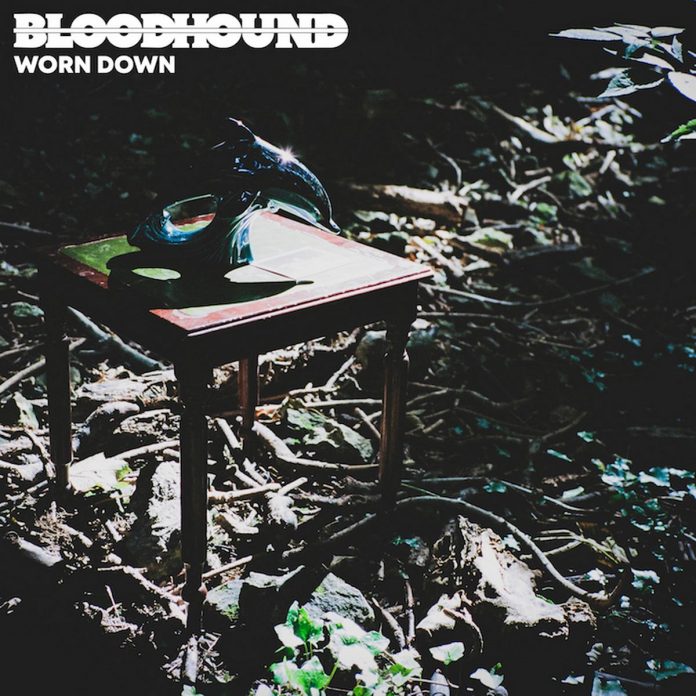 This is the third in a series of singles leading up to the release of Bloodhound's album 'Fragile Skeleton' on the 31st January 2020. If the singles so far have been any indication that album promises to be a fantastic one.
Enough of the album, what about the single I hear you say. It starts in an almost Manchester Sound way, it has something of a Stone Roses vibe going on. But before long – about 1 minute in – it explodes into guitar driven noise, there's a brief respite and then it's riff heavy to the end. But it's changing, it's not the same riff, and those vocals well they are just fab.
And those quieter bits just add to the power of the noise as it comes in, as it blasts into your ears with a power that threatens to rip them off. That initial explosion of sound is brutal, so brutal it takes your breath away.
Bloodhound continue to surprise. The singles are different but there's something that makes them hang together. This is the sound of a band exploring the edges of grunge-y alternative rock to brilliant effect. This is incredible, go listen right now.
The info
Speaking about the track, the band explained: "'Worn Down' is the oldest song on the album. It's roughly two and a half years old now and used to be a 6+ minute travesty that we chopped up and made into a 4-minute song we were happy with. It's a song that tells a story of being constantly overworked and the consequences of that".
The band have also now announced details of their album launch night at HULL POLAR BEAR on SATURDAY 1st FEBRUARY 2020. This will be their biggest headline show to date and will be celebrated with a psychotically twisted line-up that includes their closest friends FAUX PAS and BROODERS. The night will showcase the breadth of the BLOODHOUND sound with cuts from the album, classic songs and brand-new songs. The night will also be sprinkled with Special Guests to mark the momentous occasion of the release of their debut album.
SATURDAY 1 FEBRUARY 2020 | DOORS 7.30PM | £5 ADVANCE | WITH FAUX PAS + BROODERS Tickets: https://www.hullboxoffice.com/event/bloodhound-polar-bear-hull
The debut BLOODHOUND album, FRAGILE SKELETON, will be released on 31 January 2020. Speaking about FRAGILE SKELETON, the band said: "The album is a journey through all of the material we have chopped and changed over the last three years. It's more a story of personal experience and how a person can appear strong on the outside but, inside, they are fragile and afraid. It covers a lot of emotional experiences and delves into the delicate problems that so many people hide".
The album features contributions from Ru Cowl, the indomitable, driven vocalist with Faux Pas; Fiona Lee, the captivating singer songwriter whose work is grabbing attention far beyond her Yorkshire base; and Leeds psyche-grunge trio Brooders, whose singer and guitarist Adam Bairstow recorded and co-produced the album with BLOODHOUND themselves.
Pre-order FRAGILE SKELETON here: https://bloodhoundhull.bandcamp.com/merch
FRAGILE SKELETON | TRACKLIST
• Everyone Is My Friend
• Again
• Praise
• Short [feat Ru Cowl]
• Cold [feat Fiona Lee]
• Try (Interlude)
• Am I Okay?
• Worn Down
• FRSTRTD [feat Brooders]
• If This Is the Way It Is