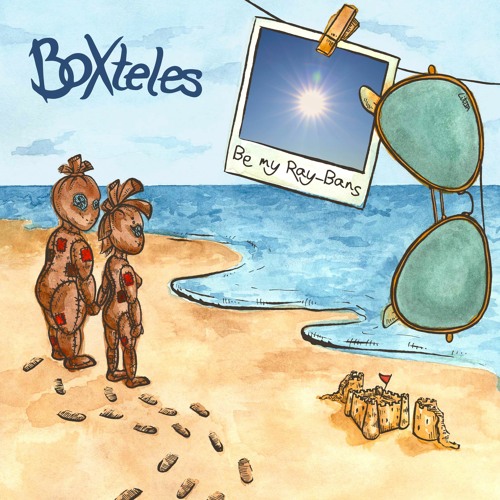 I saw the Boxteles play at The Parish (in Huddersfield, of course) some time ago, and although I managed to only catch around half of their set I was impressed. This release impressed me too, it's a banger of a summer song, people.
It's a big big, big summery pop-rock track. It's a great song about holiday romance. It has a tune to die for, vocals that are pure summer sun, and guitars that crash. Words that you'll find yourself singing along to in seconds while you're bouncing like crazy It's just a huge slice of summer fun.
And in amongst that summer fun there's some great playing, there's vocal harmonies that are a joy. And those words are great too, they're smile inducing and, looking at them more closely, clever.
Get ready for summer, get this in your playlists. Simple as.
The info
The band say:
There isn't much that can stand in the way of this Huddersfield-based group as their loud, boisterous arsenal of bangers stampedes through Britain like a bull in a china shop! Boxteles are here to stay and have no intention of stopping the chaos until their ear-wormy, relatable indie-rock records are well and truly imprinted in everybody's head. This is music written for football stadiums!
The band formed in the summer months of 2018 and have already started building an army of dedicated fans, they have perfected an air-tight live show, have supported some of the best live acts the UK has to offer including: Kyle Falconer of The View, Glass Caves, Larkins, Courtyards and many more as well as selling out their very first headline show in their hometown venue and favourite place to drink in the world, The Parish.
Named after the old-school box TVs many of us had in our living-room growing up, Boxteles (pronounced Box-Tellys) comprised vocalist and guitarist Tom Bedford, guitarist Brad Mack, bassist Alex ' Rex' Richardson, and drummer Ryan Smith.
Since the release of their debut single, "Il Mio Nemico" these burly boys (and Brad) have had their tunes span on many a radio station, including BBC Introducing West Yorkshire, Jorvik FM, and Sine FM as well as have performed relentlessly up and down the country. Look out for these lads playing a stage near you and make sure you catch their show, you will not be disappointed!