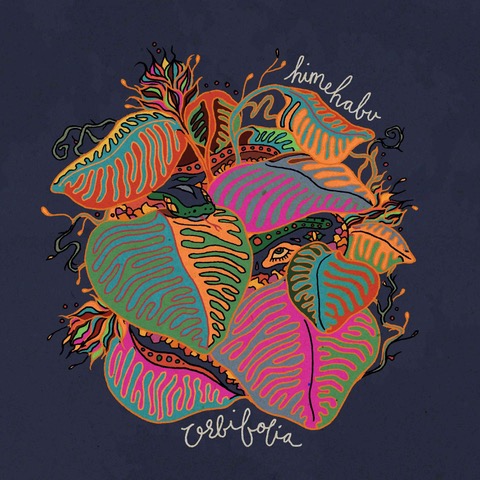 Sometimes, as you may be aware, I have a bit of a problem with Soundcloud genre tags. Himehabu chose to tag this 'Psych-Rock' I may of course be assuming they did. I'm going to additionally assume that the #Punk tag is a joke. The problem with this Psych-Rock tag is that while the track is undoubtedly psychedelic, it's also jazzy and at times funky. So a better tag may have been Psychedelic jazz-rock. I can see the band's problem here, jazz-rock is hardly a fashionable thing.
The thing is that this is a wonderful song/piece of music, I just have to persuade you of that. So here goes. And before I dive into that you should be aware, not warned, that this is 6 ½ minutes long.
It starts with gentle jazzy guitar, delicate keyboards, backing vocals drift in. You can think of this as an intro. The song starts sounding like a jazzy slowed down p-funk thing. Completely wonderful lead guitar, the like of which I've not heard in ages, punctuates the verses. Keyboards wash in, subtle backing vocals add an extra layer of sound. And then oh so delicate piano-like sounds drop in and gradually layers of sound are added. The guitar goes spacey and tubular. The song ends with drifting sounds that gradually fade out.
But what this completely inadequate description doesn't capture is the atmosphere, the feeling, the journey it takes you on and the places it takes you to. It doesn't reflect the obvious musical ability of the band, It doesn't reflect the way this track is put together or, to put it a better way, composed.
The thing is that while this track sounds 'composed' it also sounds as though parts of it are improvised. Or perhaps improvised initially and then honed into the finished recorded version. It has this way of gently surprising you with the twists and turns it takes musically.
This is a beautiful, mesmerising piece of music that draws you and leaves you feeling uplifted, calm and strangely joyful despite what the song is about. The words are not joyful, the subject is not beautiful. The disconnect between sound and subject is something that gives it something extra, a hint of internal confusion as you drift away on the wonderful sounds and then realise what the song is about. You search for signs of that in the music, and they are there, there is something of this in the music under and around the beauty.
This should be enough to intrigue you, to get you thinking 'I should give this a chance', I hope. I hope because himehabu have made something wonderfully beautiful with this release.
The info
This is Leeds psych-rock band himehabu's (pronounced 'him-eh-ha-boo') debut single. Recorded at Leeds College of Music in January 2020 with up-and-coming electronic producer Rufus CB, the song reflects a contemplation of current society and its relation to a dystopian future that seems ever present.
"The lyrics reflect on events and feelings of personal, societal and cultural disillusionment" explains vocalist and bassist Kyle Ellerbeck. "Though in response to this, people who relate to each other on the grounds of disillusionment often create things of real beauty and genius".
Since forming, himehabu's sound developed quickly into a mix of 70s psychedelia and funk, whilst taking inspiration from 80s style synths and the current UK jazz scene. Their influences vary from the psychedelic Lounge FM and Mild High Club to the jazz-funk of Yussef Dayes, whilst they resonate a similar experimental approach in their playing to early Pink Floyd mixed in with lyricism reminiscent of Pulp's Jarvis Cocker. Their music sits in with contemporaries in the Leeds scene like cross-genre bands Shaku, Arnold Ziff and The Watermelon Complex, and their more psychedelia elements found in groups like Van Houten and Uncle Buzzard.
Whilst the band flow between genres, they have a strong psych-rock energy as they let ambient loops to be incorporated with heavier, punkish riffs and unhindered improvisation. Having met through the local jazz scene and played in groups such as Nag Champa and Mondo Bizarre over the past few years, they formed only in the autumn of 2019. They started jamming together with no notion of what music they wanted to create. This approach allows each musician a freedom that gives himehabu a distinct identity as a band willing to write and experiment with an evolving alternative sound. They debuted at Belgrave Music Hall as part of the Jamnesty series in November 2019 to showcase their unparalleled music.
With rearranged gigs at Brudenell Social Club and The East Village alongside recording sessions to arrive over the next few months, himehabu start their musical journey with an innovative approach to the classical on 'Orbifolia' and aim to continue their rise through the Leeds music scene and beyond.
himehabu consists of Kyle Ellerbeck on vocals and bass guitar, Jemima Edwards on keys and synth, Joe Scott on guitar, Ben Lee on drums and Hamish Irvine on alto saxophone.