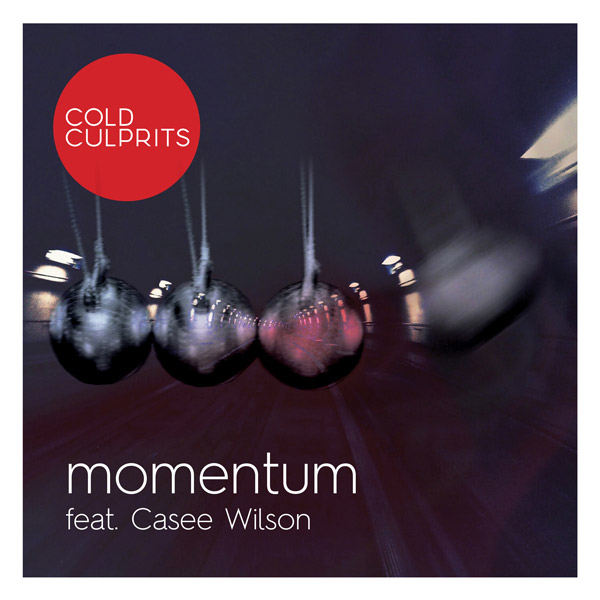 This is Cold Culprits first collaboration on a release. It's taken their music off in a different, and frankly exciting direction. More on that a little bit later but first some info.
Casee Wilson is a singer/songwriter; formerly based in Yorkshire but now living in Spain. The collaboration took place during lockdown with them sending music files to each other.
I am used to Cold Culprits producing music with something of a New York punk edge; usually with other things mixed in. 'Momentum' is something different. Andy (of the band) describes the sound of the song as 'grungy electronica', and while I get that it's grungy and, being heavy on the keyboards, it's electronica; somehow the sound for me lies somewhere in that punky New Wave sound of say Martha and The Muffins or possibly even Hazel O'Connor. It's dirty, slightly punky but it has pop sensibility; It has a tune to die for, a beat that doesn't stop.
Obviously, the dual vocals are a highlight; their voices compliment each other – Andy's sneery NY punk, and Casee's clear as a bell, vocal styles really work well together. And while the keyboards take centre stage – the oh so 80s' New Wave keyboards – there's no lack of guitar. And there are some frankly out there drums. Given that they made this electronically the result is a joy; you'd be hard pushed to get that it wasn't recorded as a band in a room together. It sounds live, there's a fantastic rawness to the sound.
And yes, I'm aware that referring to Cold Culprits as a band has a certain awkwardness as Andy is Cold Culprits, Cold Culprits is Andy; he plays everything on the songs. But the thing is that Cold Culprits' music sounds like a band, so I'm going to say band.
As a slight aside, and as a youth of the 80s I am suddenly reminded of the line in the film of Dune – 'the spice is the worm, and the worm is the spice'. All-nighters at the Scala in King's Cross when it was still a cinema, watching Dune, the whole audience chanting those phrases back at the screen. Yes, you'd be right my mind does work in rather strange ways at times.
Sorry about that, back to the song. 'Momentum' is fantastic. Rock out to it, dance like crazy, you take your choice. Whatever you choose to do, play it loud as you dare, it sounds better the louder it is.
The info
'Momentum' is the fifth Cold Culprits single since their April debut. It's also the first time the band has collaborated with another artist.
A solo project conceived by Andy Watson, Cold Culprits was created when Andy's previous band began to focus purely on performing cover songs on the regional pub circuit. As Cold Culprits, Andy typically writes, performs and arranges every note and every lyric. But for this latest track, Andy shares the mic with his former vocal coach, Casee Wilson.
As Andy explains, "We'd kicked around the idea of doing something together for a while, but the timing was never quite right. Sometimes it can be a case of life happening when you're planning other things. Then Casee emigrated to Spain. As two people making a living in creative industries, we've found that we've had more time on our hands recently. We figured we'd make the most of it."
The result marks something of a departure for Cold Culprits. "It's a bit of a change of direction for me," says Andy. "I wanted to write something that incorporates two distinct voices, something that fits Casee's vocal style, but also creates a contrast and a sense of underlying conflict."
Casee adds: "Andy and I come from quite different vocal styles – I tend towards singer-songwriter material, with the occasional foray into light electronica, while Andy's got this whole edgy grungy punk sound going on – it was interesting to play with the styles to see what would happen when we blended them, and it was a lot of fun."
With influences like Iggy Pop and The Ramones, Cold Culprits has always embraced the do-it-yourself spirit that typified early punk. And just like previous tracks, Momentum was produced in Andy's home studio. But with Andy in York and Casee in Madrid, this wasn't your typical collaboration.
"There was a lot of back and forth of vocal files and 'how about this?' comments, rather than the more organic flow in a studio," says Casee, "but I think it gave us both time to reflect on the shape of the sound – me in particular as I was so aware this was Andy's baby and I wanted to honour his vision."
Cold Culprits: https://www.facebook.com/coldculprits/ | http://coldculprits.com/
Casee Wilson: https://www.caseewilson.co.uk