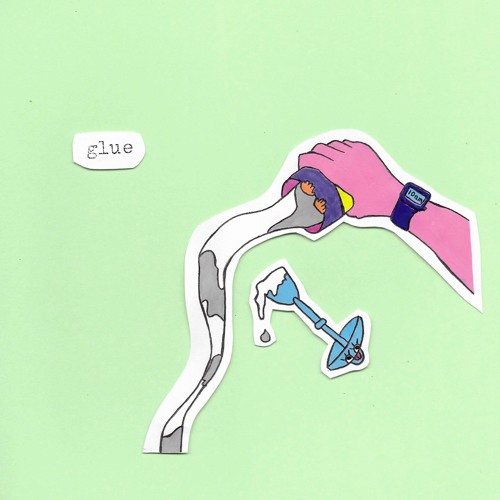 Crush are new to me, I've been missing out big time. OK so they hail from Manchester which may be why I haven't heard of them before, focussing as we do on bands from Yorkshire. But it took seconds of of my first listen to say 'yep we can review that, this is the sort of thing our readers would love'.
It's a dreamy shoegazy thing 'Glue'. This is enough, more than enough, to adore it but the cherry on the icing on the cake – at least for me – is Amber's vocals. OK so I'm of an age to remember that female shoegazy vocal thing thing first time around, but her singing is just right, just fabulous.
You may focus on on the rather wonderfully warped guitar sounds that run through the track, or even the faster fuzzed up sections, that's up to you, both are fantastic but it's those vocals that do it for me.
The other thing I like is that it's pretty loose in places, not so loose as to be on the dge of falling apart but it has that slightly loose lovely feel to it. And, when it's not in the faster fuzzy sections, it's all mellow and sleepily dreamy.
'Glue' is a lovely thing, go get a listen right now.
The info
Glue is Crush's third single which follows last year's debut release 'How Come' and their second release 'Rinse'.
The band say; "This song is pretty relatable, it's about all the ups and downs of a friendship or relationship and coming to the conclusion that the other person is no good for you. 'Glue' talks about the process of getting over someone and that happy feeling when you realise it doesn't bother you anymore"
With an ambient shoegaze sound, which the band themselves describe as "fuzzy euphoria
fresh from dreamland", Crush are influenced by artists ranging from Bombay Bicycle Club to Blur to Soccer Mommy.
The band have been building a Northern following with regular live dates, most notably their upcoming headline show:
Saturday 9th November, YES Basement, Manchester:
Facebook Event: https://www.facebook.com/events/2346013352333940/?ti=icl
Ticket Link: https://tinyurl.com/y53kdm2o
Crush are Amber (guitar & vocals), Arthur (lead guitar), Will (bass) and Fotis (drums).
Crush on Facebook: https://www.facebook.com/crushbanduk/