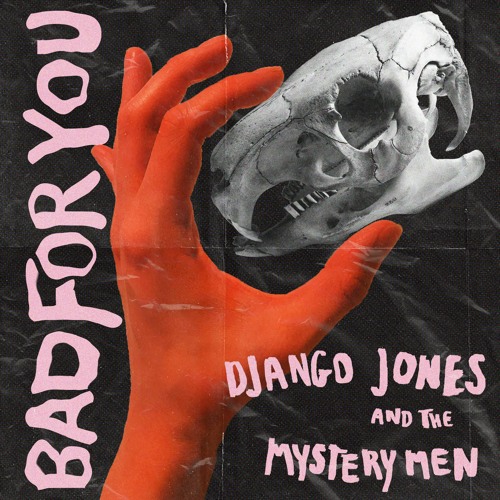 Sheffield's Django Jones and the Mystery Men make loud, raucous, messy and dirty as fuck music. 'Bad For You' comes on like The Cramps at 11, The Fall doing amped up swampy surfy psychobilly music. It is, in a phrase, absolutely bloody crazy.
I'm going to calm down a bit here (Thank all that is sacred – Ed). They describe themselves as a post-punk band drawing influences from The White Stripes, Nick Cave and The Bad Seeds and The Ramones. I get the raw guitars and stripped to bone music of The Bad Stripes. I get the swampy country blues of Nick Cave. But as I said there's psychobilly and psychosurf, at least in this track. So, to come back to something I've said in reviews recently, this is another side, another facet of, post-punk.
This is music at its most raw and raucous. It is music to create chaos to, to get messy to. It is music that I want to hear and see live. This single captures the sound of an absolutely banging live band. The vocals are on the edge of ragged and madness, the guitars are out of control, the beat is big and meaty. It makes you want to throw yourself around the room, it makes you want to turn it up loud – I mean LOUD – and wake your street up.
This, people, is so bloody good. It's visceral loud crazy music, that's so out there it's almost scary. I love this.