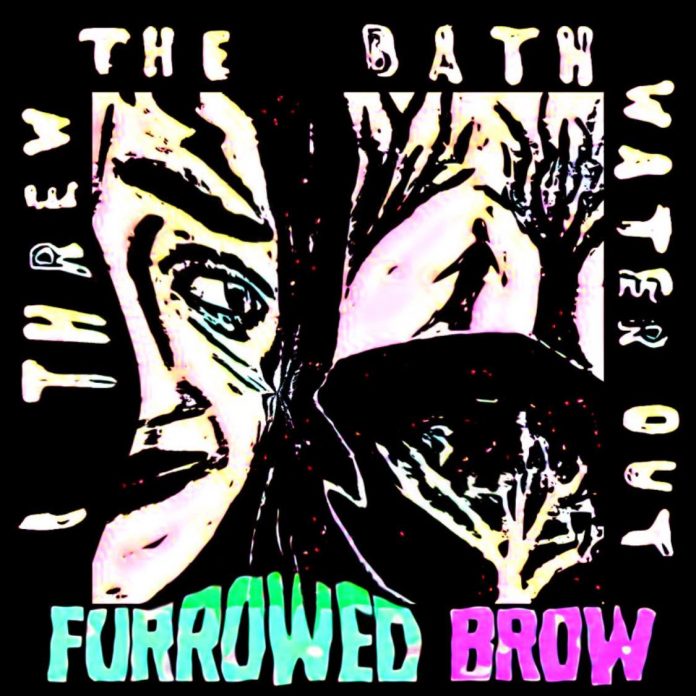 Furrowed Brow are one of those bands who travel their own twisted musical path. A band who you just have no idea of what a release is going to sound like. And this is a very good thing, a truly fucking wonderful thing.
'I Threw The Bathwater Out' comes on like a mutant B-52s crossed with The Band of Holy Joy. Strident lead vocals, chaotic backing vocals, an organ that sounds as old as the hills. That's not to mention the weirdly Western start which may perplex you somewhat but that's all part of what the band do, that's part of why they are so good.
Apart from the oh-so wonder organ, there's a bass that just won't give up, drums that pound out an irresistible beat. There are moments of pure musical surprise – organ sounds that amaze, a bass solo.
The sound veers from chaotic DIY to odd moments of 'as smooth as you like'. This may sound like a bit way out there – and it is – but It's the sound of a band who just do their own thing and do it gloriously. Clearly it's done by a band who know their musical stuff, it's just that they chose to sound like this. Musical joy epitomised.
I suppose in some ways it could be appropriate to describe what they do as art-rock. They adopt 'musical personas' from track to track. There's a certain archness to the feel of their sound that could also be an indicator of that. On the other hand they just could be doing stuff that reflects their musical inspirations. Either is equally possible.
Look what this song is about is so far beyond me to be honest but when the dancing's so good who needs to think too much. This is a track to frug to, a dancing tune, a mad blast of 'get sweaty' dance music. People, give your ears and dancing feet a treat and experience the joyous sound of Furrowed Brow's ''I Threw The Bathwater Out'. You won't regret it.
The info
WHO??
Formed in Manchester 2019. Authentic, uncompromising, droll, subversive
Furrowed Brow – 'because that's what happens to your face when you first hear us'
Richey – Vocals (he/him)
Alex – Synth / vocals (she/her)
Evie – Bass / vocals (they/them)
Meg – Guitar (she/her)
Criostoir – Drums (he/him)
Influences: Magazine, Damned, Smiths, Velvet Underground, Fall, Denim, Pulp, Divine Comedy, Julian Cope, Magnetic Fields, Violent Femmes, Adverts, Mansun, Modern Lovers, Half Man Half Biscuit, Bowie, Iggy Pop
WHAT??
Post Punk / New Wave / Glam Rock. Up-tempo and punky with wry lyrics that ridicule the hypocrisy, greed and vanity of contemporary society. Tedious love songs are dismissed with scoffing contempt – only irresponsibly catchy and thought-provoking weirdness will do
WHY???
In this era of cynical professionalism where artistic output routinely plays second fiddle to 'brand identity', wilful integrity and artistic pig-headedness are rare and beautiful virtues – and Furrowed Brow have both in spades. They're not afraid to make fun of themselves, each other and you, and each of their releases is peculiar to itself.
The band exude gothic archness and a nihilistic impertinence; this in turn prompts reckless creative hedonism –playfulness and frivolity, experimentation, pretension, contradiction, humour, extravagance and glamour
Banality lurks around every corner… the world needs bands like Furrowed Brow!!