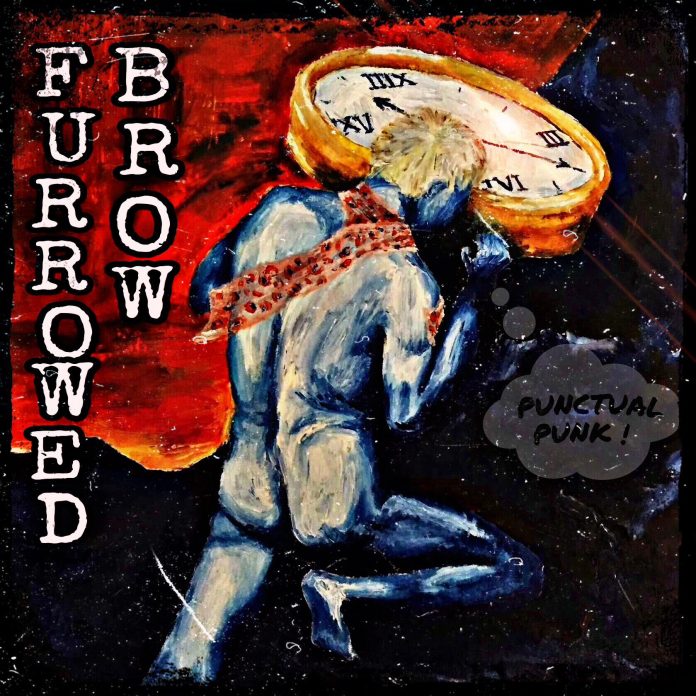 I last reviewed a release from Furrowed Brow back in September last year – the rather wonderfully titled 'Pissing Superfluous' – and that was a fucking joy.
And now we have the equally fabulously titled 'Punctual Punk'. It's equally as out-there, in fact it's mad as hell. The thing is that it says more musically in it's 1 min 47 seconds than a lot of longer songs. They pack a lot into that short blast of glorious gorgeousness.
It comes on like The B-52s on speed playing psychobilly and/or madcap surf music – a beefy beat, crazy crazy guitar, retro keyboards to the max, vocals that are frankly scary – in a good way, mad spoken sections.
And yet as short as it is, as filled to the brim as it is with those wonderful musical moments; it still manages to tell a story. As the band say 'a curious parable about a rendez-vous with a tardy reprobate who, for once, fails to be late… although you may also encounter the absurdity of existence via 20th century philosopher Albert Camus along the way'. And the fact that this song manages to tell what I'm going to describe as a coherent story in such a short time leaves me speechless. Speechless but with the biggest grin on my face; the words are funny, OK?
This is so bloody brilliant. It's a band doing their own thing – their own out-there thing – in their own out-there way. It's so DIY that it manages to cross the line of being magnificently produced and made. And although it's chaotic the level of musical skill is obvious.
Unlike most singles released these days, this comes with a B-side. A B-side that the band actually describe as a B-side, the bunch of retro crazies.
'The Narrative Of Hugh Gordon Pym' makes up for the shortness of the A-side by being over 5 minutes long.
How to describe this? How in the name of all that is holy do I describe this? While I think about that (it may take some time), let's tell you what the song is about. The press release helpfully – I say helpfully but – explains that the song is 'breathing new life into Edgar Allen Poe through the prism of coronavirus and BBC Lunchtime News…..'. It comes with side swipes at Dominic Cummins, something I feel is a good thing..
Let's come back to how it sounds. The press release describes it as 'stomping 70s' glam influenced'. Well yes, and – obviously it's me writing this review isn't it – no. To me it sounds like a mutant 70s influenced Bonzo Dog song. It's not just the music but the lyrics. The best Bonzo songs have lyrics that veer from laugh out loud to so deep it takes days and days of your life to work quite what they are on about. The additional thing is that Furrowed Brow bring a certain 'Manchester-ness' to the party.
So I'd like to refine my idea of the sound. It's The Fall playing The Bonzo Dog Doo-Dah Band's take on a 70s' pop song. And with hints of John's Children (Go look them up, this was the band that Marc Bolan was in before leaving to do his own thing) and/or T-Rex in the sonic mix.
This is as fucking brilliant as it sounds musically as crazy as it sound to you.. Great keyboards, layers of vocals, bursts of harmonica, guitar that sounds as though it's playing another song entirely.
The reason to love Furrowed Brow is that on one immediate level their music is so fucking mad, it's gonna make you grin. But there's more to them than this. They have words that are worth listening to, words that you want to hear and want to work out quite what they are about, words that'll make you smile, grin and laugh out loud But at the same time have a deeper level. They play incredibly well; they need to playing music like this.
Look people, this band are just so fucking good. They're maybe not for you if 'all you listen to is music that is from a current genre. This is music for people who like to push the listening envelope, who are willing to get on board with a band whose music is hard to describe (if you try you're just going to end up listing loads of bands, and eventually just ending up saying 'well they're just brilliant').
So please please please give up 7 minutes of your time to listen to these two songs, I'm begging you OK.
The info
Well known [some say notorious] across the North West for their unruly, irreverent shows and idiosyncratic and uncompromising sound.
Alex – synth / monotron / vox
Criostoir – drums
Ryan – bass / vox
Richey – vox
Meg – guitar
https://www.facebook.com/furrowedbrowband/
Should you be converted, the band have a gig booked – a headline show at Manchester's Castle Hotel on 4th September 2021. It'll be a riot.