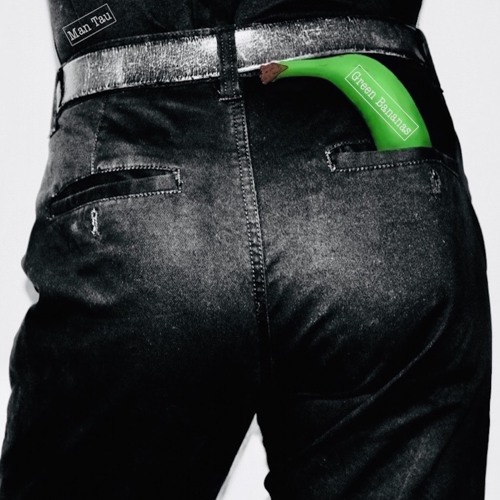 The present 'situation' is giving LSF a chance to wander further afield musically. Today we are journeying to Germany where an artist called Man Tau is located. Man Tau makes music in a kind of psychy, garagey, lo-fi way, and 'Green Bananas' is his latest release.
Quite what the hell this song is about is something of a mystery, green bananas seem a rather strange subject for a song. I can only assume that it isn't about the fruit at all. Although the more I listen to this song I begin to wonder – I'm going to do some Googling. Hang on people… And I'm back. I rather wish I hadn't done that. There is one rather unsavoury meaning of the phrase 'green bananas', however as far as I can see it might refer also to some sort of drug use. Who knows to be honest, this song might be about fruit after all. Ultimately this matters not one jot because this people is a riot. I'll leave it to you to make up your own mind.
It starts off in a psychy poppy way – I am reminded perhaps of The Strawberry Alarm Clock, hints of World Party. It's all simple tunes and off-kilter guitar. It's actually horribly catchy (one play in, and there it sat in my head) and smile inducing. And then it goes all sort of Spirit-ish – rawer, much more psychedelic, loose acoustic, out-there guitar. What this isn't, in case you got the impression it is, is a DENSE or Wuzi like wall of sound thing, it retains that poppy edge.
Look my friends, this is just a whole heap of fun. It's played really well, I mean really really well – he plays all the instruments himself. And he has a compelling vocal style. It's put together really well, there's care and craft in the production.
Look check this completely fab song out, and then check out the other tracks on his Spotify stream; they're just as good.
The info
Man Tau is a singer-songwriter from Germany. His first steps into music involved a short-lived two-man band he formed in school with a classmate. After the band's break up, he stopped writing songs for a while, believing he wouldn't be good enough to be a musician.
A couple of years later, after a personal and mind-altering experience, he started to write songs again. With this newfound inspiration he decided to move to a bigger city (Munich) to find other people who had the same dream. There he formed the band Bogus Company. The band played a few gigs, but unfortunately also broke up after some time. After this Man Tau decided to go the solo route.
Unsatisfied with his first solo recordings, which remain unreleased, he gave it a second try, and in 2019 "Up and Down" was released on Spotify, iTunes, Deezer, and other streaming platforms.
Feeling uninspired by the Munich music scene, Man Tau decided to move to Berlin at the end of 2019. There he found band members willing to perform his solo work on stage.
Musically his sound very much derives from the 60s and 70s eras, but modern influences also can't be denied. On his recordings he plays all instruments himself.