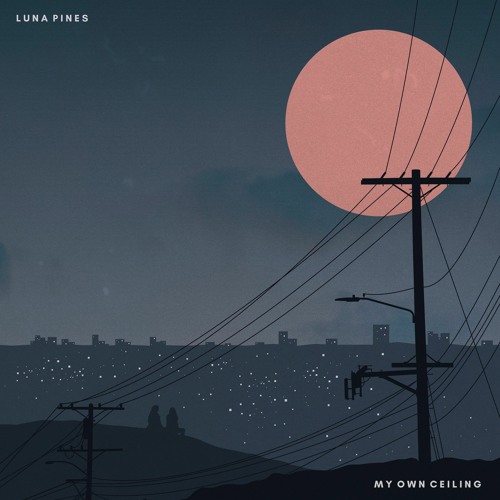 Luna Pine's releases are difficult to review. What I mean by this is that their music is always so consistently wonderful, always so compelling that it's hard to come up with something new to say. But tempting as it is I'm not not going to leave it at 'Luna Pines do it again, this is incredible'.
One of the reasons I'm not going to leave it as that is that Luna Pines' songs always come with a back story and/or a 'thing the song is about'. In this case the song comes with a story. Lotte (vocalist/guitarist and synth player} explains ''This is the first track me and Davarious wrote together, and it pretty much marked the beginning of me as a songwriter. When Davarious took his own life a year later it was an impossible song to listen to, let alone properly finish. He was the backbone of this band in so many ways and I miss making songs like this with him every day. We're so proud of how it has turned out and we really hope it's a song that ultimately helps people feel less alone, as it has done for us many times now''.
The fact that Lotte was able to finish it says something important to me. I'm going to come back to that later.
Musically the song is a kind of journey. It opens with a sound that seems to come from the past – an accordion like sound that is abstractly Japanese – that is both unexpected and hauntingly compelling. And gradually as the vocals come in, there is a pulse, a subtle sawing sound, a simple melody line. And then, for a band that you may identify as mainly synth based, there is an unexpected loose guitar backed section. Before it swells and swells; layers of sounds and vocals are added. But all with that 'well I never thought something like that would work' and the 'where in the hell did that come from' moments of subtle effects and discordance that are part of their carefully put together sound.
The thing is, for all the carefully crafted sound and what I assume is complex production, the essence of any Luna Pines' song is that it conveys emotion and meaning. As electronic as their music is, it's organic and full of soul.
When I first listened to it to see whether I would review it (nothing is guaranteed, even with Luna Pines) and decided that I would; I emailed Lotte and said I found it both haunting and uplifting. In the process of thinking about the song to actually write this review it occurred to me that the emotion I was left with reflects the journey of the song that Lotte describes. This isn't about the words but the music – there is a feeling of haunting sadness as the song starts and gradually there is that swell of uplifting sound; even though that is tinged with unease and sadness.
But then as you listen more and more to the song, the words come through stronger and stronger; and that adds another layer of meaning, of emotion
The compelling complexity of the music reflects the complex interacting layers of emotions you feel as you listen to it.
I've taken the long way to this but t\o put it more simply – 'My Own Ceiling' is a truly beautiful song, musically and emotionally. I can't recommend this highly enough.
The info
Inspired by the likes of The Japanese House, Bon Iver & Tycho, London based Luna Pines' newest creation, My Own Ceiling, is a dream pop influenced electronica number that focuses on the crippling anxiety frontwoman Lotte was diagnosed with not long before the songs co-creator, Davarious Jackson (The Feel Department) took his own life in 2018.
The London based duo have been slowly getting the attention of key tastemakers like BBC Introducing, Clash, Sofar Sounds and many more, and the trio's music has allowed them to support a range of acts including Art School Girlfriend, METHYLETHEL and 65daysofstatic . They have recently had a lot of love from Spotify, having been added to Spotify curated playlists such as New Music Friday, Fresh Finds, Easy, Hot New Bands, Evening Indie, The Other List, Bloom and many more. Last year they completed two sold out headlines in London and a sold out headline in their hometown of Leeds, and they have some exciting shows lined up for the end of 2021, including London's Camden Assembly.
Luna Pines are:
Lotte van den Berg – Vocals, Guitar, Synths, Sampling
Rob Oates – Drums