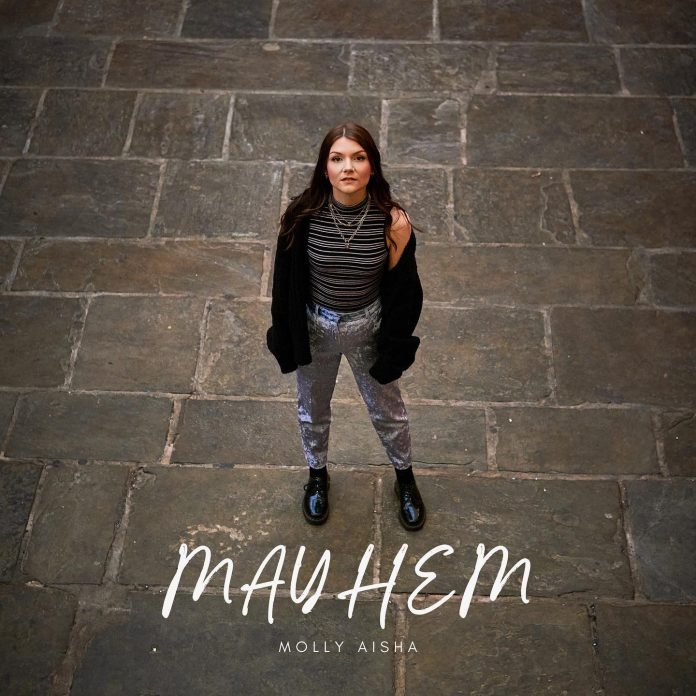 For some reason I can't quite work out, I am drawn to big pop ballads at the moment. Leeds based Molly Aisha's 'Mayhem' is a big pop ballad in a classic style – big vocals, piano, way up there drums, a subtle but stunning guitar break – but it's of now, an alt-pop big ballad.
Saying why it's of now is difficult but I'm going to try; mainly because my helpful friend said I needed to, as good a reason as any I guess. Mainly it's because of the vocal style. It's a big swooping ballad vocal but it has that big synth ballad style even though this isn't a big synth ballad. I hope you get that.
This is just – I say 'just' but you know it's difficult to do – a wonderfully put together track. It does all the right things at the right time – the quiet intro, the gradual build to the huge sound section. The quiet outro. And there are the most fabulous layers of vocals. Vocals are double tracked, vocals are there in the background adding tension and mood. This is really about her voice – as it should be. And all of this goes to put across a story of love gone wrong in words and music. It's emotional, it's meaningful.
'Mayhem' is a beautiful sad song. A song that will drag your heart through the mill of heartbreak. A song from her heart.