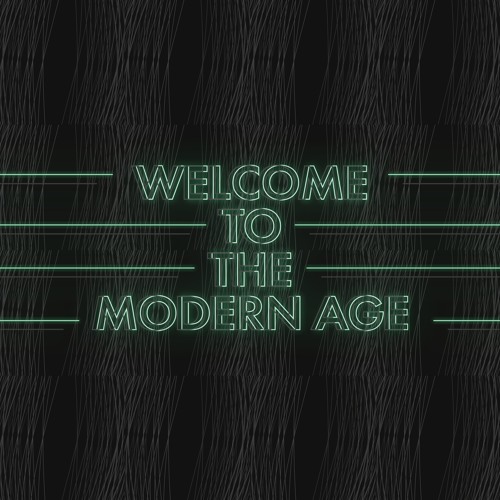 After reviewing the band's single 'Superhero' quite some time ago, I actually managed to catch them live. Although this was very much in a sort of 'bloody hell that's MUFFIN' sort of way about a third of a way into their set, look I wasn't feeling quite on top of it that night, it happens to us all sometimes. And very impressive it was too, do try and catch them live if you can.
So onto the new single. I found myself feeling disconcerted and unsettled after the first listen to 'Welcome To The Modern Age' and I wasn't even sure that was in a good way if I'm entirely honest. Second listen and I get it, I like this, I really like this.
So why was I disconcerted? Well this track may start off in a way that I'd expect from a MUFFIN track but then, what the hell, it all drops out and gets frankly spooky, the vocals get all angst-y over this mad guitar that sounds a bit like Black Sabbath on some form of drugs (I've yet to decide which form of drugs might make Black Sabbath sound like that, but you get the idea right?). That change is enough to throw you off right there. And this track is unsettling, but the 'modern age' is unsettling so it's well, just right.
So it works that way, but what I hear you ask does it actually sound like. Well the first part of it sounds like sort of grunge-y alt-rock, great vocals (well you'd expect that from MUFFIN), it rocks, it truly does. And then there's the 'what the fuck is going on' part that had me all confused. But the more you listen to it, and I'm on my fifth listen as I write this, the more it works, it's dramatic, it's intriguing. And there's this guitar sound around 2 mins 45 in that you just wait for, well I do at least.
In my first first review I suggested (politely of course) that MUFFIN just use 'MUFFIN' as their Soundcloud tag. This track might be tagged 'grunge' but it isn't really, it's an unholy mix of alt-rock, grunge, heavy jam-band and progressive music (it has that drama people). I mean yes it has a grunge-y edge to it but to describe something like this as being simply 'grunge' is way too modest. Possibly I might use the term 'post-grunge'. You know grunge in basis but with more complex arrangements and more, and I use this term very much in quotes, 'light and shade'.
This isn't just a song, it's a drama, a drama that takes place over three and a half minutes. Three and a half minutes that's going to leave you wrung out.
The info
'Welcome To The Modern Age', is the lead single released by the band in support of their debut self-titled EP scheduled for release in March (release date TBC). The single drops ahead of their performance on 2nd February at 360 Club @ The Library, Leeds.
The band are announcing gigs all around the country, see their facebook page: https://www.facebook.com/whatismuffn
The ingredients of MUFFIN are:
Matt Bond – Vocals
Jacob Tresidder – Guitar
Jamie Prescott – Guitar
Barry Mageean – Bass
Sam Heffer – Drums