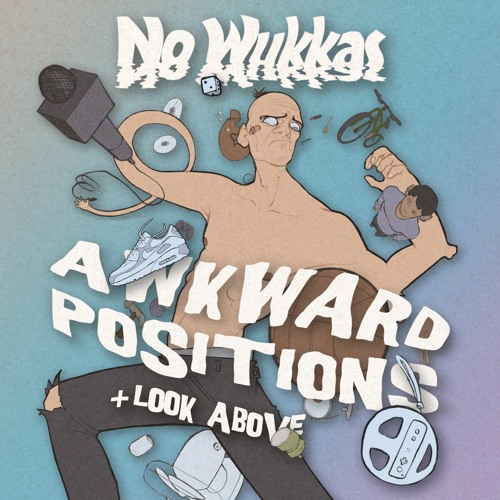 No Wukkas are yet another Monomyth Records signing; and yet another – on the strength of this release – great band. The band describe themselves as a blend of indie psych rock with math funk sensibilities. Sounds exciting, let's explore.
This is a AA release that showcases two related musical sides of the band, 'Awkward Positions' kinda follows that indie 'fast slow fast' structure. But the fast is very fast punky psych rock. The slow is extremely slow blissed out guitar. The contrast is exquisite. Weirdly it ends up sometimes sounding a bit like that psychy Mod stuff, or even slightly like early XTC or a kind of psych Cardiacs – it's the manicness of it..And there's something of the psych garage rock feel in there.
I'm making a meal of trying to describe this because it's hard to pin down a pithy phrase that sums it up. The brilliant thing about this track is that it combines throw yer self around madness with a slow section that deserves nothing less than interpretive dance.
'Look Above' begins with big Zappa vibes blending to psychedelic rock. This too has that manic touch that is setting off big Cardiacs lightning bolts in my head. It has an ever changing joy to it that will have you wondering where it's going next. My advice. just sit back and wallow in the sound. It's a trip, people.
I could, but won't, bang on about how strangely these two tracks remind me of some bands from the time of the psychedelic New Underground of the 80s. And there's something else that connects this and that movement; it's psych but through a lens of the music that is of now.
Are No Wukkas the vanguard of a New New Psychedelia? I'll leave that for you to decide for yourself. But they are making music that excites, intrigues and takes you to a fab place. This is bloody fantastic.