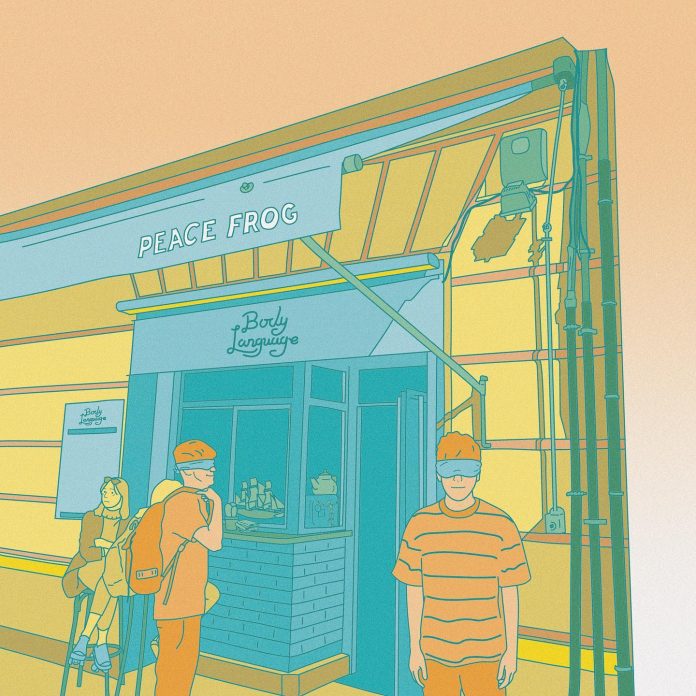 Although I've been aware of Peace Frog for a while this is the first of their releases I've reviewed. I think I've been missing out big time.
While 'Body Language' is an indie song, it's so full of twists and turns that it's way different from the average indie song. It goes from choppy to smooth, has sections of pretty raucous guitar and sections that are pure smooth poppy goodness. It even has this section that sounds a bit like the Trevor Horn produced Yes, although I don't think the band would thank me for that. And while it changes and changes, it never loses a sense of being a great pop song with a fantastic tune.
And I'm especially impressed with the playing on this track – intricate and clever guitar, drumming that shifts from poppy to rock to downright funky. The vocals are way cool. And the way it's put together is fantastic, it's full of little touches of sounds that help to take it way above the average.
So that's the 'technical stuff' out of the way. The thing about this track is that it's a great good time song, that you can bust some moves to, that makes you feel happy and smiley, it's a song to add to your summer playlists.
If you're up for some fantastic poppy indie, this is a song for you.
The info
'Body Language' is a song about communication and the breakdown of emotional interaction that can happen in a relationship. The verses shows the inner monologue of someone failing to read the other person's emotions and the lonely feeling this evokes. Ultimately the message of the song is one of coming together through openness with our emotions.
Peace Frog, are a four piece indie band formed at Leeds Beckett University in 2016. Drawing influence from artists such as Paul Simon, Little Comets and Bombay Bicycle Club, their unique and colourful sound has created a buzz in the local and national scene over the past few years.
Peace Frog are:
Liam Dickman
Nathan Gooch
Johnny Wilkinson
Adam Hidle
https://www.facebook.com/PeaceFrogUK/
https://www.instagram.com/peacefroguk/