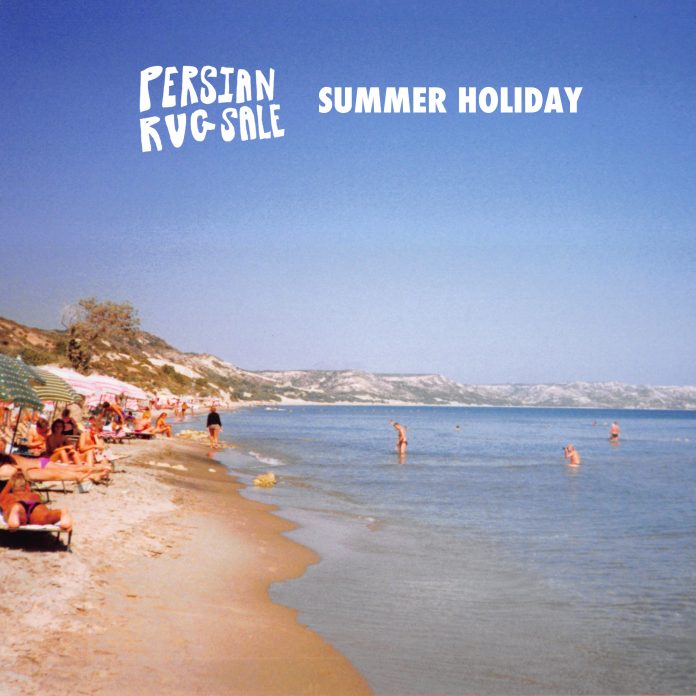 So I reviewed a single – 'Left Behind' – from Huddersfield Punks Persian Rug Sale back in April, that was a blast of joy. I went and saw them play a packed Northern Quarter in Huddersfield, and that was a sweaty riot. So they have have a lot to match with this new single, I needn't have worried this is a brilliant thing.
'Summer Holiday' is a punky thing, a punky singalong thing. And the words of this song are great, they tell a story, they're sharp and witty. Jack – the band's singer singer – who I assume writes the lyrics has a way with words. Look any song with the lines 'I'll spend the day reading Chomsky, sitting in the sun until the day is done' is a fantastic thing. And it's even better when it's delivered in that sneery drawl that Jack is using.
And musically this track switches – it's all punky, then it kinda drops outs for this talk singing section – which is where the lines above come from – and then it get gets all sweet harmonies over a pounding beat. It rocks people.
'Summer Holiday' is like a condensed version of what Persian Rug Sale do in their songs, it contains all the elements – the punky stuff, the punky sneery rap type stuff – that their songs have all combined into one brilliant, so brilliant, song. It just confirms my believe that Persian Rug Sale deserve to be huge. Stop reading and go listen now.