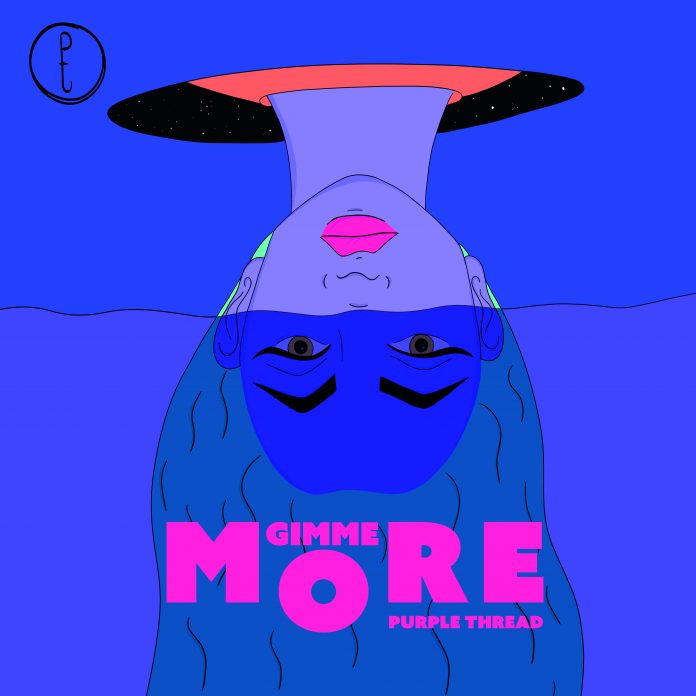 I make no apology for reviewing every single Purple Thread release – I'm a fan and, hey I write reviews so why shouldn't I; and objectively, as a reviewer they never fail to serve up the musical goods.
From the get go you just know that 'Gimme More' is going to be a blast, is going to get you up and throwing yourself around the room. Yeah this is gritty rock with a fantastic poppy dance-y thing going on. There are hints of early Blondie, The Bangles, Joan Jet, punk; that glorious mix you expect from Purple Thread but it's got something extra, something new, an extra shiny glitter.
At a breakneck speed this thing shifts from high energy punky rock to gritty guitar riff to oh so sweet poppy. Every beat is a grin in sonic form. And then we have the vocal; boy oh boy this is Liz at her finest – shifting from gritty NYC punk to smooth pop. You never know where this is going to take you, the only thing you can be sure of is that it's going to get wilder. Wilder until it's on the edge of chaos.
Singer Liz Mann says; "Gimme More" tells a story of learning to navigate our tumultuous, multi-layered inner worlds and the total loss of control. The constant pursuit of pleasure becomes nothing more than a flickering flame which is never truly satisfied. There's a chaos in the song which threatens to fall apart at any minute but instead penetrates right into the heart'.
So that rushing tumbling headlong sound and the shifting feel make complete sense. And while we're on the subject of the song; this has some great lyrics that capture what the song is about brilliantly.
It's been a while since the band released something – not that we are complaining – Liz explains 'It's the first song we wrote together after many months forced apart. Taking such a long, unexpected break has seen us all grow as both a band and individuals which aided in the process of bringing this song into being'.
It's been worth the wait; 'Gimme More' sees the band developing their sound. And it's glorious. It's wild, raucous and danceable as fuck. They've turned the glitter up to 11. It just has to be said – gimme more, gimme so much more, of this.